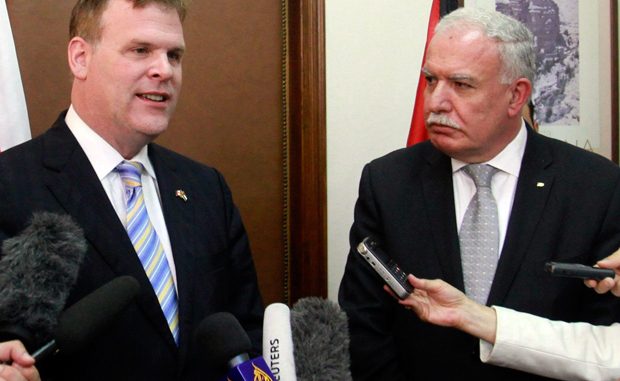 The Foreign Affairs Minister of Canada, John Baird, was recently involved in a series of meetings with the West Bank, where he expressed his wish that he would like the Israeli government and Palestinian leadership to resume peace talks. After attending a meeting with the Palestinian President, Mahmoud Abbas, and Prime Minister, Salam Fayyad, he stated during a media briefing on Saturday in Ramallah, that "we obviously believe that both Israel and the Palestinian Authority should, without preconditions, go back to the negotiating table."

The Palestinian Foreign Minister, Riyad al-Maliki, reassured media sources that Canadian and Palestinian officials share a mutual desire to "move forward" on bilateral relations, and for Canada to "continue its commitment to state-building." Al-Maliki admitted that Canadian support in previous years has been "remarkable," while highlighting that it has made a "big difference, especially in the justice and security sectors." The Canadian foreign minister has not officially disclosed whether his government plans to renew its $300 million in aid spending for Palestinians, that was previously being supplied with a five-year commitment that expired last month.

However, he did seemed to have keenly listened and understood the Palestinian leaders' priorities for the future and alleged to look forward to their "continuing constructive engagement" with the region. Baird mentioned during the press briefing, that "we certainly don't agree on every issue — we have some profound differences of opinion on the way forward — but not on the need to go forward," indicating towards Palestine's recent struggle to seek better acknowledgment in the UN General Assembly.