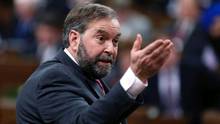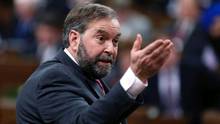 Speaking to reporters in a lighter mode, NDP leader Tom Mulcair revealed that he's strongly inclined to vote for a controversial Conservative private member's bill that is aimed at giving backbench MPs more power, including the crucial power to dump their leader. In an announcement made on Wednesday, Mr. Mulcair mentioned that Michael Chong's bill requires sincere debate and though it might need to be altered, anything that strengthens democracy is, quite simply, his party's "middle name."

The highly controversial bill is aimed at allowing to trigger a leadership review only when 15 per cent of caucus demands one, allowing the members to enjoy the power to vote their conscience and ensure party nominations that are controlled by riding associations not leaders. Mr. Muclair alleged that it should and will be a "free vote" for the NDP, asserting that he's pretty confident about his viewpoint. He stated that "I'm gonna wait and see the final version of the bill but I'd be strongly inclined to vote for it as things already stand," while adding that "I doubt very much that would change as things go along."

Giving several elaborate and versatile interviews ahead of his party's winter strategy session, Mulcair seems pretty confident and optimistic about entering 2014 with his eyes set on the prize and the confidence that Canadians are finally starting to understand what sets his NDP apart from the other parties. Moreover, despite alleging to open support to trade with Europe and has been responsibly patient before seeing the finalized deal and pronouncing on it.