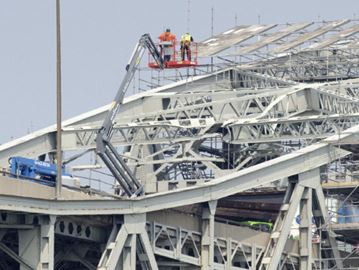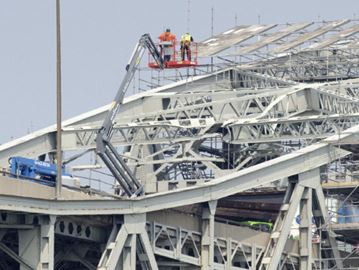 Authorities have confirmed that the Toronto-bound lanes of the Skyway Bridge will reopen and traffic will resume as normal sometime between 6 and 8 p.m. tonight. During a conference call this afternoon, Ministry of Transportation spokesperson, Astrid Poei, confirmed that the site has been cleared of debris and engineers are done with temporary repairs to the steel and pavement.

Poei commended that crews worked all weekend to remove the scaffolding and damaged steel, along with four vehicles that were stuck on site. Although, Poei added that more comprehensive and permanent repairs are still needed, including a new steel beam, which will be completed within the next two months. Though there is no official cost estimate on repairs but Poei speculates that the amount could be in millions. The court will decide who is at fault and whether that party or parties would be liable for costs. The busy four-lane span was closed on Thursday after a dump truck with a raised box crashed into an overhead truss and construction scaffolding.

Regional director of the central region MTO, Peter Verok, revealed that the bucket of the dump truck did not raise until the truck was climbing the bridge. Verok pointed out that there are censors in place a kilometre down the street but none was activated. 34-year-old Sukhvinder Singh Rai of Brampton has been charged with impaired driving and faces a court date on Aug. 22. However, OPP investigators said late last week that bridge safety concerns prevented an examination of the dump truck for mechanical problems.