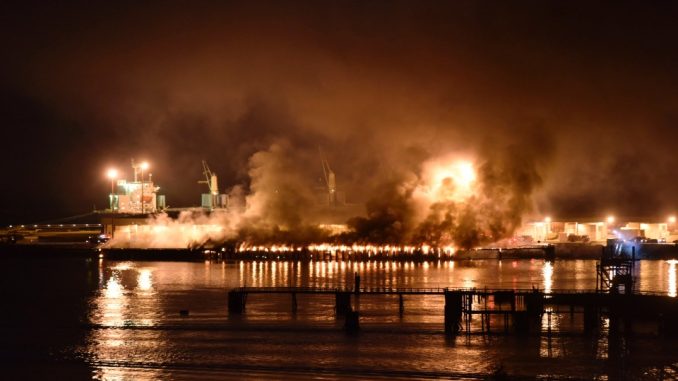 This article was last updated on April 16, 2022

A large fire at the Squamish Terminals' east dock has finally been contained by fire crews after it singed a nearby boat and triggered a warning by municipal officials for residents to stay inside their homes. According to the officials, the fire emerged at around 6:15 p.m. on Thursday in a berth in the terminal's east dock. The fire was almost 90 per cent contained on Friday morning but the rubble was still visibly smoldering.
The first responders to the fire, including Firefighters and the Coast Guard, confirmed that the fire was almost spread to a timber carrier on the water, i.e. the Star Atlantic. Later, the first responders were joined by two fire boats from the Vancouver Fire Department which pumped water onto the fire. A longshoreman who works at the terminal, Laurence Byers, explained that "lots of the foremen were down there with hoses trying to keep it under control while waiting for the fire trucks." The plumes of smoke into the sky forced the district to declare a "shelter in place" warning due to the burning creosote pilings, which was later lifted on early Friday morning as the air quality improved.
Mayor Patricia Heintzman explained that "this is a special fire. This is a dock fire, this is a creosote fire, this is not something that gets easily put out," adding that "I don't recall any fires like this ever happening in the dock area." She explained that "we want to make sure it's not impacted by this, and we're not creating any worse situations."
You can publish this article on your website as long as you provide a link back to this page.