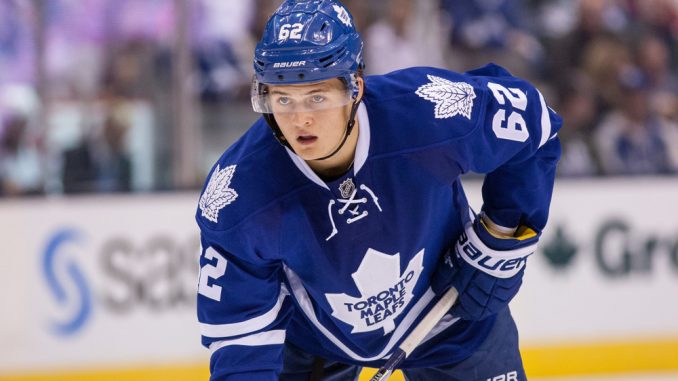 Toronto Maple Leafs tighten the race with Boston Bruins with 4-2 win. Here are the highlights from the game played on Monday, March 20, 2017
| | | | | | |
| --- | --- | --- | --- | --- | --- |
| | 1 | 2 | 3 | OT | FINAL |
| BOSTON | 1 | 0 | 1 | 0 | 2 |
| TORONTO | 1 | 0 | 3 | 0 | 4 |
GAME SUMMARY | EVENT SUMMARY | FACEOFF SUMMARY

ON THE SCORESHEET
Morgan Rielly put the Maple Leafs on the board with a goal at 14:05 of the first period. Rielly has registered 17 (4 goals, 13 assists) of his 27 points this season on home ice.
Tyler Bozak scored the second Toronto goal of the night on the power play at 18:03 of the third period. Bozak has scored six power play goals this season.
William Nylander added an empty net goal at 18:47 of the third period. Nylander's goal was the third Maple Leafs empty net goal of the season and his first game-winning goal of the season. Nylander has points (2-6-8) in eight consecutive games.
Nazem Kadri
added a second empty net goal for the Maple Leafs at 19:09 of the third period. Kadri's goal gives him 29 goals in 2016-17.
Mitch Marner had the primary assist on Rielly's goal in the first period. Marner has registered eight points (2 goals, 6 assists) over his last 10 games.
James van Riemsdyk had the secondary assist on Rielly's goal and later added the primary assist on Bozak's power play goal. The assists were van Riemsdyk's 31st and 32nd of the season, which establish a new single-season career-high for assists in a season, surpassing his previous high of 31 assists set in 2013-14.
Nikita Zaitsev had the secondary assist on Bozak's third period goal. Zaitsev leads Toronto defencemen in assists with 27.
Auston Matthews picked up the primary assist on Nylander's empty net goal. Matthews leads the Maple Leafs in points with 57 (32 goals, 25 assists).
Connor Brown had the primary assist on Kadri's third period goal. Brown has registered 10 of his 14 assists on home ice this season.
Roman Polak recorded the secondary assist on Kadri's empty net goal, his fourth assist of the season. All four of Polak's assists have been recorded on home ice.
Frederik Andersen made 32 saves to earn the victory. Andersen is 15-3-5 when making 30-39 saves in a game.
SHOTS FIRED
The Maple Leafs were outshot by the Bruins by a 34-29 margin in all situations and by a 25-18 margin at 5-on-5.
Boston had a 65-63 lead in shot attempts in all situations and a 52-45 lead in shot attempts at 5-on-5.
Mitch Marner led the Maple Leafs with five shots on goal.
James van Riemsdyk registered a team-high eight shot attempts.
HOME SWEET HOME
The Maple Leafs are 18-10-7 at home this season.
Toronto's all-time record is 273-285-98-10 in 666 games against the Bruins and 170-109-51-3 in games played in Toronto.
Toronto is 24-13-7 against the Eastern Conference this season and 15-7-3 against the Atlantic Division.
Tonight's attendance was 19,347.
The Maple Leafs return to the road on March 22 when they visit the Columbus Blue Jackets.
MAPLE LEAFS LEADERS
| | |
| --- | --- |
| Faceoff Wins | 15 (Bozak) |
| Faceoff Win Percentage | 75% (Bozak) |
| Hits | 4 (Martin) |
| Blocked Shots | 2 (Five players tied) |
| Takeaways | 3 (Matthews) |
| TOI | 24:56 (Zaitsev)* |
| Power Play TOI | 3:50 (Kadri, Zaitsev)* |
| Shorthanded TOI | 2:00 (Four players tied)* |
| Shifts | 20 (Zaitsev)* |
| 5-on-5 Shot Attempt Percentage | 70.8% (van Riemsdyk – 17 for, 7 against) |
*subject to change
RECORD WHEN…
The Maple Leafs were 1-for-1 on the penalty kill and 1-for-3 on the power play tonight. Toronto is 23-9-6 when not allowing a power play goal and 14-12-6 when scoring a power play goal this season.
Toronto is 8-17-6 when their opponent scores first.
The Maple Leafs are 11-7-3 when tied through a period and 5-4-4 when tied through two periods.
Toronto has a 21-11-8 record when outshot by their opponent.
The Maple Leafs are 2-1-1 on Monday nights.
OF NOTE…
The Maple Leafs have scored a first period goal in nine consecutive games and in 12 of their last 13 games.
Zach Hyman and Auston Matthews started 80 percent of their shifts in the defensive or neutral zones at 5-on-5.
Mitch Marner was on the ice for a team-high 19 Toronto shot attempts. Marner had a 5-on-5 shot attempt percentage of 61.3 percent (19 for, 12 against).
UPCOMING GAMES:
Wednesday, March 22 at Columbus Blue Jackets, 7:00 p.m. (Sportsnet, FAN 590)
Thursday, March 23 vs. New Jersey Devils, 7:30 p.m. (Sportsnet Ontario, TSN 1050)
Saturday, March 25 at Buffalo Sabres, 7:00 p.m. (Hockey Night in Canada, FAN 590)
Tuesday, March 28 vs. Florida Panthers, 7:30 p.m. (TSN 4, TSN 1050)
Thursday, March 30 at Nashville Predators, 8:00 p.m. (TSN 4, FAN 590)
POSTGAME QUOTES:
HEAD COACH MIKE BABCOCK
On tonight's game:
I thought they were better than us in the first 10 [minutes], I thought we watched them. I thought Matthews' line started on time and the rest of us kind of watched. We gave Marchand way too much room early. Then I thought we got more and more competitive as the game went on. I thought we played better and better. A real good win for our team obviously. I didn't like to give up the last goal, but a good win for our team. It felt good.
On the team winning a close game against a team higher in the standings after losing on Saturday:
That's how I live. I get up every day and the sun's there in the sky, I just think like that. I'm just one of those guys, I think like that. I think we've done a real good job this year finding ways to get points and grinding. Sometimes we don't get the two we'd like to have. We've found a way to get points on a lot of nights and tonight was another night against a good team with really high-end players with good experience who can hurt you and have been in a lot of situations. We haven't been in a lot of them and I thought we still did a good job and found a way to win.
On Carrick's performance in his return from injured reserve:
Really good. He's competitive, he's smart, he moves the puck. He'll help us be way better next game.
FREDERIK ANDERSEN (32 SAVES, WIN)
On earning the win tonight:
It's a lot of fun. A great way to come out in the third and take it to them and keep playing until the end of the game and get that game-winning goal with a few minutes left.
On the defensive zone play:
I think we did alright. That was our game plan was to get out of the zone as quick as possible and the more we can do that the better it looks, the more [time] we can spend in their zone.
On winning a game late in the third:
We haven't really had it go our way a lot when it comes down to those last minutes and overtime. It definitely feels nice to be on the winning side, especially against a big team like this. A big game and a four-point game.
On why he's 8-0-0 in his career vs. Boston:
I don't know, it's tough to say. Sometimes they just end up going that way and in tight games every time, it's always a lot of fun playing Boston. It's one of those things where I've been on the right side of some of those bounces maybe.
On improving the chances of taking a division playoff spot:
Yeah, definitely. Like I said, a four-point swing and we're on the right side of that. We have a chance to catch them now. We'll see, there's a lot of hockey to be played.
TYLER BOZAK (1 GOAL)
On the playoff race:
It's going to be tight the rest of the way. They're a team we're trying to catch and they're trying to pull away from us. Those games are going to be tight, there's not a lot of room. They're going to be close games so it's nice that we're finding ways to win. That was a big one for us tonight.
On scoring the go-ahead goal in the third period:
There's not many better feelings. It was a big game that we needed and it's nice to be able to put the one in. I think we all did a good job, every line. I didn't think we had a good start but I thought everyone came together and we played well in the second and third and that's what it took.
On Rask making a big save on him prior to his goal:
He's obviously one of the best goalies for a reason. He's going to make big saves all night. We've got to get as many shots as we can, get as much traffic as we can and luckily enough we were able to get more by him. Fred [Andersen] played a great game for us too.
On tonight's game having a playoff feel:
Yeah, like I said, it's going to be a lot of one-goal games. I know it was [4-2] but it was pretty much a one-goal game. I think we've got a couple of big road games coming up and they're going to be tight games against teams that are really playing well. We've got to be ready.
On the team's defensive zone play:
Fred did such a good job of making saves and steering the rebounds to the right areas or creating faceoffs for us. I think our D did a really good job of making good first passes and making good plays in our own end to get the puck out quick.
CONNOR CARRICK (2 BLOCKED SHOTS)
On the play of Andersen:
I think goaltenders in this league have an ability to kind of calm things down and take a mistake that's made defensively – or not even a mistake, just an opportunity – and they put the fire out. A quick glove save and it's like coach forgets about it, fans forget about it, you forget about it and you move on. If he doesn't catch it clean or whatever, there's a scramble afterwards, it tends to stick out in peoples' minds more and you're not doing as well. He's a big goalie, when he's playing confident he's moving the puck well. You look at his numbers over the last little while here and he's doing a really strong job. Good for him, he deserves it.
On if it's surreal to be in a playoff race after last season:
I don't know if I'd say it's surreal. I'd say it's exactly what we as players in the organization wanted. The leadership of the organization, even before I came, wanted to come in, set a tone, send a message and say we want to climb right to the top fast and consistently and be there for a while. The buzz in this town with the fans, it's cool. It's got to be cool to be a Maple Leaf fan right now. I get texts all the time from friends of mine, family [that say], 'Love watching you guys play. You guys are a blast to watch, a fun team, a fun story to follow.' Whether it's ex-teammates of mine, cousins, uncles, old coaches, people want to – it seems like we're trying to do things the right way and people will support you when you're doing that. The results follow.
NAZEM KADRI (1 GOAL)
On tonight's win:
A big power play goal. We kept it pretty tight through the first and second period, even in the third we just capitalized on our opportunities and made them count.
On slowing down the Backes-Bergeron-Marchand line:
Just as much contact as possible. It's tough — [Bergeron] is pretty good in the faceoff circle so they started with the puck a lot. You just try to get in front of your guy, good box-outs allow [Andersen] to see shots, and clogging up the neutral zone as much as possible. I felt like, collectively, we did a great job today.
On the playoff-style of hockey tonight:
That's how it's going to go for the last 11, 12 games here. It's that type of playoff hockey where one or two mistakes can cost you the game. You're not going to see too much open ice out there, so when you get those chances you capitalize on them.
On the confidence boost from tonight's win:
It's massive, especially to do it in the fashion that we did in regulation. They played a pretty solid road game and just at that point at the end there we capitalized. I think, what was it, two minutes left in the third period? I think that's a little bit deflating for them but, like I said, good teams capitalize on their scoring chances and that's what we did.
On the team going 5-1-1 after returning from California:
That was really the key point, getting one point out of the six on that west coast swing there was a bit of a tough bounce for us. We know we played some good hockey but didn't get the results we wanted to. We just came back to Toronto, put in the work and now it's starting to pay off.
MORGAN RIELLY (1 GOAL)
On getting his goal during 4-on-4 play in regulation rather than 3-on-3 in overtime:
They both work, especially with players like Mitch [Marner] and Auston [Matthews] and Willy [Nylander]. They make it interesting with great plays. Tonight, we were on the winning side of it.
On the key to victory tonight:
I think we were able to clog up the middle. They've got some guys who like to wind it up and get some speed going like Marchand and Pastrnak. It's good to clog up the middle, keep them to the outside and let your goalie take it from there. I thought Freddy [Andersen] was outstanding as usual tonight. We're going to move on and try to build off a big win.
On being encouraged by a win in a tight game:
We've had moments where we haven't exactly done that but I think we've learned from them and we've gotten better as the year has gone on. When you come down the stretch and you're playing these important games late in the season, you learn a lot. This is where you learn how to win. We did a good job tonight of hanging on and getting a big two points for us.
On the team being able to win tight games more consistently now compared to earlier in the season:
Yeah, I think so. I think that's all part of it. I think that when you look at the chances we were able to generate in October and November, we were getting lots of goals and winning games that were high-scoring. Now it's not as back-and-forth and I think were able to win closer games because we've learned a lot this year, we've come a long way and consistency is a big part of that.