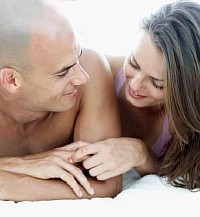 You can publish this article on your website as long as you provide a link back to this page.
This article was last updated on April 16, 2022

You will often find married couples opining that one must forget their period of romance and passion post marriage. The heights of ecstatic passion that you shared previously is said to die a slow death once domesticity sets in.
Prior to tying the knot, you may have dreamt that your sex life will only sizzle after you both start living under the same roof. Wake up! A lot changes after marriage. The same moments of passion are divided between cribbing about your respective workplace stresses or mundane domestic issues. And by the time the two of you hit the sack, you are ready to doze off. Very often, sex takes a backseat. Where previously you couldn't keep your hands off each other when together, now you see the frequency of sex dwindling. But have you ever analysed the reasons for a sharp fall in sex?
Domestic issues: After marriage, domestic issues consume a lot of your time which normally you would have spent with your partner. Former air hostess Stuti Behl shares her story. "Before marriage I never had a day of chipped nails or improper nail paint. I used to pamper myself well and look forward to my time with my hubby Sandeep. But after marriage suddenly I realised that all my freedom had gone for a toss. I now have to worry about groceries, non functional geysers, and planning our daily menu. It consumes all my time." Web developer Sushant Dev has a similar issue with his marriage. "My booze parties have stopped, so have my free style of living. I am always burdened by domestic issues. Since my wife is working I am dragged into every bit of household nitty gritties. I can't help but miss but footloose and fancy free days when I could keep an untidy house, binge and have wild nights. The discipline also mars my sexual capacity, making it boring."
Relationship consultant Sandeep Kapur agrees, "After marriage, life takes a 360 degrees turn for every woman. Sometimes it could lead to withdrawal symptoms as well, as she sees her husband leading the same life while she's the one making all the compromises. It's foolish to expect the same time for yourself. One should embrace this change with open arms. Don't resist change. Attach fun activities to your domestic chores. It will take off the boredom."
Work pressure: Work pressure takes a toll on anyone, married couples being no exception. But there is something that makes it worse for them. Says marketing manager Pradeep Verma who's been married for two years, "I was quite competitive at my workplace prior to my wedding. I would sit till late and even support my colleagues with their work. But now when I get some challenging, hard-hitting assignment off late, I fret about it. I am unable to concentrate. After a heavy day at work, you don't think about sex. Infact, this period of recession has taken a further toll on peoples' life." Copy writer Kavita Sinha who recently got married bears the same woes. "I am not able to give my best to the work. As the clock strikes 6 pm, the thought of returning home occupies half my mind space since my husband expects me to be home on time. Once I reach, I am expected to be the dutiful wife tending to all household activities. Sometimes I just want to tell my hubby about my professional woes, and not just sleep with him. It's tough walking the tight rope between home maker and professional executive."
Psychologist Samir Parekh says, "It is important to prioritise to be able to manage everything. Do not try to be perfect and too harsh on yourself. It will only stress you out. Sharing your work woes helps you connect and distress."
Kids demand attention: This is the obvious, but deserves mentioning. Kids have a huge affect on a couple's sex life. "Nothing goes as per plan when kids are concerned. On days when we plan to have sex, sometimes my daughter falls ill or she insists on sleeping with me," cribs housewife Namita Kapoor. Post pregnancy depression is another reason that hits women's libido. Legal executive Vishal Khattar shares, "My wife has put me last on her priority list. It's only the child who consumes her thoughts all the time. I am so scared to talk about sex."
Gynecologist Anjali Kumar explains, "Post partum depression is common amongst women. She feels vulnerable and drained out all the time due to the hormonal changes in her body. She's learning how to rebalance her life so it's normal to see her behave erratically. Men need to be patient because she has put her needs as well down on the list. He must make her feel beautiful and wanted and understand her emotions."
Boredom settles in: The seven year itch isn't a myth. There are many couples who suffer from boredom. Content writer Dipti Das says, "I am married for three years and we have started taking each other for granted. Sex has totally taken a backseat. Even on nights when I feel like having sex, I am too weighed to ask. So I simply drop the idea and hit the bed."
Suggests psychologist Natasha Singhal, "Monotony sets in everyone's life after a period of time because of deadlines, kids, domestic pressure. It's very difficult to get out of this routine. It's important to give yourself a break once in a while. Share a hobby or start doing some fun activity together. 'Touch' plays a vital role in upping the sex urge."
She's ready and you are not: Commonly we see cases where one of the partner has a stronger libido than the other. And this mismatch can lead to a lot of problems. Explains sexologist Vikrant Sinha, "It is very important to communicate your sexual needs in the most respectful way. There should be no attacking or blaming. Ask for a special night or a erotic massage, whatever that makes you feel connected to your spouse." Agrees PR consultant Manisha Kishore, "I suffer from a super active libido. We used to have a lot of fights previously, but then I resorted to this method. To add that fun element we flip a coin to determine who starts the giving. It works during low points."
Reminiscing about the highs of the dating period leaves a foul taste in your mouth. But there are few quick fixes that can spice up your sex life years after marriage:
Dress up: Now that you are married and you have seen each other in your worst moments, you don't need to take that image for granted. Surprise your partner. Women, invest in sexy lingerie if you have not invested in one for sometime. Men, do not wear your ugly boxers or faded T-shirts. Replace them with attractive night wear.
Make your bedroom a romantic nook: This is a quick fix. Clean the mess and turn your bedroom into a pleasure paradise. Spread scented candles in your room and play it up with aromatic fragrances. Buy bedroom accessories in bright, sexy colours like red, pink and purple. Install a nice music system that can, at the touch of a button play some romantic numbers.
Spice up your bathroom: Spray exotic fragrances in your bathroom. Install bright shower curtains and get expensive creams, lotions and bathing gels that you can indulge in before hitting the bead. It will definitely turn on your man or woman.
Shed those extra pounds: Just because you are married and settled doesn't give you the right to let your health routine go for a toss. Indulge in a regular workout to get an envious body that your partner feels attracted to. He/she will soon start admiring your body.
Pay enough attention: Stop being a couch potato or a workaholic when at home. Dump your remote control and laptop and indulge in some pleasure moments with your spouse. Remember, communication is the key. The farther you let yourself go, the distance will keep on increasing. Try a new activity or challenge your spouse – you may see them in a new light.