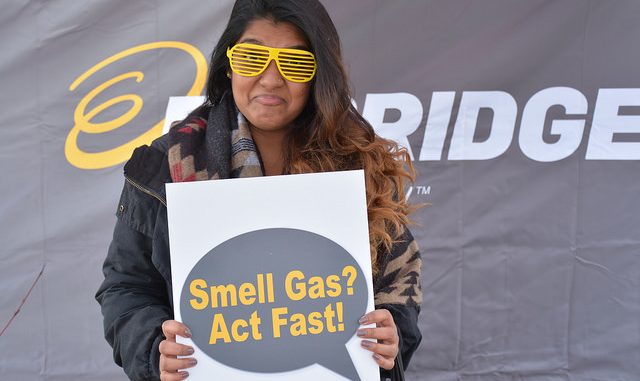 This article was last updated on April 16, 2022
Canada:

Oye! Times readers Get FREE $30 to spend on Amazon, Walmart…
USA:

Oye! Times readers Get FREE $30 to spend on Amazon, Walmart…

The smell of rotten eggs is added to natural gas to alert the public of a potential gas leak, yet according to an Ipsos Reid survey conducted by Enbridge Gas Distribution (Enbridge), only 33 per cent of respondents can accurately describe what natural gas smells like. This is why the company has launched its "Smell Gas? Act Fast!" public awareness campaign to help educate people on natural gas, what it smells like, and what to do if you smell it.
Enbridge believes education is important to improve public safety, especially when it comes to identifying and reporting natural gas leaks. In cases where a gas line has been damaged, people may not recognize or may ignore the smell, especially if the damage is not obvious. In these cases, a gas leak could go unreported.
If someone suspects a natural gas leak, Enbridge advises:
– Act quickly and remain calm, leave the area immediately
– Leave electrical switches, appliances and computers as they are
– Do not smoke or use lighters/matches
– Do not start any vehicles or motors
– Do not use phones or any electronics until you have left the area
– Call the 24-hour Emergency Number: 1-866-763-4527 or call 911
– Make the call. Do not assume that someone else will report it.
Show your #Smellfie for a chance to win $500
Enbridge customers received the annual "scratch and sniff" pamphlets in their October bills. This brochure gives people the opportunity to take a whiff of what natural gas actually smells like. In conjunction, Enbridge has launched a contest to raise awareness about natural gas safety. The public can send in their "Smellfie" for a chance to win one of ten $500 prizes. Like a 'selfie', a Smellfie is a picture of a person's face when they sniff the awful smell of natural gas.
Between now and December 31, 2015, residents of Ontario can enter the contest in one of three ways: viaTwitter with the hashtag #smellfie; by sending an email to enbridgegasnews@enbridge.com">enbridgegasnews@enbridge.com; or in-person at one of several Enbridge #smellfie booths across the province.
The #smellfie gallery, full contest rules, and a list of smellfie booth locations can be found at enbridgegas.com/smellfie.
FACTS
– Natural gas is colourless and odourless in its natural state. For safety, an odourant is added to make it smelly. This helps make even the smallest leak easy to detect.
– While the odour is referred to as having a rotten egg smell, many have never smelt a rotten egg. The smell can also be described as a combination of sulphur, skunk spray and boiled eggs.
– While most natural gas leaks can be detected by smell, it is important not to rely on sense of smell alone. Other ways to detect a potential gas leak include: damaged connections, a hissing sound, and/or dead or dying vegetation around a natural gas meter, appliances or pipes.
– As of November 20, 2015 over 1,000 #smellfie's have been submitted. The gallery is available atenbridgegas.com/smellfie
You can publish this article on your website as long as you provide a link back to this page.