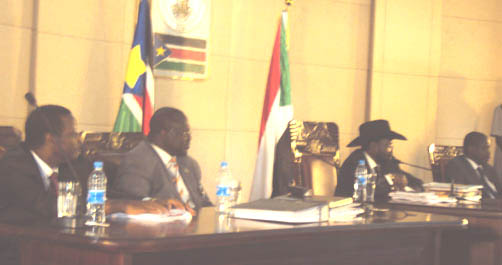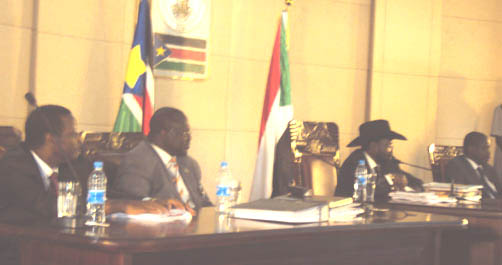 Twenty five South Sudan political parties convened yesterday in Juba under the Chairmanship of President Salva Kiir Mayardit to adopt the amended 2005 Interim Constitution.
Heads and representatives of the various political parties convened at J-One, as they listened to the draft presentation by the Chairperson of the Technical Review Committee, GOSS Minister of Legal Affairs and Constitutional Development, Hon. John Luk Jok.
The three days meeting scheduled to end on Saturday, was characterized with mixed reactions as some members of the opposition were threatening to pull out from the meeting.
Before the presentation of John Luk, Abdurrahman Sule, the Chairperson of the United Democratic Front, UDF asked the parties to agree first on the adoption of the draft constitution.
However, Kiir and other members insisted as John Luk had to present the draft.
Sule's endless demands forced the President to order his exit from the meeting.
"If you want to walk out you can walk," Kiir said.
Key areas of disagreement between the ruling party of Sudan People's Liberation Movement, SPLM and the opposition among others are power sharing, system of governance, period of the transitional government and foreign policies.
Ambassadors of the African Union, AU in Juba and former Burundian President Pierre Buyoya were some of the international diplomats who attended the meeting.
The Sudan ruling National Congress Party, Popular Congress Party, PCP, UMMA, Sadiq Almahdi, Sudan People's Liberation Movement for Democratic Change, SPLM_DC among others was some of the present giant parties in the meeting.
John Luk said that time sensitivity affected the draft constitution work. Dr. Riek Machar confirmed that the paper is expected to be tabled by the GOSS Council of Ministers on 29th April and legislated by the Southern Sudan Assembly on 30th April 2011.
In an exclusive interview with Dr. Elias Lomuro, the Chairperson of the Southern Sudan Democratic Forum, SSDF, on what will be the way forward if SPLM insists on agreeing with the demands of the opposition; he believed that the three days meeting will allow a platform for consensus.
He said that the coming together of all the political parties will bring a solution to issues not ironed out by SPLM during the amendment of the constitution.
Article viewed at: Oye! Times at www.oyetimes.com