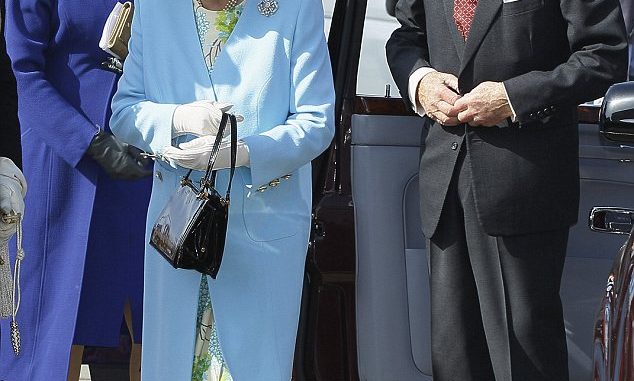 The Queen has visited three parts of London today as a part of her Britain's tour of Diamond Jubilee celebrations.
East London residents have received the Queen with a warm welcome. Young students, parents and pensioners waved union jacks as the monarch and the Duke of Edinburgh visited their first stop, Redbridge, where an exhibition of world-renowned artwork and design classics were on display to mark the Diamond Jubilee at 17th-century Valentines Mansion. The royal couple is also visiting Waltham Forest and Harrow.
The Duke is well known for his frankness and making big events lighter and even makes people feel comfortable during royal engagements. In this connection, when Philip met his well-wishers, he showed that despite his recent health problems his wits are still alive as he frankly commented on a handicapped man's mode of transport.
The royal walked up to David Miller, 60, and, gesturing to the four-wheeled mobility scooter he was sitting on, asked him: "How many people have you knocked over this morning on that thing?" A trustee of a charitable trust that runs Valentines Mansion, Mr. Miller and the accompanying crowd exploded with laughter.
Mr. Miller has commented afterwards: "That is just typical from the Duke. He is renowned for his humour but no offence was taken, it was all in good humour. I told him 'no, your Royal Highness, I had not knocked anyone down'."
Just before leaving, the Queen had opened Valentines Diamond Jubilee Dry Garden that was laid with plants in need little watering – surrounded by cheering crowd.
Both of them then moved to Walthamstow Assembly Hall for a lunch attended by mayors from the 32 boroughs and the City of London. The silver service lunch preparations were made by Indian chef, Cyrus Todiwala, with an assistance of cooks from top London hotels and served by students from catering courses from across the capital. Business and religious leaders along with community workers have also dined.
In Harrow, the royal couple will be going to the Krishna Avanti School where they will be viewing dance and musical performances by students and local groups.
Article viewed on Oye! Times at www.oyetimes.com.