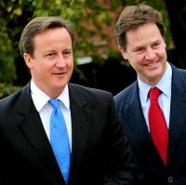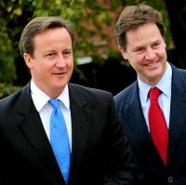 U.K. Prime minister, David Cameron has claimed today that coalition deputy, Nick Clegg was involved while the plans for powers to monitor internet communication were drawn up.
Lib Dem president, Tim Farron has stated that his party would "kill" the plans, if they were a "threat to a free and liberal society". But, Mr. PM while his being on a flight to Japan has told the critics: "people from impeccable civil libertarian backgrounds", including Nick Clegg, had seen at the plans.
Mr. Cameron has spoken to journalists on a trade mission to south-east Asia: "I think everyone needs to be patient, they need to see what is proposed, both in terms of this court issue and in terms of telephone calls and emails. No one is talking about changing the rules and snooping into the content of somebody's telephone calls or emails, and a warrant would still be needed, signed by the home secretary.
"All we're talking about here is making sure we're keeping up with technology. We have always been able to see who people are contacting through phone calls. It used to be the case that the communications data of 90% of calls could be accessed but that's not the case with Skype and other new technologies.
"I think it's important that people see the detail and hear the arguments. You've got to remember that this was a National Security Council where, sitting round the table, was (Lib Dem ex-energy secretary) Chris Huhne, Nick Clegg, (Tory justice secretary) Ken Clarke – people from impeccable civil libertarian backgrounds. I think when people see the detail they will understand this is a very sensible way of keeping up with technology and not a snoopers' charter."
The full proposals regarding the enhancement of powers to monitor emails and internet communications as a part of counter terror measures are not published yet.
A large number of individuals hold the view that internet firms would be required to give intelligence agency GCHQ full access to emails, calls and messages without the issuance of warrant. The access would not allow GCHQ to view content of messages, but would enable it to identify who someone was contacting, how often and for how long, and could also access internet browsing history.
Director of campaign group Big Brother Watch, Nick Pickles has namedthe move "an unprecedented step that will see Britain adopt the same kind of surveillance seen in China and Iran".
Article viewed on Oye! Times at www.oyetimes.com.