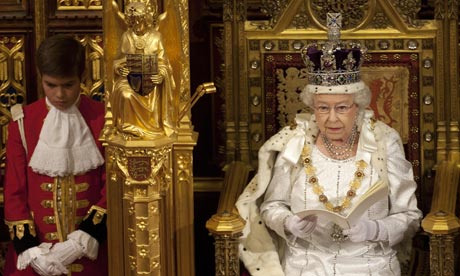 The Queen's Speech main focus was to identify the current Government's hope to work on economic reforms and family-friendly policies in the coming year.
Her Majesty during the 69th address with the MPs and peers, has said that appropriate measures would be taken to improve the regulation of banks, while reforms to the Enterprise Bill will provide relaxation to the businesses. The speech was opened with the words that it would be ministers' "first priority… to reduce the deficit and restore economic stability".
The Queen has further talked regarding the voter-friendly measures, such as facilitating the improvement in the lives of children and families.
"My Government will propose measures to improve provision for disabled children with special educational needs. New arrangements will be proposed to support children involved in family law cases, reform court processes for children in care and strengthen the role of the Children's Commissioner. Measures will be proposed to make parental leave more flexible so both parents may share parenting responsibilities and balance work and family commitments."
After having faced the defeat by Labour in the last week's local government elections, both Conservative and Lib Dem ministers are hoping the Speech will relaunch the coalition Government. The aim is to introduce a number of voter-friendly measures, such as reducing electricity prices and protecting farmers and grocers from rip-offs by big supermarket chains.
The Labour leader, Ed Miliband has commented that the coalition's programme was supposed to mark a fight back after last week's council election's loss but it showed "they just don't get it". Mr. Miliband has told MPs that "nothing" has been offered by the programme to the unemployed youth, those being hit by the rising cost of living and millions of hard-pressed families. He has added: "No change, no hope, that is the real message of the Queen's Speech.
Article viewed on Oye! Times at www.oyetimes.com.