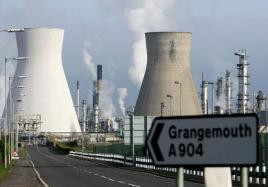 The Grangemouth petrochemical plant owner Ineos has announced that the Scottish biggest industrial site will remain open as the trade union Unite agrees on a fresh survival plan that involves a three year no-strike deal for the resolution of dispute with workers.
Earlier, Ineos had announced on Wednesday that the plant in southwest Scotland was to shut, with putting almost 800 jobsat risk, after union members rejected a survival plan that had included a pay freeze and changes to their pensions.
But the company had reversed the decision on Friday that the plant and its oil refinery – which together employ more than 3,000 permanent staff and contractors – would reopen immediately. The change in status came after a "dramatic u-turn" by Britain's biggest trade union, Unite.
Ineos has told that agreement with Unite involves three years ban over strikes, a "modern pension scheme", a three-year pay freeze, and changes to union agreements including no full-time union convenors.
Ineos founder and Chairman, Jim Ratcliffe has said it was "a victory for common sense".
Mr. Ratcliffe has added: "We have had assurances from the union yesterday that the changes we have requested in order for us to invest in that facility have been agreed and we are delighted to announce that Grangemouth will restart today, both the refining and petrochemicals side."
According to Ineos, after Unite's withdrawal to oppose the company's survival plan, shareholders will make an added investment of £300m in the company.
Scotland's First Minister, Alex Salmond has said it was a "much better day" than the "desolation" which had been experienced a couple of days earlier.
Mr. Salmond has also indicated the plant had the prospect of a "bright future" for the next 25 years.
Article viewed on Oye! Times at www.oyetimes.com.