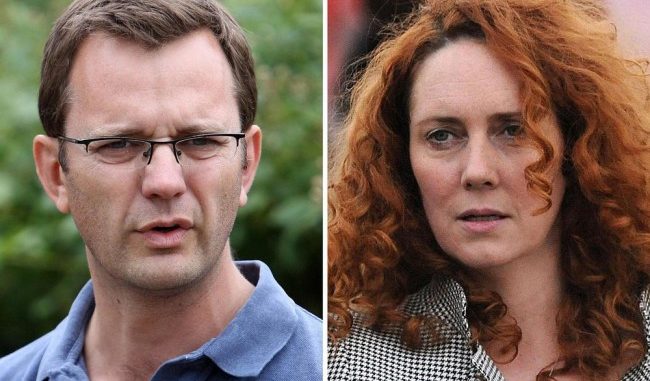 The former News International chief executive Rebekah Brooks and ex-News of the World editor Andy Coulson are due to appear at the Old Bailey on Monday to face trial over charges in relation to phone hacking scandal and alleged corrupt payments to public officials.
Both the defendants are among eight individuals to face a jury for the first time over the matter a couple of years ago that had shocked everyone including the British newspaper industry and the establishment.
Brooks, 45, from Churchill, Oxfordshire, faces two counts of conspiring with others to commit misconduct in public office and two charges of perverting the course of justice by damaging the potential evidence against her.
Coulson – ex-government spin doctor, 45, is accused of two allegations that he conspired with the tabloid's former royal editor Clive Goodman, 56, from Addlestone in Surrey, and persons unknown to commit misconduct in public office. He also faces the similar counts on phone hacking as Brooks.
The trial, which was previously scheduled to continue till four months, will now run for six months due to its complex nature.
Mr. Justice Saunders has told them: "The trial which we are about to start will take a considerable length of time. It is estimated that the case may last until Easter. I hope that with the assistance of counsel the case will finish more quickly, but people who sit on it should be prepared for the case to go on that long."
A huge panel of around 80 potential jurors was brought into the courtroom.
Mr. Justice Saunders has said: "To sit on a jury for this length of time, five or six months, is a significant disruption in people's lives and we do appreciate that. We do need the assistance of members of the public like you to try this case. It is, as you will hear, an important case and we have to find a jury able to try it."
He told them that jury service "is a public duty and is not voluntary".
The potential panel members had already given responses against the questionnaire. In addition to the questionnaire, they were also asked about their willingness to commit to a trial of this length.
Article viewed on Oye! Times at www.oyetimes.com.