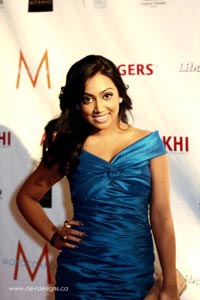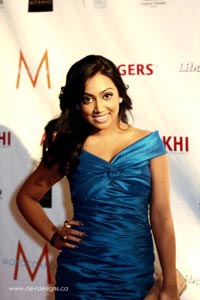 On Friday February 4th 2011, Toronto was a buzz with Johnnie Walker presents ANOKHI's 5th Annual Gala in association with Bisha Hotel & Residences Toronto. This much anticipated three part event took place at the prestigious Liberty Grand Entertainment Complex in Toronto to a sold out audience of over eight hundred people throughout the night, to celebrate the release of ANOKHI magazine's 8th Anniversary Collector's issue and 'Sexy & Successful List' of today's hottest South Asians from around the world. The yearly success of this annual gala is a testament to the tremendous and visible success story of the global South Asian community, which Anokhi Media Corp. honours and showcases by brining notable personalities and celebrities from the fashion, entertainment, media and entrepreneurial industries from Canada, the US, the UK and India, to Toronto each year.
This glitzy red carpet event hosted a by invite only media reception followed by a two hour public attended awards and entertainment show over a four course meal with wine, ending with an exclusive VIP after party.
The media reception gave host to a complimentary Johnnie Walker tasting station, canapés by Liberty Grand, a four tier cake by Fine cakes By Zehra, and a gifting lounge with products by Bisha, Moroccanoil, Faces Cosmetics, Wraps Enterprises Inc. and Rogers Communications.
At the beginning of the show, the President and CEO of Anokhi Media Corp., Raj Girn shared: "I'm listening to this presentation on the ANOKHI story and am truly amazed that a dream I had over nine years ago has developed into this tremendous interactive multimedia brand known as ANOKHI – magazine, online community, online TV, social media network and our events!" She went on to announce two new initiatives launching in March of this year:
– ANOKHI's aggressive move into the digital, mobile world beginning with a partnership with Rogers On Demand Online where ANOKHI Pulse TV episodes are now available for free viewing. Additionally, ANOKHI has entered into a partnership with Bluewave, one of the world's premier digital, mobile content syndication providers, through which the ANOKHI MEDIA app will be launched across twenty seven platforms in over sixty countries worldwide.
– The launch of the openchest.com interactive blogsite, highlighting Girn's celebrity interviews. Girn stated: "Since the onset, I've been inundated with requests from the public, as to where they can access these interviews after an issue has come off the newsstands. Well, I'm pleased to announce that finally, I'm hearing you and the result is the launch of the openchest.com blogsite this March, which will give you access to absolutely every interview I have conducted over the years. It'll also be a haven for connecting with me personally, but be forewarned, this blogsite is not for the faint at heart because for those of you who know me, know that I'm not a woman that has the word 'censorship' in my vocabulary!"
The night then went on to acknowledge the gala's many sponsors by Vice President, Gerald Laing and talk about the release of the 8th anniversary issue of ANOKHI magazine by editor-in-chief, Hina Ansari, before the awards were announced and presented by Johnnie Walker:-
AZURA: Most Promising Model 2011
NAVEEN SIDHU: Most Promising New Media Entrepreneur 2011
BAGESHREE VAZE: Most Promising Artistic Dancer 2011
TINA: Most Promising Musical Artist 2011
MELINDA SHANKAR: Actress Of The Year 2011
MONA SINGH: Musical Artist of The Year, Female 2011
RAGHAV: Musical Artist of The Year, Male 2011
ANNE- MARIE MEDIWAKE: Excellence In Journalism 2011
DONNA D'CRUZ: Excellence In DJ Performance 2011
VIKRAM PHADNIS: Excellence In Fashion Design 2011
The show also showcased live performances by Tina, Bageshree Vaze, Mona Singh and Raghav, presented by Bisha Hotel & residences Toronto, followed by a spectacular runway show as the finale to the show, by one of India's most celebrated Bollywood fashion designers, Vikram Phadnis who showcased his regal collection for the very first time in North America, presented by Moroccanoil. This was followed by an intimate exhibition where attendees were able to meet the designer and purchase his clothing for the first time in Canada.
Anokhi Media Corp. also supported the Canadian Foundation For Aids Research (CANFAR) in its mission to raise awareness and generate funds for research in all aspects of HIV infection and AIDS, by encouraging donations throughout the night and by donating proceeds from ticket sales. CANFAR spokesperson, Canada's best known broadcast host and journalist, 7 time Gemini Award Nominee and Member of the Order of Canada, Ms. Valerie Pringle took the stage to reinforce the need for support.
The show was hosted by well known media personalities from the Rogers Communications family: Jake Dheer, Angie Seth, Francis D'Souza, Veronica Chail and Mohit Rajhans. The night then shifted gears at the VIP after party with a first time performance in Canada by New York's famed DJ Donna D'Cruz and first time performance at an ANOKHI event by Bollywood's Ali Quli Mirza, as well as encore performances by Raghav, Mona Singh and Tina.