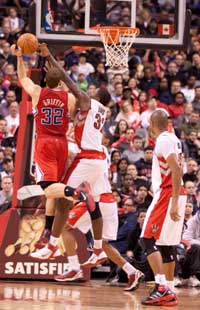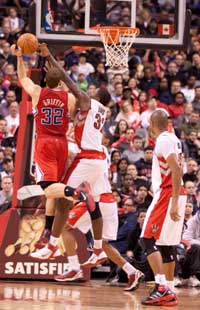 Raptors' Ed Davis (centre)
blocks a shot by Clippers'
Blake Griffin (left)
Ed Davis shines in the battle of the rookies


The Blake Griffin show pulled through Toronto on Sunday night but the Raptors stifled the talented rookie sensation and held off the Los Angeles Clippers for 98-93 victory at the Air Canada Centre.
The Raptors received another great effort from Andrea Bargnani as he led the team in scoring for the fifth straight game, finishing with a game-high 27 points while shooting 9 of 21 from the field. DeMar DeRozan added 17 points while Ed Davis and Jose Calderon both finished with double-doubles. Davis chipped in 13 points and a career-high 14 rebounds along with 3 blocked shots and a steal, while Calderon finished with 10 points and a game-high 11 assists. The victory was only the Raptors' 2nd in 18 games.
It seems the entire NBA is abuzz with Griffin fever these days, but for good reason as he has been one of the biggest stories of the season thus far. The Toronto Raptors and their fans got their first look at the power forward and everyone in the ACC found out quickly what this kid is all about. With 4:11 remaining in the first quarter, Griffin grabbed a Baron Davis lob pass and threw down a thunderous jam to the delight of the crowd who roared in appreciation.
Griffin did not have a dominant performance as some might have been expecting/hoping he would against a typically weak Raptors defence. Nevertheless, he had a good game and earned himself another double-double performance, his 45th of the year, finishing with 21 points and 15 rebounds.

Davis finishes a dunk while a
trio of Clippers look on
Baron Davis put in a solid performance as well as he finished with 20 points and 7 assists. Small forward Ryan Gomes added 14 points while Brian Cook came off the bench to score a season-high 17 points.
Griffin could have had a much better game but the Raptors followed through on their game plan and did well on the defensive end to neutralize him by limiting his space on the floor. One of the game's highlights was Amir Johnson's block on Griffin in the opening minutes of the first quarter.
"I think we listen to enough people talk about Blake Griffin," said Raptors coach Jay Triano. "I think it gets our guys fired up to play and to try and stop them and I don't think they want to be the recipient of him dunking on them or making play on them. So our guys were very focused and very into making him work for everything he had."

Of course it was no surprise to Griffin that the Raptors targeted him all night.
"That was obviously a game plan for them coming in," said the Clippers rookie. "I guess they did do a pretty good job. But at the same time, I thought we just missed some easy shots and I have got to do a better job of distributing the ball."
With Johnson in early foul trouble, Davis was called upon to come off the bench with the difficult task of guarding Griffin. With all eyes on Griffin, Davis came through with a big game and was arguably the better rookie on this night.
"Yeah we needed him to, with Amir (Johnson) picking up all the fouls," said Triano.
"Down the stretch I went with Ed (Davis) because Ed was playing very well and he caused Blake (Griffin) some problems. He showed him different looks."
"I think he blocked two or three shots in the game and comes back and has another career high in rebounds and played a lot of minutes which is good. Again, part of his development is going to be for him to continue doing that, it's nice to see him play back-to-back (games) like that."
Calderon was also impressed with Davis' performance.
"He played really good defence tonight against Blake (Griffin)," said Calderon. "He did everything. It was a great game for him…he helped us win tonight."

Talk of the NBA

Griffin hangs from the rim
after one of his many dunks
on the night
For those not aware, Griffin is having a spectacular rookie season. The 21-year old is averaging over 37.7 minutes, 22.8 points, 12.6 rebounds and 3.5 assists per game.
Earlier this month, Griffin became the first rookie to be named to the NBA all star game since San Antonio Spurs' centre Tim Duncan accomplished the feat in 2003. The power forward, along with DeRozan, will also take part in the Rookie Challenge & Youth Jam and the Slam Dunk Contest during the all-star weekend.
The season is only half over but Griffin's list of accomplishments is growing by the day.
He already has 45 double-doubles (2nd in NBA), including a franchise record for 27 consecutive double-doubles. He ranks 3rd in the NBA in rebounding and 2nd in dunks while leading all rookies in scoring and rebounding. He also leads the league in most games with 30+ points and 10+ rebounds and set another franchise record for most points in a game (47).
So how does Griffin feel about being the centre of attention wherever he goes?
"It's exciting and humbling but at the same time I have to realize that my main priority is first to win," said Griffin. "I would much rather come out and not have a single so-called highlight and get a win. It's not about all that, it's about playing well and making my teammates better and trying to get wins."
"To be honest, it's not something I really think about. It's great to play in front of a big crowd and all, but it's one of those things where I'd rather play in front of 3 people and get a win than 20,000 and lose."
The Raptors will hope to use the momentum of this victory as they shift their focus to the most anticipated game of the season – Chris Bosh's return to Toronto as a member of the Miami Heat. Toronto will host Bosh, Lebron James, Dwayne Wade and the rest of the Heat on Wednesday night at 7pm before heading into the all-star break.
To follow me on twitter click
HERE