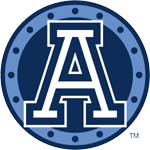 The Toronto Argonauts Football Club is thrilled to announce that it has signed another of its draft picks through the 2012 season. This time it's the fastest man in CFL Evaluation Camp history, KR/WR Steven Turner. The Argos now have three 2010 draft picks (OT Joe Eppele & WR Spencer Watt) under contract.
The Bishop's University graduate was drafted by Toronto in the fourth round, 30th overall, in the 2010 CFL Canadian Draft. Dubbed "The Afterburner" by those who saw his record-setting performances at the 2010 CFL Evaluation Camp, Turner streaked past scouts in the 40-yard sprint, turning in a world-class time of 4.3 seconds, and then cut down the vertical jump test leaping and unheralded 43.5 inches into the air. He was a two-time QUFL All-Star as a kick returner and scored six career touchdowns on both kickoff and punt returns.
Turner is from Brampton, Ontario where he played junior football with the Brampton Bulldogs and attended St. Thomas Aquinas High School.
Commented Turner, "It's a dream come true to be drafted and signed by your hometown team. When I started playing football, one of my dreams was to be an Argonaut. It had me speechless when I heard I was drafted by the Argos. I am training for camp to earn myself a spot and be ready come game day."
Steven Turner
Receiver/Kick Returner
5'9", 185 lbs.
Bishop's
Born: January 18, 1987
Brampton, Ontario
1st Year Argos/1st Year CFL
Non-Import
Acquired: Selected by Toronto in the fourth round (30th Overall) in the 2010 CFL Canadian Draft… Signed with Toronto on May 21, 2010.
2010: Attended CFL Evaluation Camp in March and set records in the 40-yard dash (4.31 seconds) and vertical jump (43.5 inches) tests…Attended tryouts with the Green Bay Packers (NFL).
College: Played four years at Bishop's University (2006-09) under former Argo Leroy Blugh…Finished career with 2,379 all purpose yards including 37 catches for 516 yards, 26 kickoff returns for 837 yards with 3 TDs, and 65 punt returns for 751 yards and 3 TDs in 29 games…2009 Named QUFL All-Star at kick returner…Named co-winner of Bishop's Special Teams Award and team captain…Dressed in six games at SB…Caught 11 passes for 207 yards and 1 TD, returned 7 kickoffs for 150 yards, and 13 punts for 265 yards with 2 TDs…Led CIS with 20.4 AVG yard/ punt return…Made 7 ST tackles…Invited to play in annual East-West Bowl…2008 Won Bishop's Special Teams Award…Unanimous selection as QUFL All-Star at kick returner…Started eight games at SB…Caught 19 passes for 249 yards and 2 TDs, returned 6 kickoffs for 129 yards and 29 punts for 267 yards and 1 TD…2007 Won Bishop's Special Teams Award…Tied for QUFL All-Star team as kick returner…Dressed in 7 games…Rushed 13 times for 81 yards, caught 7 passes for 60 yards, had 5 kickoff returns for 334 yards, 66.8 AVG, and 3 TDs, and returned 22 punts for 219 yards…2006 Dressed in 8 games at RB/KR and led Gaiters with 224 kickoff return yards on eight returns…Rushed 19 times for 149 yards as a freshman.
Personal: Steven is the son of Roy and Audrey Turner and attended St. Thomas Aquinas H.S. in his hometown Brampton, Ontario. The sociology major at Bishop's University played junior football with the Brampton Bulldogs. The first sport Steve participated in was baseball where he played centerfield for the Brampton Royals. He enjoys training and spending time with his friends and family in his spare time.