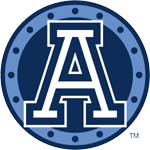 The Toronto Argonauts Football Club just added some strength to its defence and special teams, inking a deal with 2010 draft pick Grant Shaw through the 2012 season. Shaw was selected in the 2nd round, 11th overall, by the Argos and hails from Edmonton, AB. A 2009 Canada West All-Star for the Saskatchewan Huskies, Shaw is known for his explosive leg as a kicker, an impact special teams player and a talented defensive back.
The Argos now have four 2010 draft picks (OT Joe Eppele, KR/WR Steven Turner & WR Spencer Watt) under contract. All four draft picks will take to the field on June 2 when Rookie Camp begins.
Grant Shaw
Defensive Back/Kicker
6'2", 208 lbs.
Saskatchewan
Born: March 8, 1984
Edmonton, Alberta
1st Year Argos / 1st Year CFL
Non-Import
Acquired: Selected by Toronto in the 2nd Round (11th Overall) in the 2010 CFL Canadian Draft… Signed with Toronto on May 22, 2010.
College: 2009 Named Canada West All-Star…Played in eight games for the Huskies as a DB and kicker… Recorded 18 tackles, 1 INT, one breakup and one forced fumble…Hit 19-of-23 field goals…2,904 yards on 77 punts…1,597 yards on 27 kickoffs…2008 Played in nine games…Recorded 15 tackles, four interceptions, two breakups and one forced fumble…Named Canada West and CIS Defensive Player of the Week for two interceptions in a win over Regina on September 6…JUNIOR (Edmonton Huskies) 2006 Named PFC All-Star Defensive Back, Kicker of the Year and Special Teams Player of the Year…2004-05 (Edmonton Huskies) Earned National Championship title…Led the nation in interceptions with 12.
Personal: Grant is the son of Heather and Glenn and has an older brother named Steve. He was a sociology major at Saskatchewan and plays flag football in the summer. Grant enjoys golf and basketball in his spare time.