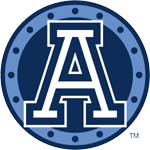 With 2010 training camp in full swing and positional battles heating up, Sunday will be the first chance fans can see Argonauts rookies and veterans in action as the first pre-season game comes to Rogers Centre this Sunday, June 13 at 1:00 p.m. The Argos faithful will see QBs Dalton Bell, Danny Brannagan, Ken Dorsey and Cleo Lemon guide the Double Blue vs. the Hamilton Tiger-Cats as new Head Coach Jim Barker patrols the sideline.
The Toronto Argonauts Football Club is also pleased to announce that all of its 2010 games will be broadcast on THE FAN 590 and fan590.com with veteran play-by-play man Mike Hogan and Argos alumni president Peter Martin at the mic. The Argos and THE FAN 590 have renewed their partnership agreement for another season that will bring fans a weekly evening show all about the Argos.
Commented Don Kollins, Program Director, THE FAN 590, "THE FAN 590 is once again very proud to be the official play-by-play voice of the Toronto Argonauts Football Club for the 2010 season. Continuing to be associated with the Argos organization was an easy choice and a nice fit for the radio station. Once again this year Argos fans can look forward to hearing play-by-play of the games on THE FAN 590 or on-line at FAN590.com, plus plenty of discussion about the club from THE FAN 590 radio announcers."
The pre-season game will also be a celebration of amateur sport. The Mississauga Warriors will hold a pre-game and halftime scrimmage, as well as participate in the fan tunnels and be the beneficiary of the game's 50/50 draw. As well, the 2010 Canadian Olympic team will be saluted with 2010 Olympic Silver medallist in Bobsleigh, Shelly-Ann Brown, performing the coin toss and 2010 Olympians in Snowboarding, Palmer Taylor and Brad Martin, handling kickoff duties. 2010 Olympians in Figure Skating, Vanessa Crone and Paul Poirier, will also be in attendance.
The game will feature new performances from the 2010 Argos Cheerleaders, presented by the Toronto Sun and the game will mark the debut of Mark Strong as the in-stadium host and Scott Boogie as the official deejay of the Toronto Argonauts. The Waterloo Regional Police Male Chorus will perform the anthem while Aurora Live dance studio will perform at halftime.
Supporters are invited to join Argos staff and cheerleaders at the Official Post-Game Party at Jack Astor's, 144 Front Street West, in downtown Toronto.