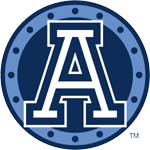 Love is in the air and the Toronto Argonauts Football Club is showing its affection by signing imports DE Michael Hancock, RB Chad Kackert and DB Dee Webb to contracts.
Michael Hancock is a 6-foot 7-inch defensive end who, in college, was a two-time National Rudy Award nominee for demonstrating character, courage, contribution and commitment as a member of the Florida Atlantic Owls. He was also a two-time game defensive MVP for his alma mater. In his senior year, he started all 11 games he played and recorded 7.5 tackles for loss, 6 sacks and a fumble recovery for 34 yards. He joins the Argos after attending mini-camp with the Miami Dolphins and training camp with the UFL's Hartford Colonials.
Chad Kackert (pro: KAK-ERT) was a four-year letterman at running back and also returned kicks for the University of New Hampshire Wlidcats. He was named Second- Team ALL-CAA for leading his team in carries during his senior year (168 carries for 780 yards and 10 TDs). In 2010, Kackert attended training camp with the Jacksonville Jaguars, where he was a final cut, and was later added to the Calgary Stampeders' practice roster.
This will be Demetrice 'Dee' Webb's second stop in Toronto after attending training camp with the Argos in 2009. The former Jacksonville Jaguar's draft pick was later signed by the Calgary Stampeders where and spent most of the 2009 season on the Stamps' practice roster. He was activated for one game, which he started at DB against the B.C. Lions, and made two tackles. Webb also has experience with the AFL's Jacksonville Sharks and Philadelphia Soul.
Michael Hancock
Defensive End
6'7", 260 lbs.
Florida Atlantic
Born: October 25, 1985
Parkland, Florida
1st Year Argos/ 1st Year CFL
Import
Acquired: Signed as a free agent with Toronto on February 14, 2011.
2010: Attended training camp with the Hartford Colonials (UFL) and released as a final cut.
2009: Attended mini-camp with the Miami Dolphins (NFL)…Rehabbed injury and trained.
College: Played five seasons at Florida Atlantic (2004-08)…2008 Played in 11 games with 11 starts… Recorded 7.5 tackles for loss, 6 sacks and a fumble recovery for 34 yards…Named team's Most Improved Player…Nominated for National Rudy Award for second year in a row…2-time game defensive MVP…Played in the MotorCity Bowl…2007 Dressed in 13 games recording 19 tackles, 2 sacks and one fumble recovery for 34 yards as a senior…Named game MVP…Nominated for the National Rudy Award… Dressed in the New Orleans Bowl…2006 Returned from hamstring injury and played six games as reserve defensive end and on special teams…Recorded 3 tackles for loss and one sack…2005 Played 7 games on defensive line…Also lined up at Tight End and Offensive Line due to injury…2004 Redshirt as a freshman.
Personal: Michael graduated from Florida Atlantic as a double major in Business Management and Marketing. He was diagnosed with Type 1 diabetes in 2009 and now controls it with regular insulin injections. He enjoys reading, watching movies and scuba diving. He cites Fiji as his favourite dive site. His parents are Steve and Joan Hancock. Michael attended Coral Springs Christian Academy in Coral Springs, FL where he was a two-time all-conference player and a three sport athlete in football, track and basketball. He was a top-10 finisher in state 300 (5th) & 110 (6th) metre hurdles.
Chad Kackert
Running Back
5'9", 199 lbs.
New Hampshire
Born: September 15, 1986
Simi Valley, California
1st Year Argos/ 1st Year CFL
Import
Acquired: Signed as free agent with Toronto on February 14, 2011.
2010: Signed as free agent with Jacksonville Jaguars April 24…Waived by Jacksonville on September 4 as a final training camp cut…Signed a practice roster agreement with the Calgary Stampeders in October.
College: Played for the New Hampshire from (2006-09)…Four-year letterman at RB and returner…2009 Earned Second-Team ALL-CAA at Running Back…Led the team in rushes in his senior year with 168 catches for 780 yards, and 10 TDs…2008 Carried 99 times for 780 yards with 6 TDs… Led team with 20.4 avg. on 25 kickoff returns with a long of 59…15 receptions for 176 yards and 2 TDs…2007 Played in only nine games due to injury… Led UNH in kick returns with 26.3 AVG…Carried 80 times for 380 yards and 4 TDs…2006 Top returning rusher with 115 carries for 584 yards, and 5 TDs…Recorded 14 catches for 166 yards, and 2 TDs.
Personal: Charles Kackert (PRO: KAK-ERT) was nicknamed 'Chad' at a young age by his father, Craig Kackert. His mom is Bette Kackert and his sister Jamie works in the not-for-profit sector. Chad was a kinesiology/pedagogy major at New Hampshire where he played football with the younger brother of Argos teammate Alex Buzbee. Chad plays piano and enjoys listening to all types of music. He also enjoys travel as he has driven his car throughout most of North America this off-season.
Demetrice Webb
Cornerback
5'11", 183 lbs.
Florida
Born: December 8, 1984
Jacksonville, Florida
1st Year Argos / 1st Year CFL
Import
Acquired: Signed as a free agent with Toronto on February 14, 2011.
2010: Signed as a free agent with the Jacksonville Sharks (AFL) and played part of the season… Released by the Sharks to attend a tryout with the Miami Dolphins (NFL).
2009: Signed as a free agent with Toronto on April 27…Attended training camp with Toronto and released…Signed a practice roster agreement with the Calgary Stampeders…Started one game at DB on September 25 vs. B.C. and made 2 DT…Released following the season.
2008: Recorded 40 tackles in first year with the Philadelphia Soul (AFL)…Won ArenaBowl championship.
2007: Released by the Jacksonville Jaguars on September 1…Signed with the Philadelphia Soul (AFL) as a free agent on December 11.
2006: Drafted by the Jacksonville Jaguars in the seventh round, 236th overall, in the 2006 NFL Draft….Signed a four-year contract with the team on July 24…Played in 11 games with one start…Recorded 17 tackles (13 solo), one interception and five special teams tackles.
College: Two-year starter at Florida (2003-05)…Started 24 of 35 games and had career totals of 118 tackles (87 solo), five tackles for loss, 24 passes deflected, three forced fumbles and three blocked kicks…2005 Selected First-Team All-SEC by AP and the NFL Draft Report….Named Second-Team All-SEC by the coaches…Ranked 6th on the team with 46 tackles (34 solo) and had one INT and blocked two kicks…Had two forced fumbles and 13 passes deflected…2004 Started all 12 games…Saw the most plays (924) of any Gator…Named team's Most Outstanding Defensive Back…Ranked fourth on the team with 61 tackles (46 solo) and had five tackles for loss…Blocked a kick and had three passes deflected…2003 Appeared in 11 games as a true freshman mainly on special teams…Recorded 11 tackles (7 solo) with one forced fumble.
Personal: "Dee" Webb attended Ed White H.S. in Jacksonville, Florida where he earned USA Today First-Team All-America honours, Super Prep's Defensive Player of the Year and was named Florida Times-Union Player of the Year as a senior. He majored in Anthropology at the University of Florida and resides in his hometown of Jacksonville during the off-season.