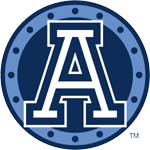 The Toronto Argonauts Football Club is pleased to announce that non-import OG Jeff Keeping has pulled out of free agency and re-signed with the club through the 2013 season. Keeping was granted free agency on February 16.
Commented General Manager and Head Coach Jim Barker, "Our goal from the beginning of free agency was to sign our own guys and we've been fortunate to be able to do that. Jeff is a hardworking player who is very valuable to the team. He is versatile and has played many different positions. We're happy to have him back."
Originally a second round draft pick (18th overall) of the Argonauts in the 2005 CFL Canadian Draft, Keeping is a veteran of 67 regular season games and five playoff games. The Uxbridge, Ontario native has been nothing less than versatile during his time in Double Blue. A tight end at Western Ontario, his CFL career has seen him pressed into action at tight end, fullback, nose tackle and offensive guard. In 2010, Keeping played 13 games, with three starts at guard, and dressed in both playoff games.
Commented Keeping, "I'm an Uxbridge boy and to play in front of family and friends is an opportunity not many athletes get. It's exciting to play for my hometown team and I want to win a championship with the Double Blue. I have great relationships with all of the guys in our locker room and have gotten to know many of our great Argos fans over the years. With the progress we made last year, I can't wait to build off of that success in 2011 and bring the Grey Cup home."
Jerome Hewitt tied the NCAA DII record in 2009 with five combined kickoff and punt returns for touchdowns in his senior year at Southeastern Oklahoma State. The 5-foot, 5-inch speedster was named First-Team Conference, making him the second player in SE Oklahoma history to receive that honour. In 2008, Hewitt was First-Team All-Conference as a return specialist, and earned honourable mention in 2007. Jerome signed with the Argos before 2010 training camp but a foot injury prevented him from reporting. He spent the year rehabbing and has been training at full speed for several months.
Durrell Oliver played four seasons at Sacramento State where he ranked fifth on his team with 53 tackles, including 32 solo stops in his senior year. He tied for second on the team with two interceptions and led the program with six pass knock downs. Oliver attended training camp with the Sacramento Mountain Lions (UFL) before coming to Toronto.