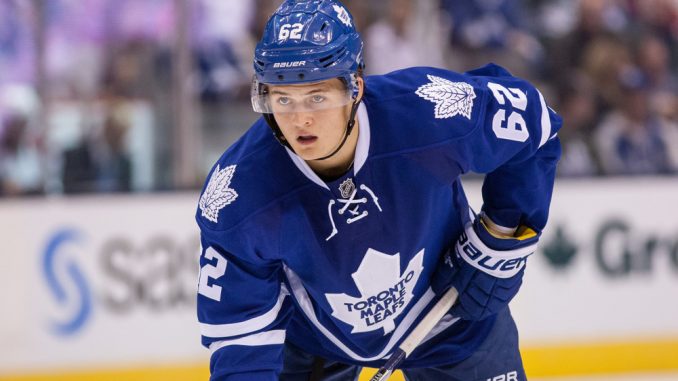 Here is the summary from the game played on Wednesday, October 18, 2017
| | | | | | |
| --- | --- | --- | --- | --- | --- |
| | 1 | 2 | 3 | OT | FINAL |
| DETROIT | 1 | 2 | 0 | 0 | 3 |
| TORONTO | 4 | 1 | 1 | 0 | 6 |
GAME SUMMARY | EVENT SUMMARY | FACEOFF SUMMARY

ON THE SCORESHEET
Nazem Kadri opened the scoring for the Maple Leafs at 5:56 of the first period and later registered the secondary assist on Rielly's second period goal. Kadri has three multi-point games this season.
Zach Hyman scored Toronto's second goal of the night at 6:39 of the first period and had the lone assist on Matthews' first period goal. Hyman has scored all three of his goals on home ice this season and has assists (2) in two consecutive games.
Auston Matthews scored the Maple Leafs' third goal of the night at 15:46 of the first period and later had the primary assist on Nylander's third period goal. Matthews has registered at least one point in six of the Maple Leafs' seven games this season.
Connor Brown recorded the fourth Toronto goal of the first period at 16:26 of the frame. Brown's goal came 0:40 after Matthews made it 3-1 in favour of the Maple Leafs, making the goals the fastest two goals scored by Toronto this season. Brown has goals (2) in two consecutive games.
Morgan Rielly registered the primary assist on Hyman's first period goal and later scored Toronto's fifth goal of the night at 12:57 of the second period on the power play. The assist was Rielly's 100th career NHL assist. Tonight's game is his 13th career multi-point game.
William Nylander
recorded the secondary assist on Hyman's first period goal and later added an empty-net goal at 16:52 of the third period. Nylander has three assists in his last four games. Tonight's game is Nylander's second multi-point effort of the season.
Ron Hainsey had the lone assist on Kadri's first period goal. Hainsey has four assists in his last six games.
James van Riemsdyk picked up the primary assist on Brown's first period goal. The assist gives van Riemsdyk four points (3 goals, 1 assist) in his last five games.
Andreas Borgman had the secondary assist on Brown's first period goal. Borgman now has two assists in five games to start his NHL career.
Tyler Bozak picked up the primary assist on Rielly's power play goal. Bozak has four assists in seven games this season.
Jake Gardiner registered the secondary assist on Nylander's third period goal. Gardiner has three points in four home games this season.
Curtis McElhinney stopped 30 shots to earn the victory in his first appearance of the season.
SHOTS FIRED
The Red Wings had a 33-26 edge in shots on goal in all situations and by a 30-20 margin at 5-on-5.
Detroit had a 56-38 edge in shot attempts in all situations and a 46-29 edge in shot attempts at 5-on-5.
Nazem Kadri, Patrick Marleau and William Nylander each registered three shots on goal.
Patrick Marleau had a team-high five shot attempts.
HOME SWEET HOME
The Maple Leafs are 3-1-0 at home this season.
Toronto's all-time record is 286-280-93-3 in 662 games against the Red Wings and 172-108-47-2 in games played in Toronto.
Toronto is 4-1-0 against the Eastern Conference this season and 2-0-0 against the Atlantic Division.
Tonight's attendance is 19,158.
The Maple Leafs return to the road on Saturday, Oct. 21 when they visit the Ottawa Senators.
MAPLE LEAFS LEADERS
| | |
| --- | --- |
| Faceoff Wins | 12 (Kadri) |
| Faceoff Win Percentage | 100% (Four players tied) |
| Hits | 6 (Komarov) |
| Blocked Shots | 4 (Zaitsev) |
| Takeaways | 2 (Five players tied) |
| TOI | 23:30 (Zaitsev) |
| Power Play TOI | 1:12 (Marner, Rielly, van Riemsdyk) |
| Shorthanded TOI | 4:41 (Hainsey) |
| Shifts | 33 (Rielly) |
| 5-on-5 Shot Attempt Percentage | 52.2% (Marleau – 12 for, 11 against) |
RECORD WHEN…
The Maple Leafs were 3-for-3 on the penalty kill and 1-for-2 on the power play tonight. Toronto is 3-0-0 when not allowing a power play goal and 4-1-0 when scoring a power play goal this season.
Toronto is 4-1-0 when scoring first in 2017-18.
The Maple Leafs are 3-0-0 when leading after one period and 2-0-0 when leading after two periods.
Toronto has a 3-0-0 record when trailing their opponent in shots on goal.
The Maple Leafs are 2-1-0 in Wednesday games.
OF NOTE…
Nazem Kadri won a team-high 12 faceoffs (12 won, 9 lost – 57%) and was 4-for-6 (67%) when matched up against Detroit centre Dylan Larkin.
Leo Komarov and William Nylander both went 4-for-4 (100%) in the faceoff circle tonight.
Patrick Marleau appeared in his 1,500th career NHL game tonight, making him the 18th player in NHL history to reach the milestone.
UPCOMING GAMES:
Saturday, Oct. 21 at Ottawa Senators, 7:00 p.m. (Hockey Night in Canada, FAN 590)
Monday, Oct. 23 vs. Los Angeles Kings, 7:00 p.m. (TSN4, TSN 1050)
Thursday, Oct. 26 vs. Carolina Hurricanes, 7:00 p.m. (Sportsnet Ontario, FAN 590)
Saturday, Oct. 28 vs. Philadelphia Flyers, 7:00 p.m. (Hockey Night in Canada, TSN 1050)
Monday, Oct. 30 at San Jose Sharks, 10:30 p.m. (Sportsnet Ontario, TSN 1050)
POSTGAME QUOTES:
HEAD COACH MIKE BABCOCK
On earning a win in the second leg of a back-to-back as a positive:
For sure. It's nice the first one is at home instead of on the road too so you can match up accordingly. We used everybody last night, a good four-line rotation, so that helped us as well. Our guys were fresher than they might have been. It took us a bit to get going. Even though we scored it took us a bit to get skating and then once we got skating I thought we got better as the game went on.
On McElhinney's performance:
I thought [McElhinney] had a real solid effort for us. We weren't very good early. We had five bees around their net in the first and they had 14 around our net. He had to be good early.
On if he's ever coached someone who shoots the way Matthews does:
I don't really know. For me, over my experience anyway, the guys I've coached – the centre icemen I've coached – don't really shoot the puck like that. I couldn't tell you that for sure. I just know he's a good player and he's getting better all the time. I thought [Nazem Kadri]'s group was our best group tonight, by far. They were dialed in from start to finish and a big night for Patty Marleau. When you look at that 1,500 games – I was looking at it, I think Zetterberg is at 1,004 and I think he's been playing forever. That's how long Patty has been playing and he's still a very good player.
On if there's pride in being on top of the standings despite how early it is:
For sure. We had a good first segment and we're off to 2-0 in our second segment. I think we just try to keep evaluating our team every five games and a what have you done for me lately kind of thing. We're going in the right direction, which is positive. I thought our win last night was a good win. We got careless at times, but it's still a good win. I thought we got careless tonight and then we were able to be mature enough and under control enough and good enough to get back in and get playing right, which is positive.
ZACH HYMAN (1 GOAL, 1 ASSIST)
On how the Hyman-Matthews-Nylander line complements each other:
It takes all three of us when you're working hard. You're working hard as a line to get the puck back and when you get the puck back good things happen. You can throw pucks at the net and eventually they go in. All of us have been working so it's been going well.
On all three members of his line scoring a goal tonight:
That's always fun. It's great when everybody contributes and everybody gets a goal. It's awesome.
NAZEM KADRI (1 GOAL, 1 ASSIST)
On getting into a rhythm early in the game:
It definitely helps that we were able to be pretty optimistic in the first five minutes there, it's a positive for us. But it's back-to-back, you find ways to win and it's not going to be perfect.
What have you learned about winning on the second night of back-to-backs:
You just have to dig in a little more. Like you said, sometimes you're not always going to feel the best. We can't let that be a distraction, we just have to go out there and play our game and play the same way every night.
On heavy legs in the third period:
It definitely never gets easier so, like I said, it's a challenge. Every team has to face that.
On being first place in the NHL:
Is that what we are? That's great to see but it's still October. We can't get too ahead of ourselves here, we understand there are a lot of good teams we have to play and it's not going to be this loose for long.
On protecting leads:
It's a maturation thing. we're going to start understanding how to play with bigger leads and sometimes when you have a couple goal lead you start straying away from what got you there. So, a little bit too loose but we're going to clean that up, tighten that up in the upcoming months.
On Marleau being a decoy on his goal:
He's a left-hand shot, coming down that strong side so he's open for a one timer. I looked to dish it first but figured I had a wide-open look so I think that's kind of what left the short side open.
PATRICK MARLEAU (1,500th CAREER NHL GAME)
On what he was thinking during his in-game tribute:
Just how nice it is to be recognized like that. It's always nice when your teammates are congratulating you and giving you a hard time a little bit.
On if it's nice to move past the milestone:
Yeah, definitely. The boys came up big with a win tonight so I'm happy about that and on to the next one.
On the challenge of playing back-to-back:
It's just about getting our legs going right away. Especially playing the first one of the back-to-back on the road and coming home, you've got to make a conscious effort to get your legs moving and play the right way.
CURTIS McELHINNEY (30 SAVES)
On his performance after three weeks without game action:
There's a little rust on my end, that's for sure, but it sure did feel nice to get in there. Obviously, the run support early on helps and goes a long way. It's just a big win for us and I'm happy I could help out.
On making a key stop on Mantha before the third Toronto goal:
It feels good. That's your job. You're going in there and you've got to make a key save every now and then. If that happens to be the one at the end of the night, it's great. Fortunately, I was there for it tonight.
On following up Andersen's performance in Washington:
Freddie [Andersen] was dialed in last night – that's probably the best I've seen him look this year, especially against a high-octane team like Washington. I think it was nice to come back here and make sure we put two together.
On the team's maturity level:
I think we're still sorting things our right now for the most part. It's still early, but we're scoring in bunches and that goes a long way early on. I think as the season progresses I'd like to see us tighten up a little bit more, but that'll come with experience and games here.
On if it feels good to see the team in first place despite it being early:
Yeah, it feels great. Obviously, you're trying to bank as many points as you can at this point. The more the better.
MORGAN RIELLY (1 GOAL, 1 ASSIST)
On the importance of getting out to a big lead in the first period:
I don't think we were very happy with the way we played in the first. They came out and I feel like they controlled the majority of the play, but we have lots of guys who can put the puck in the net and when that happens early on, especially in a back-to-back, to get the feeling where you have a bit of breathing room is nice.
On the team's power play:
It's good. I think it's pretty dynamic. There's lots of different looks, we work on it a lot. On a team like this where the forwards have a lot of skill, a lot of patience, you can really move the puck. I think that makes for a good combo.
On the play of Curtis McElhinney:
It was great. Like I said this morning, we have a lot of faith in him. He's a great pro, he's always ready and I think when you look at the way he played at the end of last year we have all the reasons in the world to have confidence in him because he's proven he can play great and he played great again tonight. It really goes a long way when you have faith in a guy like him and he comes out and gets a huge win for us on a back-to-back against a team within our division. It's great to see. It's huge for us.