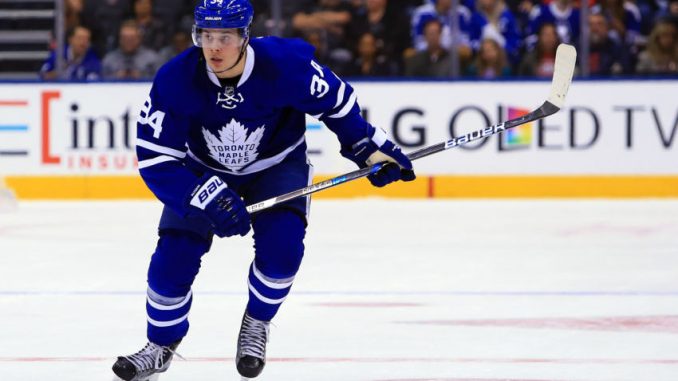 Columbus Blue Jackets come from behind and beat Toronto Maple Leafs 3-2. Here is the summary of the game played on Monday, January 8, 2018
| | | | | | |
| --- | --- | --- | --- | --- | --- |
| | 1 | 2 | 3 | OT | FINAL |
| COLUMBUS | 0 | 0 | 2 | 1 | 3 |
| TORONTO | 0 | 2 | 0 | 0 | 2 |
GAME SUMMARY | EVENT SUMMARY | FACEOFF SUMMARY

ON THE SCORESHEET
James van Riemsdyk scored the first Maple Leafs goal of the night at 11:09 of the second period. The Maple Leafs are 14-5-2 when van Riemsdyk registers a point this season.
William Nylander recorded Toronto's second goal of the game on the power play at 16:02 of the second period. Nylander has points (1-2-3) in three consecutive games.
Roman Polak earned the primary assist on van Riemsdyk's second period goal. Polak's assist is his fourth of the season. Toronto is 3-0-2 when Polak gets on the scoresheet this season.
Tyler Bozak
had the secondary assist on van Riemsdyk's second period goal. Bozak has points (1-1-2) in two consecutive games.
Jake Gardiner registered the lone assist on Nylander's second period goal. Gardiner ranks second on the Maple Leafs with 12 primary assists.
Frederik Andersen stopped 30 shots in the overtime loss.
SHOTS FIRED
The Maple Leafs had a 38-33 lead in shots on goal and a 32-25 lead in shots at 5-on-5.
Both teams registered 63 shot attempts in all situations. Toronto had a 54-48 lead in shot attempts at 5-on-5
Tyler Bozak and William Nylander each registered a team-high four shots on goal.
Nazem Kadri and William Nylander both registered six shot attempts.
SHOTS ON GOAL
| | | | | | |
| --- | --- | --- | --- | --- | --- |
| | 1st | 2nd | 3rd | OT | TOTAL |
| COLUMBUS | 11 | 14 | 4 | 4 | 33 |
| TORONTO | 8 | 14 | 14 | 2 | 38 |
SHOT ATTEMPTS
| | | | | | |
| --- | --- | --- | --- | --- | --- |
| | 1st | 2nd | 3rd | OT | TOTAL |
| COLUMBUS | 21 | 25 | 13 | 4 | 63 |
| TORONTO | 17 | 21 | 21 | 4 | 63 |
HOME SWEET HOME
The Maple Leafs are 13-6-1 at home this season.
Toronto's all-time record is 10-10-1-3 in 24 games against the Blue Jackets and 4-6-1-2 in games played in Toronto.
Toronto is 12-9-2 against the Eastern Conference this season and 7-6-1 against the Metropolitan Division.
Tonight's attendance was 18,933.
The Maple Leafs continue their homestand on Wednesday, Jan. 10 when they host the Ottawa Senators at 7:30 p.m.
MAPLE LEAFS LEADERS
| | |
| --- | --- |
| Faceoff Wins | 7 (Matthews) |
| Faceoff Win Percentage | 100% (Four players tied) |
| Hits | 4 (Borgman) |
| Blocked Shots | 5 (Hainsey) |
| Takeaways | 2 (Brown, Rielly) |
| TOI | 26:23 (Hainsey) |
| Power Play TOI | 1:46 (Four players tied) |
| Shorthanded TOI | 5:40 (Hainsey) |
| Shifts | 33 (Rielly) |
| 5-on-5 Shot Attempt Percentage | 65.0% (Marner – 13 for, 7 against) |
RECORD WHEN…
The Maple Leafs were 3-for-3 on the penalty kill and 1-for-2 on the power play tonight. Toronto is 16-7-2 when not allowing a power play goal this season and 10-4-1 when scoring a power play goal.
Toronto is 20-5-1 when scoring the first goal of the game.
The Maple Leafs are 10-3-3 when tied after one period and 15-1-1 when leading after two periods.
Toronto has a 5-6-3 record when outshooting their opponent.
The Maple Leafs are 3-2-1 in Monday games.
OF NOTE…
Seventeen Maple Leafs skaters registered multiple shot attempts in tonight's game.
Nazem Kadri and Leo Komarov started 12.5 percent of their shifts in the offensive zone, which was the lowest percentage among Toronto skaters.
Morgan Rielly was on the ice for a team-high 22 Toronto shot attempts-for at 5-on-5. Rielly finished the game with a 5-on-5 shot attempt percentage of 55.0 percent (22 for, 18 against).
UPCOMING GAMES:
Wednesday, Jan. 10 vs. Ottawa Senators, 7:30 p.m. (Sportsnet, TSN 1050)
Tuesday, Jan. 16 vs. St. Louis Blues, 7:00 p.m. (TSN4, FAN 590)
Thursday, Jan. 18 at Philadelphia Flyers, 7:00 p.m. (Sportsnet Ontario, TSN 1050)
Saturday, Jan. 20 at Ottawa Senators, 7:00 p.m. (Hockey Night in Canada, FAN 590)
Monday, Jan. 22 vs. Colorado Avalanche, 7:00 p.m. (Sportsnet Ontario, TSN 1050)
POSTGAME QUOTES:
HEAD COACH MIKE BABCOCK
On tonight's third period:
I didn't think we came out and sat on it at all, we outshot them 14-4 in the third and, I thought, did a lot of really good things. We made a couple of mistakes – lost a faceoff and didn't box out, a line change where we could have been patient; we were under no pressure and put it out and they came in on an odd-man rush. In the end that cost us the hockey game. It's all part of the learning process, we've got to get better. We also – I don't know if you remember the play right at the end – there was about 16 seconds left and we turned it over at their blueline to give them another go at it. That's just part of understanding what it takes to win. We've got to win those faceoffs in those situations and make sure pucks are out and in. Some nights when you're ahead you get on your heels and the other team takes it to you, that wasn't the case at all. It actually was the opposite way around. They scored on the opportunities that we gave them.
On the team's play with the lead this season vs. last season:
I don't think we've given up many leads to be honest with you. Tonight, we lost the game, but we didn't get on our heels at all. To me, it's not really concerning. What's concerning to me more than that is just we've got to learn. You've got to learn what it takes and you've got to learn how hard it is to get points. That's a free point we gave away. If you look at the big picture, we're 2-1-1 in this segment, we've got to win the segment. The reality is you had it looked after and let it get away. We've got to fix it.
On Dermott's play on the right side
I thought we were fine, I thought our D were fine. I didn't have any concerns with it. I didn't think when Carrick played – I didn't think he was bad either. We just happened to be rotating.
On Rielly bouncing back at practice tomorrow:
It's going to do you know good to – it's over with now and we've got to get to work and we've got a big game, then we've got a little break. I think we can get way better as a team, I tell the guys that all the time and I'll tell them again tomorrow. I think there's a whole other level we've got to get to if we're going to have any success. I think Morgan is having a real good year and made a mistake tonight.
On Andersen keeping the game close:
Their goalie kept them in the game too, right? We were all over them in the third and their goalie kept it so they had a chance. We had lots of chances in the third and good ones. That's what you pay these guys for, they're supposed to make the saves.
On what the next level for this team looks like:
I don't have time. Maybe on an off-day after practice I might be in a better mood to talk about that.
FREDERIK ANDERSEN (30 SAVES)
On tonight's game:
I think we played a really good game, at least 50 minutes or so I think we played great and maybe started passing up a couple of shots down there and could have put it away in the third. We didn't and they get a good bounce and tie it up.
On if he lost the puck on the first Columbus goal:
After the initial shot, it hit something and then I lost it after that.
On if he thought the overtime goal was kicked in:
It looked like it from my angle, but that's why they have video right?
On what he liked about the team's performance:
I thought we were grinding really good in their end and made it hard on them. Even in the third I think we did a really good job keeping the puck in their end and stopping them.
On moving on from tonight's game:
We've got to come to work tomorrow and make sure we get prepared for Wednesday.
TYLER BOZAK (1 ASSIST)
On tonight's loss:
I thought we had a pretty good second period that put ourselves in a good spot. Going up that much, it's tough to let those games slip away. I mean, we still got a point but we've got one more game here before the break so we're going to need a good effort.
On the overtime:
I think when the overtime really gets going is when there's chances each way and unfortunately, I wasn't able to capitalize on mine and they came back and got one there. It's a tough way to lose but we've got to look forward to the next game.
On if something specific caused the Blue Jackets late-game comeback:
No, I don't think so. I think they just started coming pretty hard. Made some good plays and scored on some opportunities. It is what it is. Unfortunately, when you're up that much with that little time left you never want to even get to overtime. We still had a chance to win in overtime but we couldn't pull it off.
RON HAINSEY (26:23 TOI)
On tonight's game and the third period:
The third period was probably our best period by far until the last five minutes. The first 30 was really what we're going to need to focus on. We didn't get off to a – it was okay at best but a team coming in back-to-back. We're at home for a good stretch here, the first 30 was really not great. A lot of penalty kills and just not much zone time. Then for the next 25 minutes we played pretty good. We made some great plays in the third where we had some odd man rushes. I think maybe three two-on-ones and some other stuff. Once their D – their D are always active but they really kicked it in in the third period to try and get it going. We had some chances but couldn't finish. They keep playing, they're a hard-working team that's well coached and know what they're doing. They put a couple in on us and then overtime. We've been on the right side of overtime this week until today. Gets a little crazy out there.
On Frederik Andersen's play:
I'm on the record saying he's a huge part. If he's not our MVP he's right there. He's just given us great, great goaltending for however long now. We've got a chance every night. I could be here for a while if you wanted me to talk about how well he's played.
On the first 15 minutes of the third period:
We did a really good job once their D got up. I think Leo once, Naz once, maybe Patty once, they cut their D off when they were the last man coming in for that play and then that creates an odd man rush the other way. We just didn't get the goals but some great chances from that. For the most part that was the least time in our zone in the third period until the faceoff goal, hits something and then whatever. I think they caught us on a change in the last goal but for the bulk of that first 15 we did a good job at keeping them in their end with a lead which was good. Previous to that in the first half of the game we just weren't that good.