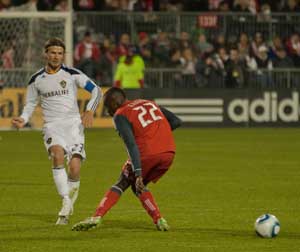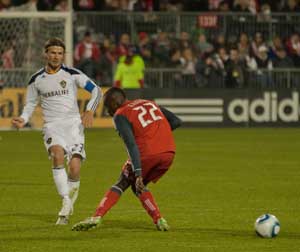 Galaxy's David Beckham (left) plays
the ball through TFC midfielder
Tony Tchani's legs (right)
Undermanned TFC Hold On for Point to Remain Unbeaten in Four
After almost five years, one of MLS' biggest signings in league history finally played in Toronto as a sold-out crowd greeted star footballer David Beckham and the Los Angles Galaxy at BMO Field.
Yes, Beckham was in the lineup after missing every other visit to Toronto as a member of the Galaxy either due to injury, international duty or being on loan. Beckham did play here once before in the 2008 All-Star game, but never in a league game. He didn't disappoint either as he gave fans a glimpse of the player who starred in Europe for Manchester United, Real Madrid and AC Milan.
Despite having more chances and hitting the crossbar twice and post once, the Galaxy (2-1-3) were held to a scoreless draw by Toronto FC (1-1-3). It was the third consecutive 0-0 draw between the two clubs. TFC extended their unbeaten streak to four games.
"It was a good game. I think that we've played some of our best soccer that we've played this season," said Beckham. "We had the chances we just couldn't put them away. I think when you have that many chances sometimes you need a bit of luck on your side and we just didn't have it."
"We hit the post, we hit the crossbar a couple of times and we had the majority of the play and the majority of the chances. But it's disappointing; obviously we want to win these games."
The homeside came close on a couple of occasions as well but were thwarted by LA keeper Donovan Ricketts both times. Overall, TFC were happy with the point considering they were missing two regulars.
Toronto's new captain Maicon Santos was a late scratch after he was feeling the effects of the flu while forward Alan Gordon, a former member of the Galaxy, was also ruled out in the morning as result of a groin strain.
"It was a game of two phases," said TFC coach Aron Winter. "We didn't start too well, and LA had some good opportunities. We tried to play our own game, and we had some opportunities as well. Still, 0-0 was a good result…because this morning Alan Gordon had a lot of problems and couldn't play. In the afternoon Maicon also got the flu, and then at the last minute he had to change his place on the roster."

Former Red Chad Barrett (left) and Julian
de Guzman (right) both challenge for a header.
Midfielder Julian de Guzman made his first start since coming off knee surgery while Gianluca Zavarise made his first start as a Red. In the absence of their captain, TFC keeper Stefan Frei wore the armband and earned his second clean sheet of the season.
Meanwhile, the Galaxy were without their captain as well. Beckham was wearing the armband for the second straight game as Landon Donovan was out again with a knee sprain.
With Donovan out, former Red Chad Barrett was moved into the starting lineup up front alongside former New York Red Bull, Juan Pablo Ángel. Barrett was a threat all night, but much like his time in Toronto he lacked the finish. He set up a chance in the opening minute and had a couple of great shots at goal as well, including one that clanged off the crossbar.
Barrett was often criticized by fans and media for not being to able to convert on his chances on goal and was traded to the Galaxy in January for future considerations.
Despite playing for the opposition, Barrett was still had fun playing in front of the TFC fans.
"There was a bunch of excitement, obviously I was raring to go," said Barrett of his feelings before the game. "Pretty much what I expected… I think some of them still have got a little love for me though. It was fun playing for them again. They are great fans, making tons of noise…the twelfth man really stepped up today and took control."

Bend it like Beckham

TFC keeper Stefan Frei makes an acrobatic
stop in the opening minute of the match
The Galaxy wasted no time attacking a shaky TFC backline, as Frei was tested in the first minute of the match. LA's Mike Magee played the ball into the box to Barrett who flicked the ball behind him to Sean Franklin who then fired a left-footed strike on goal. Frei was able to dive to his left to make a fine save.
In the 13th minute, Barrett found open space just outside the TFC box before drilling a shot off the cross bar. The ball then bounced down into the crease before being cleared away. The Galaxy appealed that the ball crossed the line after bouncing off the crossbar, but replays clearly showed otherwise.
After being awarded a free kick, TFC's Jacob Peterson hit the ball perfectly into the box, but Zavarise's header was directly at Ricketts who was sharp in making a reactionary save.
Just before halftime, Beckham was shown for a yellow card after a needless tackle on de Guzman. Since it is his fifth yellow card of the season, he will be suspended for one match. He was upset at the call but fans cheered when his name was announced for the booking.
In the 70th minute, after being awarded a free kick from over 30 yards out, it was vintage Beckham. Fans held their breath as he nailed a curving strike off the right upright, narrowly missing out on a goal.
Toronto had another good chance late in the second half off a free kick taken by Danleigh Borman in the 88th minute. Borman's kick sailed into the box where the diminutive substitute, Joao Plata, was able to flick a weak header on goal but Ricketts made the easy save.
The second half was grittier as both teams were penalized on fouls with referee Terry Vaughan awarding many free kicks or issuing yellow cards. Brazilian Juninho received his second yellow card of the game in injury time of the second half. The Galaxy were forced to finish the game with ten men and Juninho will miss the next game as well, joining Beckham on the sidelines.
Both teams will be in action again this weekend as TFC will host DC United at 7pm on Saturday for their third game in seven days. Meanwhile the Galaxy will play their third game in eight days when they travel to Chicago to take on the Fire on Sunday afternoon.

TFC's Joao Plata lies on the pitch after a
header that is stopped by Galaxy keeper
Donovan Ricketts
To follow me on twitter click
HERE
Download or stream
the 500 Level podcast with co-hosts Aman Dhanoa and Ben Trattner as they discuss news, opinions, and views on Toronto sports from the Upper Deck. Leafs, Raptors, Jays, Argos, TFC – nothing is off limits. It's good to be a fan!
Also available on iTunes
Photos below courtesy of JP Dhanoa
Contact Aman Dhanoa at aman@oyetimes.com

Article viewed at: Oye! Times at www.oyetimes.com