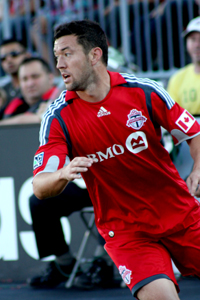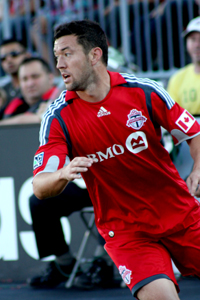 TFC defender Dan Gargan
With BMO Field basking in sunshine, it was a perfect day for soccer as Toronto FC battled Houston Dynamo to a 1-1 draw on Canada Day in front of 21,374 fans.
Dan Gargan played the hero as his game-tying goal in the dying minutes kept Toronto's home unbeaten streak alive. TFC have yet to lose a game at home this season and have a record of 4-0-3 at BMO Field. With the point TFC (5-4-4) pulled within 5 points of the Eastern Conference co-leaders New York and Columbus.
"It's definitely great to get a point," said Gargan. "I think we definitely worked hard enough to get the three. I think it was unfortunate…but at the end of the day sometimes you just got to battle those ones out and we walk away and we're still undefeated…we're still on a good little streak and so we're hoping to keep it going."
After the goal Gargan ran to the touch line as he pulled off his jersey and whipped his shirt in the air in celebration of his first MLS goal. However, his over-exuberance lead to a booking as the referee gave him a yellow card for removing his jersey.
"We had tons of chances and it's one of those where you're pushing and pushing and it finally comes," smiled Gargan. "That's my first career goal in the MLS so that was a sweet feeling, it was a good time to get one."
Coach Preki felt his team created many scoring chances throughout the game and played well enough to win but still thinks they need to be play smarter for the full 90 minutes.

Gargan celebrates his first MLS goal
"Crazy game," said Preki. "I thought we created enough in the first half and the second half to get a goal but obviously we get a goal down and we showed a lot of character and mentality to come back in that game. I thought in the end we were going to win if there were 5 more minutes. We got to be smarter, we got to be better again in the final third."

Seeing Red
The first half was uneventful in comparison to the rough and tumble second half. The game turned physical and had the makings of a hockey game as both teams took exceptions to bad tackles and at one point nearly led to on-field brawl. Toss in an old fashioned hip check by defender Nick Garcia and some fisticuffs and it had the makings of a hockey game and perhaps enough to even transform Don Cherry into a soccer fan.
With the score at 0-0 in the 61
st
minute, Dynamo forward Joseph Ngwenya was whistled down by referee Jair Marrufo after bowling over Gargan but he continued to dribble the ball forward. TFC defender Nana Attakora wasn't pleased and put a leg in front of Ngwenya to keep him from going any further. Both players immediately grabbed each other which then lead to pushing and shoving. Within a second, Julian de Guzman came running in and shoved Ngwenya while goalkeeper Stefan Frei stepped in as the peacemaker to separate the players.
However, punches were thrown and it didn't take long before the rest of the players from both teams to join the melee which easily could have turned into a brawl.
Eventually cooler heads prevailed and at the end of it Attakora was booked with a yellow card while de Guzman and Ngwenya were ejected with straight red cards for violent conduct.
Ngwenya was furious and had to be separated from Marrufo before being escorted by teammates off the pitch. Both De Guzman and Ngwenya are likely to face further disciplinary action from the league for their behaviour.

Stefan Frei holds back Joseph Ngwenya
from re-entering the melee
Heads Up


Despite carrying the play throughout the game, Toronto seemed to lose its focus for a few minutes in the second half and very nearly cost them the game. Houston struck first in the 72nd minute when a well-placed Danny Cruz corner kick was headed perfectly by Brian Ching just inside the far post to give the Dynamo a 1-0 lead.
Houston nearly went up by two goals a minute later when Lovel Palmer's shot was blasted on goal but Frei leapt in the air to just get a hand on the shot to keep TFC in the game.
In the dying minutes TFC stepped up their game and continued to apply pressure on the Dynamo defence. In the 84th minute Dwayne De Rosario gathered the ball at the edge of the box and fired on goal but was robbed by the outstretched hand of Dynamo goalkeeper Pat Onstad.
On the ensuing corner kick, substitute Faud Ibrahim fired the ball deep into the box and Gargan, who came running in from the back, leapt up at the edge of the crease and headed the ball past Onstad into the far corner to tie the game up at 1-1.
In injury time tempers flared again as Amadou Sanyang attempted a foolish overhead kick in a crowd of players and struck a Dynamo player in the face. Houston players shoved Sanyang who shoved back before De Rosario pushed his teammate aside to prevent another melee. Sanyang was given two yellow cards on the play – one for the kick and the other for the push – and was ejected from the game.
The red cards will certainly hurt Toronto as suspensions will no doubt affect the lineup for their next game. But all season long the team has shown it can play well no matter who is in the lineup.
"I think it's obvious we're all fighting for one another, to have two guys thrown out that are an integral part of our lineup is unfortunate," said Gargan. "At this point in the season we need to put points on the board, we need 3 points…and we need everybody to be ready and be willing to sacrifice and be out there for us."
TFC will have over a week off before they play host to the Colorado Rapids next Saturday at 12pm at BMO Field.
Contact Aman Dhanoa at aman@oyetimes.com
Photos courtesy of Annandi Merhai of Devi Designs