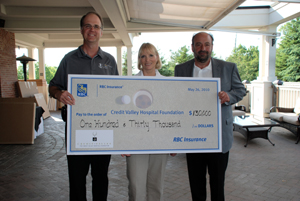 RBC Insurance celebrated its 20th Anniversary of the RBC Insurance Charity Golf Classic on Wednesday May 26th, at RattleSnake Point Golf Club in Milton. More than 250 golfers attended the event, which raised $130,000 in support of the RBC Insurance Early Intervention Program at Credit Valley Hospital.
This new child and family mental health program is designed to help new Canadian families overcome challenges they often face when accessing healthcare services. Through the program, Credit Valley Hospital will work with schools in the community to help identify children from junior kindergarten to grade three at risk for social, emotional, behavioural or developmental challenges. Families of these students will receive support through targeted education and treatment, as well as assistance in navigating the healthcare system.
"RBC Insurance is honored to partner with such a terrific organization that is dedicated to helping new Canadian families create a better life for themselves," said Neil Skelding, president and CEO of RBC Insurance. "On behalf of RBC Insurance, I wish to extend sincere thanks to the many sponsors and supporters for their generous donations towards this vital program."
A key highlight of the event was a morning golf lesson for the Khan family currently benefiting from the child and family services at Credit Valley.Under the instruction of golf professionals, including David Hearn and Alena Sharp, the parents enjoyed learning basic swing techniques and the fundamentals of the game while the children hit around a few golf balls.
"This event recognized the needs of immigrant and newcomer families when it comes to mental health," said Dr. Louis Peltz, chief of psychiatry, The Credit Valley Hospital. "Thanks to RBC Insurance's tremendous support, we can provide a helping hand for the families who need it most."
Other athletes taking part in the tournament were freestyle skier Jeff Bean, canoe/kayaker John Hastings and women's ice hockey players Lori Dupuis, Jayna Hefford, and Becky Kellar.