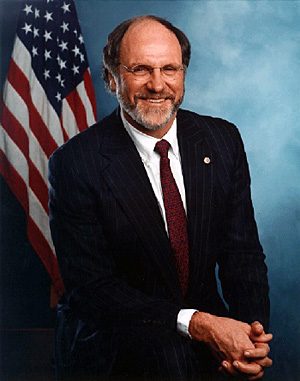 Gold was down (at press time) $11.80 (-0.7%) for the week to $1,695.80, and silver was up $0.43 (+1.4%) to $31.93. Gold's decline was attributed to, well, the same things as last week and all the weeks since it topped $1,900.
Rather than discuss the strange noises emanating from the Continental Suicide Pact (AKA the European Union) and their implications for precious metals, this week we will again examine America. Actually, one American in particular and the implications of his extraordinary career for the future of trading.
There's an old joke about the United States Marine Corps—""There are no ex-Marines, except Lee Harvey Oswald." And now we must add to that short list Jon Corzine, erstwhile CEO of brokerage house Global MF, which declared bankruptcy October 31.
You want to see an angry man? Watch this 7:54 video by futures trader Gerald Celente. The money he deposited to cover his positions has been sequestered, and he wants to know why. He denounces the "sleazeball [former] Senator" who "bankrupted the company" by "betting on European bonds" at 40:1 leverage. Then he gets really mad: "That SOB Corzine walks free… You do something a little bit against the law, and you're in the slammer like that. Not this fatcat!"
Corzine will be called before the House Financial Services Committee December 15, and he has hired a criminal lawyer. But why isn't he cooling his heels in a cell right now, "assisting police with their inquiries"? At least$1.2 billion is missing, allegedly becauseCorzine stole it to cover his own positions. Could it be, perhaps, because Corzine is not only a former Senator (and Governor of New Jersey) but is also a former CEO of Goldman Sachs (where he employed Gary Gensler, current Chairman of the Commodity Futures Trading Commission), is ascloseasthis to the Democratic Party and is the man President Obama called "our Wall Street guy"?
There's an old joke about the Order of St Michael and St George—"CMG stands for Call Me God; KCMG stands for Kindly Call Me God; and GCMG stands for God Calls Me God." Corzine is American, not British, but his insouciance puts him in the GCMG class.
Corzine took control of Goldman Sachs in 1994. In 1995, the US Government decided to bail outGoldman Sachs and the other Wall Streeters foolish enough to have invested in Mexico. Foolish? That would have been the Old Capitalism. Under the New Capitalism, risk is now socialized, while profit remains privatized. In 1998, Long-Term Capital Management went under, and the US Government ensured no unpleasantness would come to Goldman Sachs.
In 1999, Corzine, about a half-billion richer by this point, was forced out by Hank Paulson, later Secretary of the Treasury when he bailed out Goldman Sachs in 2008. So Corzine decided to buy some political offices: $120 million worth. In 2007, Governor Corzine nearly died after crashing his car while 90 MPH in a 65 MPH zone and not wearing a seatbelt. He was not charged. Upon recovery, he sped out from the hospital at 15 MPH over the limit. Exactly seven days before MF Global crashed, one day before the company reported the loss that crippled it, Corzine gave a "delightful" dinner speech to bankers and traders.
"There was no sense at all that there was impending doom," an attendee reported. There never is with the Jon Corzines of the world; they are truly more gods than men.
"What just happened at MF Global illustrates everything wrong with the US economy," concludes Brett Arends at MarketWatch. "These days more and more power lies in the hands of a smaller and smaller elite. Many people react by taking refuge in conspiracy theories. They assume the elite knows what's really going on. The more frightening view is the exact opposite: That the people steering the ship haven't got a clue." To be fair, however, they are pretty good at lining their pockets.
But what do these Masters of the Universe actually do? According to Arends, "They're just playing poker against each other. They're engaged in an 'industry' that produces neither iPhones nor brain scans nor pizzas. There is no output. There is no wider social purpose. They just trade paper against one another. Like most of Wall Street, it's just a zero-sum game."
Politics, however, are not a zero-sum game. Our Masters had better prepare for the day when Occupy Wall Street becomes Storm Wall Street.
At Seeking Alpha, Simit Patel writes, "The collapse of MF Global illustrates that there are still far too many Western financial institutions using dangerous amounts of leverage, and for whom counterparty risk is still a very valid concern. Customers getting their trades and cash balances confiscated, as has been occurring for many MF Global customers, illustrates that the systemic factors that drove the panic of 2008 are still in place. Such a breakdown in financial markets suggests the kind of discord that will ultimately send gold to a much, much higher price level. However, the MF Global situation illustrates the need to own the right kind of gold—not necessarily futures contracts that can be confiscated."
As for silver, Chris Thompson of Haywood Securities tells the Gold Report he foresees a "near-term" price of $38 and a "long-term" of $20. He believes mining shares will continue to lag behind, as "Investors need precious-metals prices to stabilize before they will invest in the companies that produce them."
And now to cases. Thompson expects the following silver stocks to outperform: Kimber Resources TSX:KBR, Fortuna Silver Mines Inc TSX:FVI, Mirasol Resources Ltd TSX:MRZ and Bear Creek Mining Corp TSX:BCM.
At the Globe and Mail, Sonali Verma reports on "gold producers that are good value plays." Michael Bowman and Allan Meyer of Wickham Investment Counsel have provided her with a list of miners "that have low price-to-earnings ratios, low debt and healthy cash balances." The juniors on that list are:Nevsun TSX:NSU, Primero TSX:P, Aurizon TSX:ARZ, Capstone TSX:CS, Argonaut Gold TSX:AR,Alamos Gold TSX:AGI, OceanaGold TSX:OGC, Scorpio Mining TSX:SPM, Semafo TSX:SMF andBanro TSX:BAA.
At the Financial Post, Peter Koven reports that gold miner Centamin Egypt TSX:CEE has had a rough year: two revolutions in Egypt and the unexpected death of CEO Harry Michael. Its stock is down 57% from its 52-week high and has lost 20% in the last week. Despite all this, Jonathan Guy of RBC Capital Markets argues, "We believe that there should be no impact on earnings and the stock should re-rate once the turmoil in Egypt subsides." He rates Centamin an "outperformer" with a $2.92 target price (currently $1.36).
And at Happy Capitalism, Lou Schizas examines another troubled gold miner, Aura Minerals TSX:ORA. Its stock (currently $1.22) is down 70% from its 52-week high (and down 88% from 2008). Schizas concludes that Aura "has been a real grist mill for investors who adhere to a buy and hold philosophy. Traders, on the other hand, have had opportunities to score on the extreme swings What is also visible on the chart is a double bottom which would suggest that the bounce off $1.10 has more to give."
Finally, Bob Hepburn of the Toronto Star has the latest on the exciting, not to say quixotic, campaign by Sheila (Yesterday's Baby) Copps to reanimate her moribund political career by becoming President of the Liberal Party. Hepburn tells us Copps wants her party to become a "movement" and "the 'fun, go-to place' for youths interested in public policy." Man, some people never got over the Sixties, did they? One can only imagine what treats Copps has in store for the LibKids. Happenings? Be-ins? If you're going to To-ron-to, be sure to wear some flowers in your hair. Sadly, Tune In, Turn On, Drop Out wouldn't do for a new Liberal motto, because that slogan best describes the history of Canadian engagement with Copps' party.