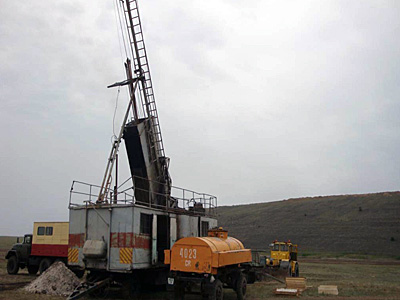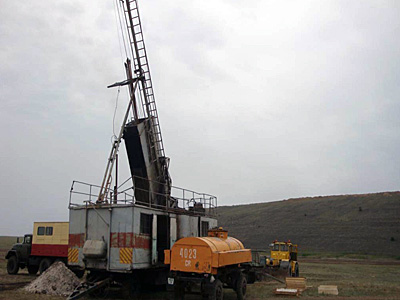 Alhambra Builds on Kazakhstan Gold
For now, Ihor Wasylkiw calls Alhambra Resources Ltd TSX:ALH a "one-trick pony." Why? "Only one resource report," the VP and Chief Information Officer replies. That would be for the Uzboy gold deposit, which has 975,500 ounces gold measured and indicated, 421,700 ounces inferred and is already a producer. "But by 1Q 2012," Wasylkiw declares, "we will be a three-trick pony."
The Uzboy gold deposit comprises but a fraction of the 9,800-square kilometres of contiguous property, called the Uzboy project, the company holds in Kazakhstan. Located on the Charsk Gold Belt, Wasylkiw estimates that the Uzboy project is roughly 10 times the size of New York City. This is a mixed blessing, as focus becomes an issue. "The challenge is to develop it in my lifetime," Wasylkiw says. "We have 100 areas where we have gold. Of those 100 areas, we have been focused on six to eight of them. Of those six to eight, three are advanced project areas."
Alhambra has been concentrating on the Dombraly and Shirotnaia projects and expects to have initial resource estimates for both in 1Q of next year, along with a resource and preliminary economic assessment upgrade at the Uzboy gold deposit—hence the three-trick pony. Dombraly and Shirotnaia are past-producing mines located on the southeast portion of the property, with Shirotnaia located three kilometres north of Kazakhgold's Aksu mine, which has reported resources of 15 million ounces gold.
Results from the 2011 drill programs at both projects are pending. However, highlights of the 2010 campaign at Dombraly (released May 20) include
1.01 grams per tonne gold over 16 metres
2.06 g/t over 10.3 metres
40.5 g/t over 1 metre
January 5 results from Shirotnaia include
4.32 g/t over 36 metres (including 16.8 g/t over 9 metres)
2.13 g/t over 20 metres
Alhambra has also been making strides at the Uzboy gold deposit. November 7 assays include
2.82 g/t gold over 22.9 metres (including 3.51 g/t over 18 metres)
0.97 g/t over 29 metres (including 11.4 g/t over 1 metre)
1.53 g/t over 41.9 metres (including 31.7 g/t over 1 metre)
0.95 g/t over 46 metres
Wasylkiw says of the Uzboy assays, "We're very excited about these results for numerous reasons. One of the big objectives of this program with these deep holes was to step out from where we had been drilling to get a better understanding of a deeper down-dip plunge that we had seen in the gold mineralization. These holes have confirmed that indeed there is a significant down-dip extension. We've extended that extension by more than 50% vertically. This is the last piece of the puzzle that our independent geological consultants needed to be able to update our resource report."
We have had to reprove ourselves. It's working, but it takes time — Ihor Wasylkiw.
While the new resource report and updated scoping study will pave the way for increased production at the Uzboy gold deposit—the company reported $16 million in revenue for 2010 from the sale of 12,663 ounces of gold—Wasylkiw considers the overall increase of the company's resources the most important task for the moment. He says, "When we get our updated resource report for Uzboy, combined with our resource reports for Dombraly and Shirotnaia, we will no longer be a 1.5-million-ounce company. We will be a factor greater than that. [Then] the valuation of our assets will be an area of greater focus than this deep discount that we have been getting because of the challenges that we've had over the course of the last year or two."
Those challenges include, most notably, the loss of the project in November 2008 due to a legal ruling by Kazakhstan's lower courts invalidating the property's 2002 purchase agreement. That decision was overturned seven months later by the country's Supreme Court, but the damage was lasting. "We went from a three-quarter-billion-dollar company down to about $10 million," laments Wasylkiw. "As a result of that we have had to reprove ourselves. It's working, but it takes time. When you're in Kazakhstan not everything works perfectly."
Wasylkiw is quick to add that Kazakhstan has been independent for only 20 years. "But we applaud the government for all that it is doing to develop the economic structure. It is leading to a greater enhancement of and a further refinement in the amount of foreign capital that is coming into the mining sector."
He concludes, "We all know that once you hit a critical mass of around two to three million ounces, that's when you become a somebody. Right now we're one and half, so technically we're not there yet, but we'll be there in the first quarter. The bottom line is that we are significantly undervalued. And for any people that are GARP (growth-at-a-reasonable-price) investors, I don't believe that they can ignore us."
At press time, Alhambra had 104.1 million shares trading at $0.41 for a $42.7 million market cap. Other projects of note at Uzboy include Zhanatobe, Kerbay, North Balusty and Vasilkovskoe East.