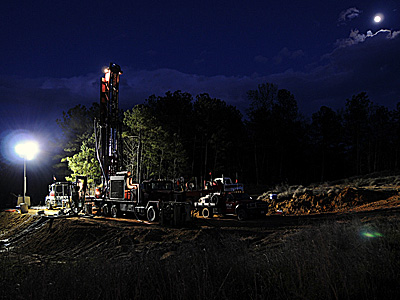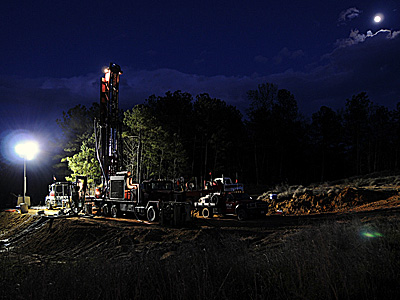 Romarco Aims for a 2014 Gold Pour
To say that Romarco Minerals Inc TSX:R is making the best of a bad situation is true enough but misleading. The US Army Corps of Engineers' July requirement of an Environmental Impact Statement on the Haile Gold Mine was a nuisance, no question, but it doesn't affect the fundamentals. As President and CEO Diane Garrett says, "The project still stands, in my opinion, as one of the most significant and highest quality assets in the industry. We're in a great jurisdiction, and the grade is almost twice what it is with any other open pit in North America or anywhere."
Romarco is taking full advantage of the 12-month delay. "We've got a lot of guys on the team that aren't too disappointed," Garrett remarks. "We spent the first half of this year doing infill drilling because we thought we'd be mining at the end of the year. When we got the EIS news, we focused everything on step-out drilling. We're spending a lot of time drilling on Horseshoe and Palomino."
An historic producer dating back to 1837, the Haile Gold Mine is located in Lancaster County, South Carolina. Its current resource of 3.1 million ounces gold measured and indicated, 1.1 million ounces inferred—for which a February feasibility study estimated capital costs of $275 million and operating costs of $379 per ounce—does not include the Horseshoe or Palomino zones. Results from Horseshoe continue to demonstrate exceptional promise, with September 14 assays of
10.5 grams per tonne gold over 32.9 metres
3.4 g/t over 47.6 metres (including 12.7 g/t over 6.1 metres)
6.9 g/t over 19.8 metres
2 g/t over 57.9 metres (including 10.1 g/t over 6.1 metres)
4.1 g/t over 26.8 metres (including 8.2 g/t over 10.7 metres)
3.6 g/t over 25.9 metres
November 1 assays of the newly-discovered Palomino zone include
5.5 g/t over 70.1 metres
1.2 g/t over 37.5 metres
2.4 g/t over 21.3 metres
2.9 g/t over 15.2 metres
1.6 g/t over 26 metres
"Palomino is quite spectacular, and that can add a lot of ounces very quickly," Garrett says of the assays. They certainly must have come as some surprise to CIBC World Markets analyst Brian Quast who downgraded Romarco in July to "sector underperformer" based on his peculiar prediction that "the likelihood of positive news from the drill bit for the remainder of the year is relatively low."
Garrett explains exactly what proving Quast wrong from the drill bit means to her company. "We're working to develop the region and to develop the underground. We will continue stepping out and then filling in the areas between the pits in order to further define what we're now calling the super pit. By the new year, what you're going to see is overall resource growth. You're going to see a new reserve out because of the infill drilling, and you're going to see an underground study out with the resource. All the economics on that will come out just after the new year."
"Permitting is not one of the top five things I worry about on a daily basis" – Diane Garrette
Romarco has lost 60% of its share value this year. Granted, the juniors as a whole have been hard hit, but Garrett believesRomarco suffered especially because South Carolina is unfamiliar with the environmental permitting of precious-metals mines. "If it were Nevada, they'd understand how the process works," she argues. "They're not familiar with dealing with private land, and they're not familiar with the Corps of Engineers being the lead agency."
Haile's permitting schedule has yet to be set. Her hope is that "before the end of the year the contracting firm will have built the schedule. When people see that, they'll say, 'OK, now I know; and I can check that box.' I think the market is feeling like there's still plenty of time to come in and out of the stock."
Meanwhile, Romarco continues to invest. October 19 saw the completion of a $92.6-million financing. Thirty million will be spent on drilling in 2012 (the same amount as 2011, with the same number of drill rigs, 11). Twenty million will be spent on engineering work and $15 million on permits and wetlands mitigation. "We'll be purchasing other wetlands to replace those we're taking," Garrett says.
Garrett concludes, "The hit on the NPV of the project for the one-year delay is about 4%. We also feel a bit vulnerable, given what our share price is. But [while] we've got to do this more detailed review of the project, we've been given no indications by anybody that we can't permit. We had our public scoping meeting [October 27], and no one said that they opposed the mine. So, permitting is not one of the top five things I worry about on a daily basis." Primary investors remain confident. "Seventy percent of our shares are held in 15 institutions in North America and Europe," Garrett points out, "and they took down the entire financing. That's really good support."
Provided the company stays on schedule and has the necessary permits in hand by the end of 2012, construction at Haile will begin 1Q 2013, and Romarco will pour its first bar of gold by 1Q 2014.
At press time, Romarco had 583.8 million shares trading at $0.89, for a market cap of $519.6 million.