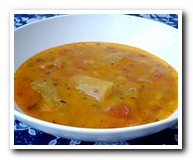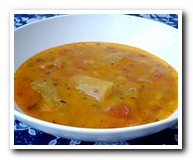 Chana Dal With Pumpkin
Ingredients :
1 cup chana dal (Bengal gram)
250 gm pumpkin
2 tomatoes
3 pods of garlic
½ piece of ginger
2 green chillies
a bunch of curry leaves
1 onion
1 tsp turmeric powder
2 tbsp oil
1 tbsp tamarind pulp
salt to taste
Method :
Chop the onion and tomatoes. Slit the chillies into halves. Peel the pumpkin and remove the pith and cut the pumpkin into small pieces. Peel and grate the ginger. Peel and crush the garlic.
Cook the chana dal in 4-5 cups of water till tender but not overcooked. Keep aside.
Heat the oil and fry the onion till it is light golden brown. Add the ginger, garlic and the tomatoes and fry for another minute. Mix in the pumpkin pieces and salt to taste and the turmeric powder. Add one cup of water and cover with a lid and cook over a medium heat till the pumpkin pieces are tender. Mix in the cooked dal and allow the dal to simmer. Add the green chillies and the curry leaves. Continue to simmer for 3-4 minutes. Mix in the tamarind pulp and cook for another minute. Serve hot with rice or paranthas.