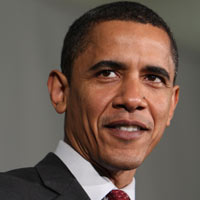 This article was last updated on April 16, 2022

President Barack Obama said at his inauguration two years ago that, "a nation cannot prosper long when it favors only the prosperous." Ironically, the President's own actions, along with those of Federal Reserve Chairman Ben Bernanke, are testing that theory.
Consumer sentiment among families with income above $75,000 jumped to 88.2, the highest since under Former President George W. Bush in 2007, according to the Reuters/University of Michigan's latest survey. While sentiment among lower-income households dropped to 67.7 from 72.1 in January, trapped in a range it's been stuck in since just after the President's 2009 inauguration.
President Obama helped widen this gap by compromising on the Bush tax cuts with the Republicans in Congress, agreeing at the end of last year to extend them on all incomes for two years, investors said. Meanwhile, Fed Chairman Ben Bernanke has set upon a large quantitative easing program that has boosted the stock market by increasing liquidity, but also raised the costs of basic goods that hit the poor the very hardest.
"Low-income families are not likely to be benefiting from the rally in stocks," said Dr. Ed Yardeni, President and Chief Investment Strategist of Yardeni Research. "They probably remain more vulnerable to long-term unemployment and wage cuts. To add insult to injury, Mr. Bernanke's focus on core inflation is irrelevant to most of them. Rising food and fuel costs matter to them."
The Fed, with rates already at zero, is in the middle of a $600 billion buying program of Treasuries to fight off deflation and encourage investment. But as prices for corn, wheat and rice have surged, the Fed Chairman has drawn the ire of many, including other countries' central bankers, for sparking out-of-control inflation. This is the second such buying program Bernanke has done since the financial crisis.
"Maybe the most unintended consequence of 'QE2' is the great wealth disparity it is creating," said Steve Cortes of Veracruz Research and a 'Fast Money' trader. "We are literally doing it on the backs of the poorest people in this country and the world."
You can see the effects of this wealth gap unfold in the struggles of Walmart, which is trying to upgrade its image to appeal to higher income shoppers as the economy recovers, but also not lose what it identifies as its core customer (those making between $40,000 and $70,000 a year). Now its stuck right in the middle of this wealth gap.
Walmart is "seeing fewer trips from these core customers who seem to prefer the convenience of dollar and drug stores over supercenters, even choosing to continue shopping those channels during Wal-Mart's Summer of deep discount last year," said JPMorgan's Charles Grom, who downgraded the stock yesterday. "Also, an overall gradual improvement in the macro backdrop lends itself to trade-up risk."
To be fair, while President Obama reappointed Bernanke in 2009, the Fed Chairman is supposed to operate independently. Plus, Obama has pledged to keep the Bush tax cut extensions at just 2 years.
It's been said that Presidents generally want interest rates kept low to keep the economy going, at least through the next election. See George H.W. Bush's reported criticism of former Fed Chairman Alan Greenspan for not cutting rates fast enough in the early '90s and costing him the election. In this case, we may have a President that pressures the Fed Chairman to raise interest rates.
For the best market insight, catch 'Fast Money' each night at 5pm ET and the 'Halftime Report' each afternoon at 12:30 ET on CNBC.
Ref: http://www.cnbc.com/id/41605145
John Melloy is the Executive Producer of Fast Money. Before joining CNBC, he was an editor for Bloomberg News, overseeing the U.S. Stock Market coverage team.
You can publish this article on your website as long as you provide a link back to this page.