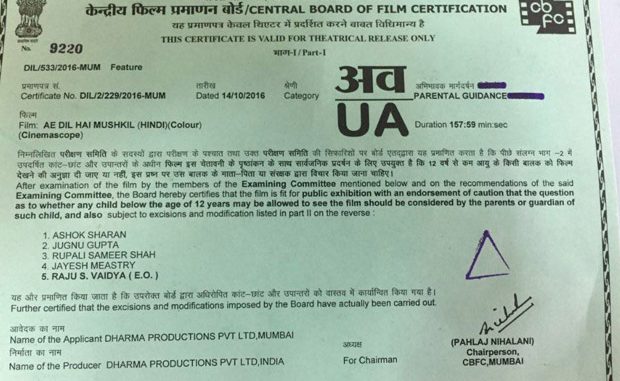 It seems that after a month long battle, the release of the much controversial film Ae Dil Hai Mushkil has turned smoother. With the filmmakers and MNS arriving at a compromise this weekend over the release, the film has also received certification from the Central Board of Film Certification and here are the pictures of the same.
We at Bollywood Hungama got our hands on the certification of the film and according to the same; Karan Johar's Ae Dil Hai Mushkil has received U/A certificate and also certain recommendations to tone down few scenes. Smooching scenes by Alizeh (Aka Anushka Sharma) to be reduced by 50%, deletion of few dialogues like 'Kiske Zyada hot hain',  'Saraswati ko dabao' among others and it has been replaced with 'Kaun Zyada hot hain' and 'Saraswati ko Chupao'. Yet another dialogue that has been chopped is 'Umra main badi hai experience bhi kamal ka hai'.
Besides that, it has been assured that a smoking warning will appear on screen during every smoking sequence and the duration of disclaimer of fiction slide has been increased.
Ae Dil Hai Mushkil stars Ranbir Kapoor besides Anushka Sharma along with Aishwarya Rai Bachchan, Fawad Khan in supporting roles and is slated to release on October 28. The film has been in news for the past few weeks owing to the Pakistani artists ban.
Source: Bollywood Masala original article at Ae Dil Hai Mushkil gets UA certificate with conditions and here's proof