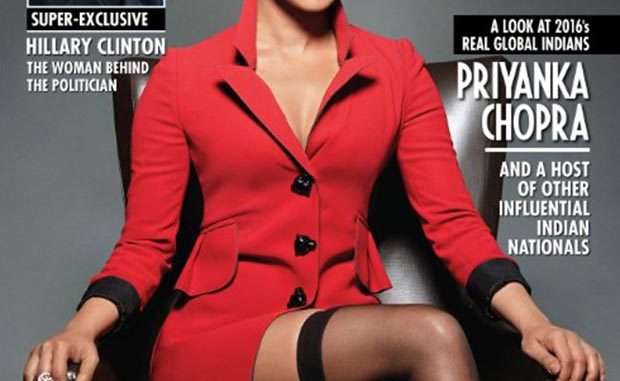 Priyanka Chopra, a global celebrity now, has made her presence felt even in international media with several appearances on talk shows and award ceremonies. As celebrities in both countries can't stop gushing about her looks and her attitude, Priyanka Chopra continues sizzle for magazine photoshoots in India and abroad.
Priyanka Chopra turned cover girl for Hello Magazine for the November edition, wearing a red trench coat, minimal accessories, sleek bun and stockings that completed her classy sexy avatar. The actress, who has also featured in the list of 2016 Real Global Indians along with others, is currently wrapping up the season 2 of her much popular crime drama 'Quantico'.
Apart from these, the Hello Magazine for this month's edition also includes a special piece on Hilary Clinton, who is one of the leading contenders for the next U.S Presidential Elections, as the article traces through her journey in 'The Woman Behind The Politician'.

Source: Bollywood Masala original article at Check out: Priyanka Chopra paints the cover of Hello Magazine red