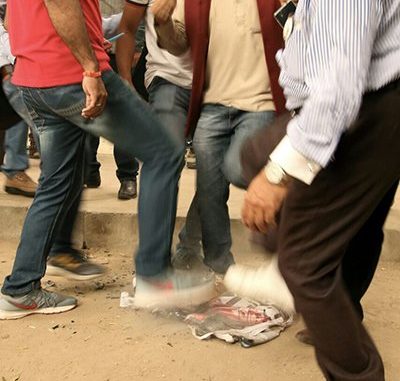 It doesn't seem like the controversies surrounding Ae Dil Hai Mushkil are stopping anytime soon. The film finally released last month after being under fire as it featured Fawad Khan. The ban on Pakistani artists followed by protests from political parties and theatres created more problems for the makers.
Karan Johar has once again run into a bigger mess. The film has this dialogue where Anushka Sharma says, "Mohammad Rafi gaate kam rote jyada the." This didn't go well with a lot of fans, filmmakers and singers. Many have criticised the remarks including Rafi's son Shahid Rafi while the fans have gone further to protest against Karan Johar.
Nagpur saw a peaceful protest against the makers but Delhi protests were aggressive. On Saturday, a group Rafi Fans had gathered near Jantar Mantar in Delhi where they were seen raising slogans against Karan Johar, Ranbir Kapoor, Anushka Sharma and Aishwarya Rai Bachchan. The crowd also started burning posters of the film and also set Karan's pictures on fire.
Mohammad Rafi's son Shahid Rafi has also criticised Karan Johar. After the protests, he said that fans from all over India have been reaching out to him and have asked him if they could protest outside Karan Johar's house. He further informed that a couple of NGOs and a few fans wanted to pelt stones at Karan's office and his house but he stopped them. His family was never known for these things and he doesn't want to get associated with such things.
Source: Bollywood Masala original article at Mohammad Rafi fans burn posters of Ae Dil Hai Mushkil