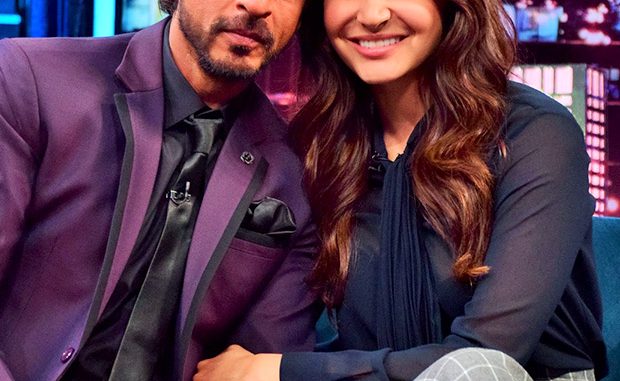 This Sunday, there's great excitement in store for every Bollywood buff as the gorgeous Anushka Sharma joins Shah Rukh Khan, on the chat show Yaaron Ki Baraat. The mentor-protege duo who have turned close friends over the years will bring the house down with hosts Riteish Deshmukh and Sajid Khan as they spill the beans on how they met and bonded, what they dig about each other and things they would like to change about the other … all of this while pulling each other's leg and taking on fun challenges and compatibility tests.
However the highpoint was when King Khan recalled an incredibly funny incident, which occurred almost two decades ago, when for the first time after a personal crisis, he took a flight alone from the US to India via London. While running with his bags to complete all transit formalities to catch the flight at Heathrow airport, a fan started chasing him. She kept running after the actor who was already delayed and caught him right at the gate and handed him a piece of paper for his autograph saying, "I'm your biggest fan, Akshay (Kumar)." Any other actor would have probably been offended, but Shah Rukh took it in good spirit and replied, "Then you must have loved my song, 'Tu Cheez Badi Hai Mast'." To which, the deluded fan replied "Oh yes!" Khan signed the autograph on behalf of Akshay and penned down, 'With love from Akshay Kumar' and then boarded his flight.
In a lively chat that followed with plenty of revelations from both talented actors, Anushka shared her journey from being a fangirl of King Khan to being cast opposite him in her Bollywood debut film to working with him in subsequent projects, gradually getting to know him better over the years and becoming the thickest of buddies with him. From trying their hand at pole dancing to messy games with egg-smashing and dancing to Raakhi's famous 'Naaacho Re Naacho' anthem, SRK and Anushka will be seen having a whale of a time and letting viewers in on some exciting little anecdotes from their lives.

Source: Bollywood Masala original article at Revealed: When Shah Rukh Khan was mistaken for Akshay Kumar



Loading ...