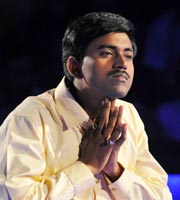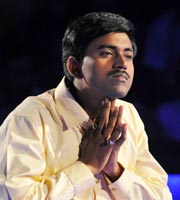 Turns out, instant fame and riches come at a price. Sushil Kumar the first Jackpot winner of Kaun Banega Crorepati 5, realized it when he returned to Motihari, the small crime-infested town of Bihar where he lives.
Apparently, Sushil's family members are now getting extortion and kidnapping threats. The family is shocked and unsure of what action to take next. But Sushil downplays the danger to his prize money and life.
The humble Crorepati says, "I think reports about kidnapping threats and extortion bring a bad name to our state and to my home town. Whatever the risks and dangers, let me first state I don't have the prize money with me. It will take a couple of months to be cleared and deposited in my account. Secondly, the people of Motihari have formed a protective cordon around me. They are proud of what I've achieved and if any harm was to come to me or my family members, I don't know what the people here will do."
Sushil has been getting calls from politicians and top officials of the police department offering security and protection.
Sushil further says, "I don't think I am in any real danger. The love that I'm getting from all around me is a much bigger prize than the money. When I arrived in Motihari almost the entire city had come to receive me. It's like I'm living in a dream. Only, far more unreal than any dream that I could have imagined. But I know all this fame is momentary. Main chaar din ka Shah Rukh Khan hoon (I'm Shah Rukh Khan for four days). It would all be over soon. Then I'll go back to my normal life."
Sushil says with disarming honesty, "I keep hearing of and reading about all these offers. But no one has approached me directly."
Article Viewed on Oye! Times @ www.oyetimes.com