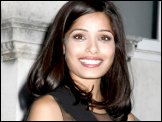 You can publish this article on your website as long as you provide a link back to this page.
This article was last updated on April 16, 2022

Trishna starring Freida Pinto in the lead role is all set to premiere on Nov. 25 at IFFI in Goa. The premiere in Goa will be attended by Freida Pinto, the film's director Michael Winterbottom (A Mighty Heart), co producers Anurag Kashyap and Sunil Bohra and music director Amit Trivedi.
Trishna is story of one woman whose life is destroyed by a combination of love and circumstances. The story is based on Thomas Hardy's classic novel Tess of the D'Urbervilles. Set in contemporary Rajasthan, Trishna (played by Freida Pinto) meets a wealthy young British businessman Jay Singh (Riz Ahmed) who has come to India to work in his father's hotel business. After an accident destroys her father's Jeep, Trishna goes to work for Jay, and they fall in love. But despite their feelings for each other, they cannot escape the conflicting pressures of a rural society which is changing rapidly through industrialisation, urbanisation and, above all, education. Trishna's tragedy is that she is torn between the traditions of her family life and the dreams and ambitions that her education has given her.
The film premiered internationally at the Toronto International Film Festival (TIFF) on 9th September 2011and received rave reviews from critics and was highly appreciated by the audience. The performances and the storyline found space in the hearts of many convincing them that this was truly a story that needed to be told.
The film will release world wide in early 2012. In India, the film will be dubbed across eight languages and released on a large scale.