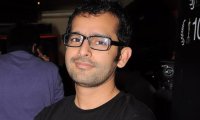 You can publish this article on your website as long as you provide a link back to this page.
This article was last updated on April 16, 2022

Shakun Batra , the diminutive director of
Ek Main Aur Ekk Tu
is all set to erase his 'Can't Dance, Saala' image.
Remember the guy with Pappu, Imran Khan's pal in Abbas Tyrewala's Jaane Tu Ya Jaane Na? That was Shakun Batra. And Shakun can't dance to save his life.
Laughs Shakun in embarrassment, "People had forgotten my rather brief tryst with acting until my friend Imran Khan brought it up in his interviews. Like Pappu, I can't dance to save my life."
Talking about his debut film, Shakun says, "When I wrote EMAET, we were all so young and inexperienced. We thought we'd change the world by changing cinema. We had inflated opinions of our abilities. Now five years later I am different. So whatever I make next would be in a different space While making EMAET I never thought I was going to change the way the rom-com is made. Break all the cliches, etc. I just did what came naturally to me."
Incidentally, Shakun Batra took suggestions from Imran's uncle Mansoor Ali Khan.
"Why not?" asks Shakun defiantly. "I've the privilege of knowing him personally. Mansoor's Jo Jeeta Wohi Sikandar is one of my all-time favourite films. When I wrote my film I showed it to him. After reading it he asked me if I was a fan of Raj Kapoor's Bobby . He said the script reminded him of Bobby. But I was too young when Bobby had released."
Interestingly, Shakun Batra shoots down the critical opinion that his film is a carryover of Jab We Met. "I agree it's the same introverted-boy-extroverted-girl space. But our script for EMAET goes way back before Jab We Met was released. I wrote this film five years ago when I was raw and stepping into a career in movies."
That's when Shakun assisted Abbas Tyrewala's Jaane Tu Ya Jaane Na and featured in the song 'Pappu Can't Dance Saala'.
About the film's open ending (Kareena and Imran don't get together finally) Shakun knocks down the suggestion of a sequel. "A lot of people think I deliberately kept them apart at the end to bring them together in another film. But no. I'm done with Rahul and Rihana. I've gone with them as far as I want to. What they do with their lives now is entirely up to them."
Having a friend playing the lead certainly helped. "Imran was a big support. We go back a long way. So when we both came into EMAET there was a certain comfort level between us. He too gave a lot of helpful suggestions. In the sequence where Sonia Mehra tries to seduce him in the loo, it was Imran's idea that he be shown brushing his teeth to show his compulsively organized personality, before he's attacked by her."