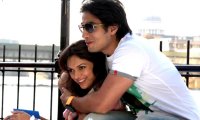 This article was last updated on April 16, 2022
Canada:

Oye! Times readers Get FREE $30 to spend on Amazon, Walmart…
USA:

Oye! Times readers Get FREE $30 to spend on Amazon, Walmart…

If only Siddharth Anand's
Anjaana Anjaani
was funnier, warmer, more kindred in spirit and less burdened by the responsibility of making the pair look at home on foreign shores, it could have conveyed the pleasure quotient of
London Paris New York
(LPNY).
Indeed debutant writer-director Anu Menon imparts a talcum-freshness into a tale that has only two principal characters. He and she. And what happened Mama, Papa, Chacha, Chachi? Sooraj Barjatya won't like this one bit.
Luckily for Ms. Menon the lines that she puts into the mouths of her lead pair simply melt in their mouths. The dialogues that could make or fake a rom-com, seem to work mainly because the actors promptly absorb the words and make them their home.
Unlike other singers-turned-actors who speak their lines in a song-song voice Ali Zafar doesn't sound like a singer when he talks. He is, in fact, a big bonus in this kabhi-sassy-kabhi-glum take on that thing called love. Ali gives just that bit of extra push to the less perky scenes. His ebullience and involvement with the romantic aspect of the script seems sensible, cautious but not over-studied.
Aditi Rao Hydari was star material from the time she stood behind Sonam Kapoor in Delhi 6.Come forward, girl, take a bow as we say a collective wow. Here she comes into her own. This time she has no torrid smooching scenes no tumultuous moment to show what a bitch that thing called love can be. She manages to convey a cool coquettishness which is never stagey or annoying.
Quite a pair, this. Having got them in place Anu Menon glides gently if a little languorously through the 3 cities mentioned in the title creating an arching kinship between her co-stars who look more like pals than lovers. Nikhil (Ali Zafar) and Lalita (Aditi Rao) don't seem like the kind of couple that would spend too much time in bed once they're married. And that suits the audiences' fine.
God knows we've seen enough couples trying to sleep if not sleepwalk through rom-coms. LPNY takes the guarded, serene, low-speed lane in the highway of love. The three cities emerge as the true heroes of the plot, thanks in no small measure to veteran cinematographer Sameer Arya who lenses the three cities with the love of someone who's been there and done it all, and not on a tourist visa.
The film's biggest advantage is its casual non-ostentatious calm and easygoing mood. Don't look for specially-written scenes to spotlight the couple's journey into the three phases of their life as they seek to find answers to the conundrum of the heart.
Not too many secrets on the emotion called love are unveiled in this comme ci comme ca rom-com. But the going is never amateurish. Most importantly London Paris New York gives us two new dependable engaging stars.
More than another rom-com, we need those. Desperately.
You can publish this article on your website as long as you provide a link back to this page.