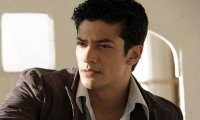 You can publish this article on your website as long as you provide a link back to this page.
This article was last updated on April 16, 2022

Winner of the most coveted male pageant in India- Gladrags Manhunt, Muzammil Ibrahim has walked for over 1000 fashion shows for Indian and International designers. He was touted as the next big thing when he made his debut with Pooja Bhatt's
Dhokha
, but soon after Muzammil disappeared from the scene. The supermodel turned actor features in Aditya Datt's romantic comedy
Will You Marry Me?
, which released yesterday.
Bollywood Hungama's Divya Rajani talks to Muzammil Ibrahim about his forthcoming multi starrer Will You Marry Me? , his passion for adventure and more.
You had a very promising start with your debut film Dhokha, which released in 2007, where did you disappear after that?
(Laughs) After Dhokha, I was shooting for another film called Horn Ok Pleassss, also starring Nana Patekar. I was playing a double role in the film. It was a film by Sunrise Production, who had produced Halla Bol before, so it was a very big film after Dhokha. The problem was when Horn Ok Pleassss didn't get released on the time and just kept getting delayed.
I am a newcomer, I am not a blue blood or a star son nor do I have a star girlfriend. I don't even have any God father, so I relied on my own talent and capability to get me films and the only way I could get films was when more people would see my work. Where I lacked was when Horn Ok Pleassss couldn't get released and I kind of put all my eggs in one basket which I shouldn't have. I also kept on saying no to a lot of films at that time like Raaz 2 and Fashion. Probably because of that things went haywire, also Will You Marry Me? took a little more while than expected to get released. Such things are beyond and actors' control, they are completely a producer's domain, you don't have any say in this matter especially when you are a newcomer.
Weren't you supposed to do another film with the Bhatts after Dhokha?
Yes, they offered me Raaz 2 but I was shooting for Horn Ok Pleassss at that time, so I couldn't take up their offer. That role was eventually played by Adhyayan Suman.
How did you bag this role?
I was a supermodel and my name was quite the hype at that time, I was like the talk of the town and everybody wanted me in their films. Aditya met me when he was conceiving the star cast and that's how it I got the role.
What is the movie Will You Marry Me? all about?
Will You Marry Me? is predominantly the relationship between three guys – Shreyas, Rajeev and me. It is about their friendship and how they drift apart and their friendship gets soured. Life goes on but towards the end of the film they realize that friendship is what mattes to them the most.

What is your role in the film?
I play the role of this guy called Nikhil, he is the cool guy. He is the guy who has got the swagger and is a big show off. But he is the one who balances the friendship between the three guys as Shreyas and Rajeev's characters are very opposite to each other and it is my character that balances things out, as he is probably the sanest one of all the three.
How is Aditya Datt as a director?
Aditya Dutt is a fine director. He is very capable and his music sense is great. I remember reading the script and thinking whether to do the film or not and then he said 'Why don't you listen to the music?' and he made me listen to Rahat Fateh Ali Khan's song 'Soniyo'. I loved the song. He comes with this very innate sense of music in him which is very interesting. I hope this film does well for us.
Tell us something about the music of the film?
There is this beautiful track called 'Soniyo' by Rahat Fateh Ali Khan, the second track is 'Superman' and the third track is Kalma, which is catching up with everyone. I have friends who are RJ's in South Africa and US and they have been calling me up and telling me that they have a continuous request of playing 'Soniyo' throughout the day and it's the number one song on the charts right now in South Africa and USA. It is good that the music is catching up and people are liking it.
I saw the video of the song 'Superman', what was going on in your mind when you'll were shooting for that song?
(Laughs) 'Superman' is a fun song, it kind of looks awkward to you when you are watching it but they are normal guy dances. It's just that these three friends crash into a party and it is supposedly a gay club that we crash into and that's where the song has been picturised. You will have to watch the film to know why we crash into the party.
How were all your co-stars?
Shreyas is an awesome guy and great to work with. He is extremely funny both on and off the sets and is an amazing actor. Rajeev is also a great guy and a fabulous actor. I was the youngest on the sets. Even Mugdha has been my senior from modeling and is older than me. Both Rajeev and Shreyas treated me like their younger brother. We partied and hung out together. It was a very healthy atmosphere, we all got along really well.
A newcomer Tripta Parashar has been cast opposite you, how was she to work with?
Tripta is a very nice girl, she is very talented and professional and good to work with. I am sure she is going to do well.
Where all have you shot the film?
We shot the film in UAE and Bangkok.
Which was your favourite shooting schedule?
UAE and Dubai was one of our best schedules .I liked it when we were shooting in Ras al Khaimah, in UAE. It is a beautiful resort with a great environment and ambience. It was a very chilled atmosphere and I liked hanging around there. The times when we were not shooting, we would just take off and do our own thing. The beach was really nice so I would go sand duning in the evening which was a lot of fun.
Could you tell us something about your forthcoming films?
I am not supposed to talk about that. There is a little more time before I can speak about my upcoming ventures.
What do you like doing in your free time…heard that you are very adventurous.
I am a martial artist so I like to train in martial arts and I love to go to the gym. If I have more free time then I plan a holiday, because I love traveling and I am traveller by nature. Travelling is my passion. Since I have been a sportsman since childhood I plan my holidays according to the sports I play. It could be skiing in Gulmarg or Deep sea diving. I missed going to Gulmarg this time but I recently went to Philippines with my girlfriend. I love going to different parts of the world and exploring them.
Recently there have been rumours of you dating a Victoria secret model after you uploaded pictures on a social networking site.
No comments. I took those pictures off.
Fast Five
Which is your favorite Bollywood movie?
Sholay
Who according to you is the hottest actress in Bollywood?
Kareena Kapoor
Favourite Designer
Rohit Gandhi and Rahul Khanna
Modeling or Acting
Both
Will You Marry Me or Dhokha?
Dhokha, since it is my first film.