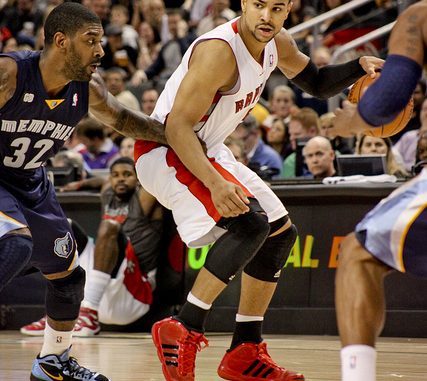 This article was last updated on April 16, 2022
Raptors Bollywood Night Takes Centre Court During Halftime Show

Dwane Casey is starting to sound like a broken record. Once again he stepped up to the podium to address the media after another close loss and expressed similar words after his team was unable to close out a winnable game.
This time the antagonists were the Memphis Grizzlies, a team that is likely to qualify for the postseason – a far cry from the Raptors who are managing to play well but doing everything but win.
On Friday night, Toronto's biggest liability was its turnovers in a 102-99 loss at the Air Canada Centre. The ball was turned over 16 occasions, including five in the fourth quarter, leading to 24 Memphis points compared to just nine possessions given away for five points by the visitors.
"I might as well put my recorder up here and say the same thing," said Casey. "Our guys scrapped, fought, put ourselves in a position to win the game. The Memphis team is one of the most mentally tough teams in the league.
"Our guys scrapped, didn't give in, didn't give up. We had a lead and didn't protect it… We won every category we wanted to except turnovers…once we learn how to make those plays at that time of the game we're going to be okay."

The Raptors (11-25) have put in a solid stretch of games lately but its fourth quarter performances have been disappointing as the team has blown leads or been unable to overtake its opponents.
"Just a lot of little things that closing out games, game winning plays and somewhere the basketball gods are waiting for us make those plays, to be good to us. Right now, and I've seen a lot of NBA games, we're doing everything to win the games except winning games."
Raptors point guard Jose Calderon echoed his coach's sentiments and came close to forcing the game into overtime, but his three attempt in the final seconds rattled out.
"We have to learn to play a little bit better in the last minute of games," said Calderon who finished with 10 points and a game-high nine assists. "I think we fought and gave it everything we had. We just couldn't finish at the end. We had a couple of turnovers…it's tough, but we compete against everybody."
Bench Steps Up

The Raptors bench led by Jerryd Bayless added some spark as the starters, namely DeMar DeRozan, struggled at times on the offensive end.
Bayless scored 10 of his team-high 18 points in the second quarter while Leandro Barbosa added 13 and Linas Kleiza pitched in with 12 points and seven rebounds off the bench. Toronto's reserves outscored Memphis' bench 54-29.
"We played hard, we played well, but we struggled with their bench," said Grizzlies Head Coach Lionel Hollins. "Their guys came off the bench and scored the ball really well. We won one by our chinny chin chin."
The other starters James Johnson added 14 points, Amir Johnson 10, DeRozan 4 and Aaron Gray with seven points and seven rebounds.
DeRozan was stifled by veteran Grizzlies guard Tony Allen and was only able to contribute four points in 2-of-8 shooting, two rebound and two blocked shots. He still played valuable minutes by helping his teammates in other ways down the stretch.
"He had one the toughest defenders on him," said Casey. "They were keying on him, they weren't about to let him get going. Tony Allen did a heck of a job.

"To DeMar's credit he became a screener the last couple of plays at the end of the game, he was the one setting the screens. So again, it's not all about scoring, he made some winning plays as far as helping guys get open."
For the Grizzlies (21-15), Rudy Gay scored 23 points and 12 rebounds, both game-highs, while starters Marc Gasol and Mike Conley each finished with 21. O.J. Mayo came off the bench to score 16 and Dante Cunningham added 11.
With the Raptors up 99-98, it was Gay who put his team ahead for good when he drained a long jumper with 26.9 seconds left. He quickly turned around and held his finger to his lips in a mocking gesture as if to "shhh" the crowd. It worked as Kleiza missed a wide-open 17-ft jump shot that rimmed out and Allen increased the lead with a driving lay-up at the other end.
"It was a tough one, they played hard, and they played aggressive and stayed in it until the end," said Hollins of his Grizzlies that has now won three in a row and seven of its last eight.
"We stayed with our starters as well in the second half. In the first half we were subbing and guys weren't doing what we needed to do. In the second half we had rhythm, we attacked them and we scored. Even down the stretch we scored just about every time to stay in the game."
Bollywood Night

Friday night was the Raptors annual Bollywood Night, one of many heritage nights hosted by the Raptors in celebration of Toronto's diverse multicultural community.
Rajeev Bhalla and Rachna M, co-founders of Infinite Creations Entertainment (ICE), worked with the Raptors in putting the event together including a special halftime Bollywood dance show featuring a line-up of 25 performers. Both are the minds behind many large-scale South Asian events around the Greater Toronto Area.
"Promoting the community itself, it's a big thing," said Bhalla. "Being able to highlight the South Asian community and some of the diversity that exists in our culture is important, especially with Toronto being such a multicultural city. It's a great opportunity for us to showcase some of our talents."
On Sunday, the Raptors will continue its four-game home stand to start the second half of the season when the Golden State Warriors (14-19) visit the ACC with kickoff at 6 p.m. ET.
To follow me on twitter click
HERE
Photos courtesy of Annandi Merhai. To view more pictures from the Bollywood halftime show click
HERE
Download or stream
the 500 Level podcast with co-hosts Aman Dhanoa and Ben Trattner as they discuss news, opinions, and views on Toronto sports from the Upper Deck. Leafs, Raptors, Jays, Argos, TFC – nothing is off limits. It's good to be a fan!
You can publish this article on your website as long as you provide a link back to this page.