Sanju, directed by Rajkumar Hirani, is one of the most awaited movies this year and understandably there is a lot of buzz around it. After its smashing teaser and trailer release, the makers released its first song 'Main Badhiya, Tu Bhi Badhiya' and it generated lot of reaction from masses. While it was pleasure looking at Ranbir dancing effortlessly and lip syncing to a woman's voice, it did not go too well with the fan base of Sanjay Dutt. Essentially, Dutt's image has always been very macho and hence an image of him lip syncing to a woman's voice did not go down well with fans.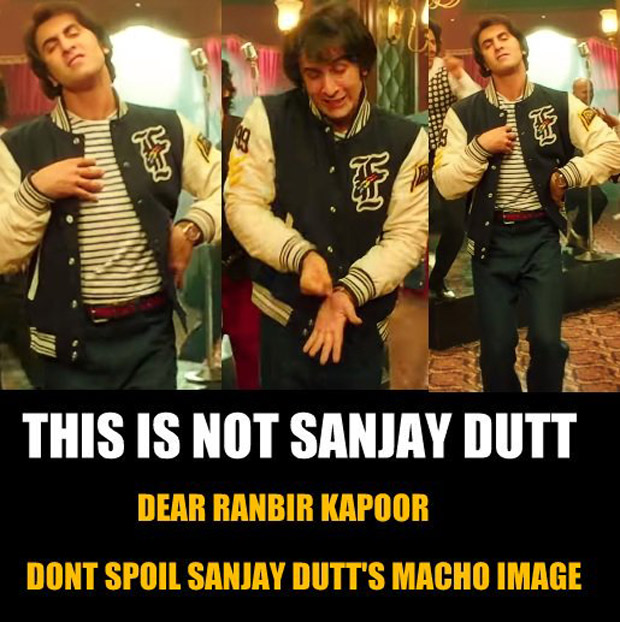 For those who don't know, the concept of the song is that Ranbir portraying Sanju of the eighties is not happy because well, he thinks his dad Sunil Dutt is not happy with his lip syncing abilities in songs. So just to prove his point, he starts moving his lips to the tunes of a club singer. He is joined by his girlfriend, played by Sonam in the song. It's a fun number and brings alive the culture and life of Bombay. But people not understanding the whole concept took the song out of context and have trolled Ranbir Kapoor and Rajkumar Hirani.
One fan wrote, "Never knew @duttsanjay was so gayish during his youth !! And all my life I thought he was a Macho Man. It was all lies. Thanks for opening my eyes @RajkumarHirani #Sanju." Another fan was not very sold on to what Raju Hirani was trying to show and hence wrote, "Jst saw #Badhiya song & now i have question for @RajkumarHirani tht r u sure in #Sanju #RanbirKapoor is playing @duttsanjay 's role ?? As i am seeing #SanjayDutt since 90's & he have macho image, strong personality & you r showing gayish image of RK as sanjay. Not acceptable."
A hardcore Sanju fan called Ranbir 'gayish' and wrote a savage remark, "Looks like another jagga jasoos in making. Those gayish steps by RK.. what made raju hirani to cast RK to potray sanju. He is Nowhere close to the macho image of sanjay dutt. RK has such a womanish face ye to Shole ke baad Shan wali best ho gai hirani g #Badhiya." Another user requested Sanju Baba's intervention in casting and said, "Instead of taking PaROLE . Sanju Baba should have taken intrest in casting of his ROLE in Sanju… Badhiya is an abuse to Sanju Baba's Macho Image.. Horrible."
Enraged fans also called out to Hirani slamming him for a 'ghatiya' and not 'badhiya' portrayal of Dutt. What do you think? Let us know in the comments section below.
Also Read: SANJU: Ranbir Kapoor's DREAM has finally come true; Sanjay Dutt not just likes but adores him! See pics for proof
Click HERE to read more and view the original source of this article.


Loading ...