Not surprisingly, Dhadak has turned out to be one of the most anticipated films of the year. No points for guessing the reasons! Shahid Kapoor's younger brother Ishaan Khatter who started out with the international film Beyond The Clouds, plays the leading man. And his leading lady, Janhvi Kapoor, even though is a debutant, is the daughter of India's biggest female superstar Sridevi. And to add to that, the two newbies are coming together for a film, which is a remake of the record breaking Marathi blockbuster Sairat. Do we need any more reasons to be excited for the film?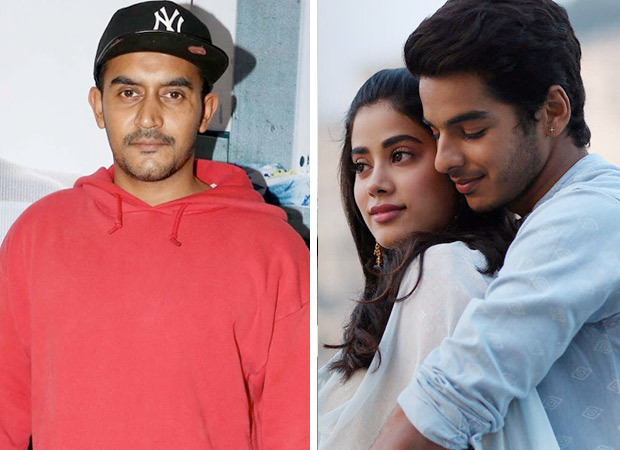 Backed by popular producer Karan Johar, the trailer launch event of Dhadak, held today came with its own share of anecdotes. While Janhvi was getting introduced to the Indian media, Ishaan Khatter seemed confident, with Dhadak being his second film. When the trailer was screened, audiences were left in awe, not just by performances, but the colours, the beauty and of course the music.
For the uninitiated, whilst Sairat was set in a small Maharashtrian village, Dhadak has a Rajasthani, to be more specific, Mewadi backdrop. Shashank Khaitan explained why he decided to base the film in a completely different setup. "I am a Rajasthani myself. I have visited the state often. I have stayed there and I also have my family members and relatives living there. When I had seen Sairat and thought of adapting it, I had already thought of this region since I am aware of the conflicts there," said Shashank.
The Dulhania franchise filmmaker added, "I am also well aware of the behavior and their culture, so it came as a natural decision to have a Marwadi backdrop for the film. If we are talking about how different it [from the original], that you as audiences would be a better person to tell me the difference. We have tried to stay true to the story and we haven't incorporated anything forcefully to make it look different."
On the other hand, one element that took everyone by a surprise was when the audience saw Ashutosh Rana. When Shashank was asked about Ashutosh being a part of Dhadak, he said, "I have already worked with him in Humpty Sharma Ki Dulhania. He is a fantastic actor and I really adore him. I generally have loads of fun when I work with him for the film. I was actually searching for someone to essay his role in the film and he was my only choice. I immediately approached him for the role with a script in my hand and he agreed instantly even without reading the script. He said, 'Shashank if it is your film, I will definitely do it'. I can't divulge further details on what he will be doing in the film but I can assure you that you will fall in love with his character and his acting once again."
It is a known fact that when a film is adapted, comparisons with its original are bound to happen. Besides that, filmmakers are often given the responsibility of recreating something that is loved by many and it is a crucial one there. So keeping all that in mind, the filmmaker has immense pressure of matching up to the original.
In case of Dhadak, when Shashank Khaitan was asked if he was nervous to show it to the director Nagraj Manjule, the filmmaker was confident that he wasn't. Rather, he expressed his excitement of showing it to the director. "I am extremely excited about showing the film to Nagraj Manjule considering that I have been a fan of him." To which Karan Johar quipped that he is nervous about showing Dhadak to the Sairat filmmaker. Shashank went on to add, "I started out by doing remake of sorts of Dilwale Dulhania Le Jayenge [the iconic Shah Rukh Khan, Kajol film]. So, I think it is kind of ok."
Also Read: Anshula Kapoor makes a heartfelt post wishing little sister Janhvi Kapoor for Dhadak
Click HERE to read more and view the original source of this article.


Loading ...