Well, Sajid Nadiadwala's forthcoming production Housefull 4 may have had a schedule wrap up. But before that, the producer decided to spend his special day in the most special way. It was his wedding anniversary with wifey Warda Nadiadwala and the surprises planned were galore. Obviously we would also give credit to the couple's children, Subhan and Sufyan Khan Nadiadwala for putting up such a cute party of their lovely producer parents.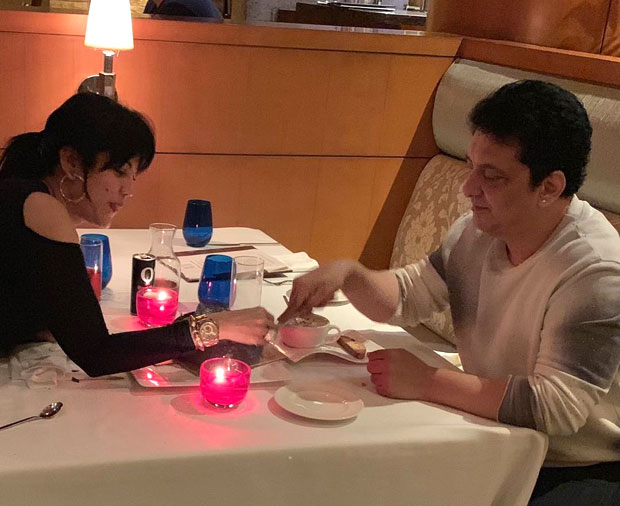 Let us tell you that Warda Nadiadwala has never shied away from showing her love for Sajid and she has also spoken about their love story in the past. On the day of their wedding anniversary, she took to Instagram to share pictures of the celebrations. The pictures showcase that the entire bash including the cake were planned around the theme of Sajda – Sajid and Warda!
View this post on Instagram
@sknadiadwala ☺️☺️☺️ love the Sketch ???????????? @sufyannadiadwala123 my yaani love the cake and edit ????????????
A post shared by Warda Khan S Nadiadwala???? (@wardakhannadiadwala) on Nov 19, 2018 at 6:29am PST
The wife of Nadiadwala posted pictures from their dinner and also the cake that was planned by their children with the caption that read "18 years of Sajda". Interestingly, the wedding anniversary also coincided of sorts with the wrap of the comedy drama Housefull 4 and as the name suggests, it is the fourth instalment of the quirky franchise.
Besides the wishes by the team and their children, Kriti Sanon, who considers Sajid Nadiadwala as her mentor, also took to social media to wish him and her 'bhabs' on their special day.
View this post on Instagram
#Repost @kritisanon with @get_repost love u lotsss is the last kritzy kritzz ???????????????? …. pic c @kriti.kharbanda ty Kk for capturing the beautiful moment ???????????? ・・・ Too much love today on set!!! Happyyy Happyyy anniversary Sajid sir and Bhabs!!! ❤️❤️???????? wish you both all the love — you guys are so so wonderful together.. keep the love growing????
A post shared by Warda Khan S Nadiadwala???? (@wardakhannadiadwala) on Nov 18, 2018 at 11:39am PST
Coming to
Housefull 4
, this one too is a multi-starrer with Akshay Kumar and Ritiesh Deshmukh in prominent roles. Joining them in this rib tickling roller coaster will be Kriti Sanon, Kriti Kharbanda, Bobby Deol, Pooja Hegde, and Rana Daggubati amongst others. The film will also have Chunky Pandey in his Aakhri Pasta avatar. Readers may be aware that it is said to be a fun take on reincarnation and will be releasing during Diwali next year.
View this post on Instagram
#Sajda #18yearsofsajda ???????????????????????? ………. #SajidNadiadwala ???? thank u @sufyannadiadwala123 for the yummy cake @nadiadwalagrandson amazing surprise #houseful4 for blockbuster day ????????????
A post shared by Warda Khan S Nadiadwala???? (@wardakhannadiadwala) on Nov 19, 2018 at 6:08am PST
View this post on Instagram
They say, "Love only grows with Time" ???? Thats how the power couple #SajDa celebrated their 18th anniversary yesterday with #NGEFamily. #SajidNadiadwala @wardakhannadiadwala . . . #couplegoals #nge #love #family #goals #couple #sunday #wedding #anniversary #post #celebrations #happy #instamood #instagood
A post shared by Nadiadwala Grandson (@nadiadwalagrandson) on Nov 18, 2018 at 4:26am PST
Also Read: WOAH! Grand and Lavish sets of Akshay Kumar's HOUSEFULL 4 cost a whopping Rs. 20 cr!
Click HERE to read more and view the original source of this article.


Loading ...