Biopics are quite in vogue in Bollywood and in recent times, many of them have even tasted massive commercial success. But often, these biopics are criticized as they become quite hagiographic and tend to glorify the person in question. In such a scenario, blockbuster director Rajkumar Hirani's SANJU promises to be different and shows the highs as well as lows and dark periods of actor Sanjay Dutt. That it's directed by Rajkumar Hirani, who has a cent per cent track record and features popular actor Ranbir Kapoor, has added to the excitement considerably. So does SANJU live up to its hype and turns out to be a yet another feather in Hirani's cap? Or does it fail to impress? Let's analyse.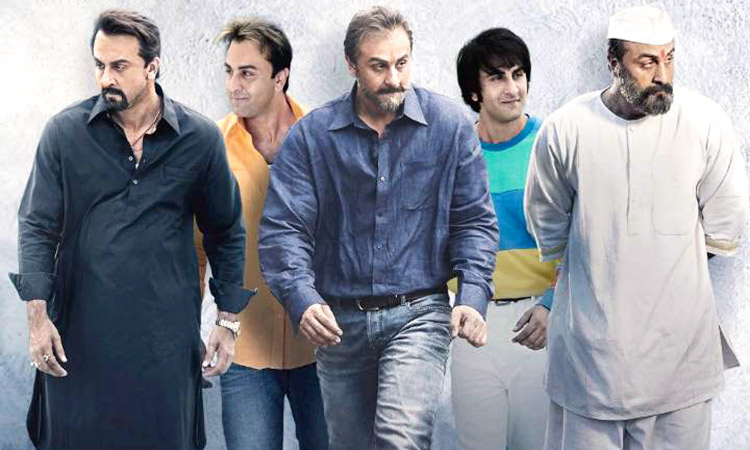 SANJU is the biopic of controversial actor Sanjay Dutt and some of the dramatic and significant episodes of his life. Sanjay Dutt (Ranbir Kapoor) is the son of famous actor Sunil Dutt (Paresh Rawal) and yesteryear actress Nargis (Manisha Koirala). He is about to get launched in a film by his father titled ROCKY. Upset with his father, he tries drugs for the first time courtesy his friend Zubin Mistry (Jim Sarbh). At this point, he finds out that Nargis is suffering from cancer and has few days to live. She is taken to New York for treatment. Sanju is unable to control his drug habit even when his mother is struggling. While in New York, he befriends Kamlesh Kapasi (Vicky Kaushal) and they both form a wonderful bond. Sadly due to his drug addiction, his relationship with his girlfriend Ruby (Sonam Kapoor) gets affected and ends on a dismal note. Nargis dies just three days before the release of ROCKY. An overwhelmed Sanju agrees to go for rehab in USA. Once he overcomes this addiction, he gets into a bigger problem. He gets arrested for illegal possession of arms. He's also accused of aiding the terrorists in carrying out the serial bomb blasts in Mumbai in 1993. How Sanjay Dutt fights this dreadful charge forms the rest of the film.
Rajkumar Hirani and Abhijat Joshi's story is interesting but one can sense that they have tried to play safe. But they have balanced it out by not glorifying Dutt and showing his bad and dark side too. Also, it's impressive how Rajkumar and Abhijat haven't focused on his film career and have focused on his personal life and turmoils. Rajkumar Hirani and Abhijat Joshi's screenplay is terrific and despite the minuses, can be used as a guide on how to write films. With so much happening in the film, the writers ensure that the narrative doesn't go all over the place. Everything is neatly put together. For instance, when the sequence where the Dutts are returning back to India, Nargis' remarks about Ruby. This is done organically and neatly links to the next sequence which is related to Ruby. Rajkumar Hirani and Abhijat Joshi's dialogues as always are entertaining, sharp and massy. Few dialogues related to sex will bring the house down in single screens and in the hinterland. A section of audience however would also be put off by such jokes and dark humour at places.
Rajkumar Hirani's direction as expected is highly effective. This is no easy film to make but he executes and presents the plot in a simple and crisp manner. His magic comes to the fore in several sequences and is bound to leave viewers smiling and teary eyed. However, the climax could have been better and more powerful.
The biggest strength of SANJU is that the film never drops. The screenplay is riveting and keeps you hooked, even if you might not agree with the goings on. And that's a feat for a film which is 160 minutes long. The back and forth narrative works very well and keeps viewers intrigued. The first half is excellent and boasts of some fine emotional, funny and dramatic sequences. The intermission point comes as a bolt from the blue. The madness continues in the second half but the plot gets a bit shaky here. The film goes on a high in the first half but the same doesn't happen in the second half. The film should have ended with a punch or on a rocking note, as it has happened in the previous Rajkumar Hirani films. However, the film leaves a strong emotional impact overall, which works very well.
Ranbir Kapoor owns the film and delivers a terrific performance. Nowhere does his performance seem like a caricature and he gives his best shot in ensuring that he looks and behaves like Sanjay Dutt. Watch out for him in the emotional sequence, particularly when his mother passes away and he confesses to his father that he needs to get better. Also he'll leave viewers moist eyed in the scene where he fails to read his speech to his father and later the inevitable happens. SANJU surely ranks as one of the most or arguably the most accomplished performance by this young actor and is bound to win him accolades, admiration and awards! Paresh Rawal is also quite impressive and plays the important part of Sunil Dutt with perfection. SANJU is a father-son story and he compliments Ranbir very well in taking some scenes to great heights. Vicky Kaushal is the surprise package of the film. Right from his entry, he makes a mark and brings the house down at several places. Also, he's rocking in the emotional sequences like when he meets Ruby or when he tells Sunil Dutt that they need to help Sanjay Dutt. Even in the second half, watch out for him when he meets Sanjay Dutt in the hospital and in the pre-climax when he listens to the radio. Manisha Koirala has a supporting part but is an important pillar in the film and charms with her performance. Anushka Sharma (as Winnie Dias) delivers a splendid performance. Again, her screen time is limited. Jim Sarbh makes an impact with his role. Sonam Kapoor (as Ruby) is decent in the cameo. Boman Irani (as Homi) contributes to the fun quotient. Sayaji Shinde (as Bandu Dada) looks every inch a gangster. Dia Mirza (as Maanayata Dutt) gets overpowered. Aditi Seiya (as Priya Dutt) looks quite like Priya but doesn't have much to do in the film. Karishma Tanna (as Pinky) is quite sizzling and makes a mark, despite being there for just a scene. Mahesh Manjrekar (himself), Piyush Mishra (D Tripathi), Ashwin Mushran (security officer), Bharat Dabholkar (lawyer) and Aanjjan Srivastav (minister) are good.
Songs are not that great but work well in the film. 'Kar Har Maidaan Fateh' is the best of the lot. 'Main Badhiya Tu Bhi Badhiya' is very well picturised and imagined. 'Ruby Ruby' (by A R Rahman) is relegated to the background. Sanjay Wandrekar and Atul Raninga's background score is much better and exhilarating. S Ravivarman's cinematography is splendid and has captured some of the locales beautifully. In fact, he impresses right from the first shot itself – a bird's eye view of Bandra. Shashank Tere's production design is appealing and rich. Eka Lakhani's costumes are authentic. Vikram Gaikwad's make-up design, Clover Wootton's prosthetics and VFX by NY VFXWaala deserves the highest praise for making Ranbir look like Sanjay Dutt through the ages. Rajkumar Hirani's editing is crisp.
On the whole, SANJU is an entertaining saga that blends emotions, humour and drama in adequate doses. It is powerful, engaging, emotional as well as compelling. The combination of Rajkumar Hirani and Ranbir Kapoor works like a dream. At the box office, despite not being a 'typical Rajkumar Hirani family entertainer', SANJU will score tremendously and emerge as a Monstrous Hit! Don't miss it!
Click HERE to read more and view the original source of this article.


Loading ...