This article was last updated on April 16, 2022
Since the time Ayushmann Khurrana debuted in 2012 with VICKY DONOR, he has become the poster boy of films which were unconventional, taboo and yet attracted moviegoers in hordes. While his first film talked about sperm donation, his last year's sleeper hit SHUBH MANGAL SAAVDHAN dealt with erectile dysfunction. Now he's back with yet another film on similar lines, BADHAAI HO. So does BADHAAI HO follow in the footsteps of his earlier hatke films and emerge as a must watch fare? Or does it fail? Let's analyse.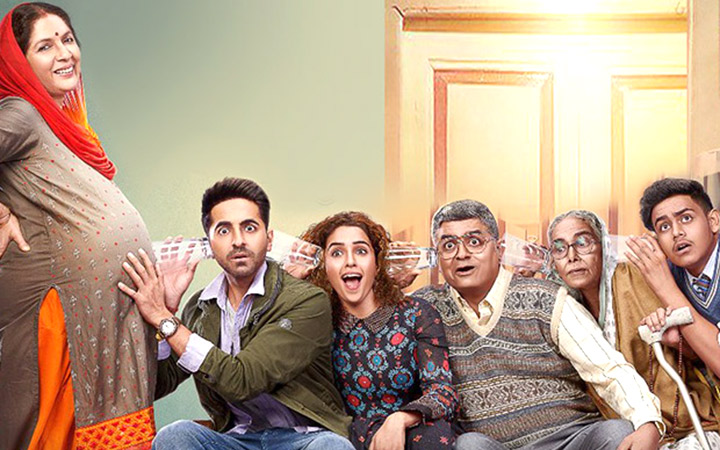 BADHAAI HO is the story of a family that faces an unusual situation. Nakul Kaushik (Ayushmann Khurrana) resides in Delhi with his family comprising of his father Jeetender aka Jeetu (Gajraj Rao), mother Priyamvada (Neena Gupta), grandmother (Surekha Sikri) and younger brother Gullar (Shardul Rana). Nakul is in a steady relationship with his colleague, Reene (Sanya Malhotra). One day Jeetu and Priyamvada get intimate when they are reading the poem written by Jeetu that is published in a magazine. 19 weeks later, Priyamvada falls ill and the doctors inform that she is pregnant. For Nakul and Gullar, the world comes crashing down. Priyamvada is told that if she wants to abort, she should do so within the next 3-4 days. But she doesn't feel like aborting and decides to go ahead with the pregnancy. What happens next forms the rest of the film.
Akshat Ghildial, Shantanu Srivastava and Jyoti Kapoor's story is very simple and relatable. It's surprising that nobody made a film with this subject as the principle plot and the writers treat it well. Akshat Ghildial's screenplay is a bit subtle. This goes against the film in few scenes but still manages to click. Every situation in the film seems straight out of life and there's nothing that's over the top. Akshat Ghildial's dialogues are very witty and funny and would be loved, as again, they'll resonate with the audiences.
Amit Sharma's direction is decent but he falters in the first half. Also he should have treated the romantic portions well. The track of Nakul and Reene is weak and it's the older couple and Dadi who take the cake. But on the positive side, Amit Sharma brings out the emotions very well in a lot of sequences. The film has quite a few subplots and the sequence of Nakul going to Gullar's school to teach a bully might seem unwarranted. But it is important as it helps in explaining how different generations react to such kind of development in their lives.
BADHAAI HO might seem like a laugh a minute riot from the promos but it's not. The funny moments are definitely there but the film also has its share of emotional and touching moments. Hence, keep your expectations right and you'll surely enjoy the fare. The film's beginning and introduction of characters is a bit shaky. The film picks up only when the Kaushik couple announces about the 'good news' to Nakul and Gullar. The reaction of Dadi at this juncture will surely be loved. The film again falls a bit and the intermission point makes it seem like an arthouse film. But it's in the second half where the film shines the most. The outburst of Dadi in Meerut is clapworthy. Nakul's reaction when his parents return from Meerut is priceless. Another scene that stands out is Nakul apologizing to Reene's mother (Sheeba Chadha). The finale however is the best part of the film and would surely make viewers teary eyed.
Ayushmann Khurrana delivers a brilliant performance and his act is spot on. Whether it's the scenes where he's acting rude or when he gets drunk and creates a ruckus…he is first rate. In the scene where he apologies to Reene's mother, he'll win a lot of hearts. Sanya Malhotra is quite decent but has limited screen time. Neena Gupta is the soul of the film and puts up a very convincing and lovable performance. In several scenes, she expresses so well with her eyes and silences. Gajraj Rao is in top form and steals the show in several scenes. He is like the second hero of the film and fulfills the responsibility ably. Surekha Sikri is out of this world and her scenes are sure to induce claps and whistles. Shardul Rana gives a wonderful performance and his scene with Ayushmann in the second half is noteworthy. Sheeba Chaddha leaves a tremendous impact in a small role. She also communicates a lot through her silences. Others are fine.
Talking of music, 'Badhaaiyan Tenu' is the best of the lot and is very catchy. 'Sajan Bade Senti' is average but is presented very well. 'Nain Na Jodeen' is touching but the impact is limited as the romantic track is not that strong. 'Morni Banke' appears during the end credits and is okay. Abhishek Arora's background score however is entertaining and has a naughty vibe which suits the film.
Sanu John Verughese's cinematography is appropriate. Ratheesh UK's production design is straight out of life. The house of Kaushik's looks authentic. Kirti Kolwankar and Maria Tharakan's costumes are appealing especially the ones worn by the lead couple. Dev Rao Jadhav's editing could have been crisper at a few places.
On the whole, BADHAAI HO is not a laugh riot but emerges as a complete family entertainer with emotions as its USP. The film leaves you with a smile and at the box office, it is at an advantage. It releases during an extended weekend and families are bound to come in large numbers. It's surely a 'Badhaai Ho' time for the makers and investors!
Click HERE to view more.

You can publish this article on your website as long as you provide a link back to this page.
You can publish this article on your website as long as you provide a link back to this page.