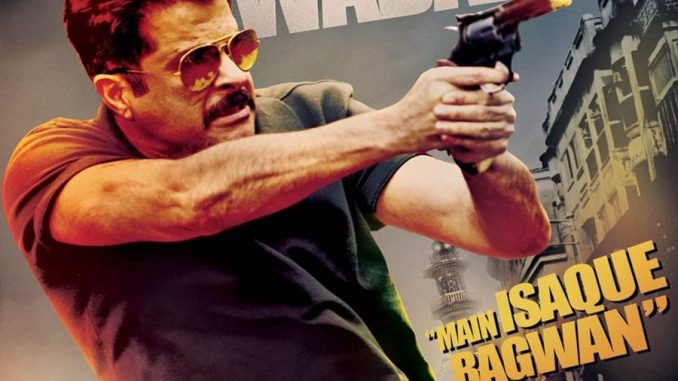 This article was last updated on June 18, 2022
Canada:

Oye! Times readers Get FREE $30 to spend on Amazon, Walmart…
USA:

Oye! Times readers Get FREE $30 to spend on Amazon, Walmart…

Movie Review:
Shootout At Wadala
Cast: Anil Kapoor, John Abraham,, Tusshar, Kangana Ranaut, Manoj Bajpayee, Sonu Sood, Ronit Roy, Mahesh Manjerekar
Directed by: Sanjay Gupta
Review by: Faisal Saif
Ratings: * * * 1/2
Based on the infamous 1992 gang encounters in Bombay, The film dramatizes the events leading up to Mumbai police's first-ever registered encounter where gangster Manya Surve was shot dead. Let me also clarify, Shootout At Wadala is no ways any sequel to Shootout At Lokhandwala (2007) which was produced by Sanjay Gupta and Ekta Kapoor. This one is a fresh film with a fresh plot. The only common relative factor here is the notorious gangster Dawood Ibrahim Kaskar (Name changed to 'Dilawar Imtiyaz Haskar').
Manya Surve (John Abraham) is about to face life imprisonment for a crime which he has not committed. In jail, He befriends with Sheikh Munir (Tusshar) and flees from the prison to form a new gang. Manya, a young-dangerous and cheeky gangster who dared to break rules and threaten the supremacy of the biggies including Dilawar Imtiyaz Haskar (Sonu Sood) and his brother Zubair Imtiyaz Haskar (Manoj Bajpayee) . Manya becomes a menace to the cop ACP Ishaque Bagwan (Anil Kapoor).
Both the brothers Dilawar and Zubair wants Manya dead at any cost, On the other hand ACP Ishaque Bagwan will show no mercy to finish what Manya has started.
As far as the Performance goes, John Abraham is tremendous as Manya Surve. At many points, John makes you believe that no one could have done justice to the character of Manya Surve like he did. If you have forgotten Maya Bhai (From Shootout At Lokhandwala), Trust me, John Abraham will create a new terror of Manya Bhai in your hearts. Anil Kapoor is electrifying as ACP Ishaque Bagwan. He delivers all his lines with the immense shock value which is required on a no nonsense Police Officer. In some of the scenes,, Anil easily dominated many actors with his charisma of performance. Manoj Bajpayee is wonderful once again. Sonu Sood surprises you with his Dawood Ibrahim act. Tusshar is very good as Manya's friend Sheikh Munir. If you look closely, It's Tusshar's character that makes Manya Surve, "The" Manya Bhai. Kangana Ranaut is terrific in final frames of the film.
Rest of the cast which includes Ronit Roy, Mahesh Manjerekar, Jackie Shroff and Ranjeet are equally good.
Director Sanjay Gupta brings an honest film with the participation of S.Hussain Zaidi's (Black Friday) book. As a director, Sanjay Gupta has made an amazing film with all the right kind of ingredients and style. Shootout At Wadala can be termed as the most accomplish work by Sanjay Gupta. Cinematography and Editing of the film is mind-blowing. The film does not drag and moves with the flow. Right kind of atmosphere is re-created to give you the perfect feel of that era. Production values are just outstanding.
Music of the film is not 'Pushed'. In fact the songs makes you sit tight to your seats because you are about to see the appearances of Priyanka Chopra (Babli Badmaash), Sunny Leone (Laila) and Aala Re Aala which pumps up your feet.
Shootout At Wadala is fast, pulse-pounding and racy at the same time. With powerful performances by magnificent stars, The film is a Knock-Out action thriller!
You can publish this article on your website as long as you provide a link back to this page.