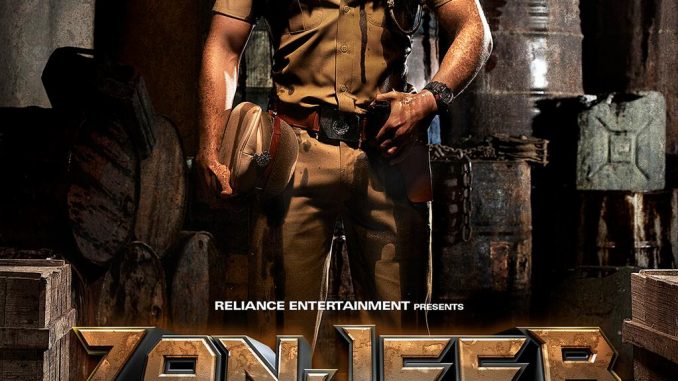 Movie Review
Zanjeer
Cast: Ram Charan Teja, Priyanka Chopra, Sanjay Dutt, Prakash Raj, Mahie Gill
Directed by: Apoorva Lakhia
Review by: Faisal Saif
Ratings: * 1/2
In the start while re-making a film, The Makers scream, "It's a Re-Make, It's a Re-Make". When the film is nearing it's release, Those same Makers scream "Please don't compare with the Original, Please don't compare with the Original". Does this mean these so called makers tries and take us for a ride regarding our hard earned money? I still have no idea how can a common cinegoer judge this movie as a Stand-Alone from the Original? The comparison takes place here automatically.
The original film Zanjeer earned Amitabh Bachchan the tag 'Angry Young Man' and made him world-famous. The latest action thriller Zanjeer brings Andhra icon Chiranjeevi's son, Ram Charan (who is a Star in Andhra, And not a Superstar) to Bollywood. The main characters in this one are rechristened as Vijay (Ram Charan), Mala ( Priyanka Chopra), Sher Khan (Sanjay Dutt), Teja (Prakash Raj) and Mona (Mahie Gill) just like the original. But the backdrop is Oil-Mafia in Mumbai.
This new version Zanjeer is the story of an idealistic cop Vijay Khanna (Ram Charan Teja) wanting to bring criminals to the book. Set in Andhra Pradesh, the initial part sets the stage for how dons and ministers have more power with and within the administration than an honest policeman. As a result, Vijay is transferred 17 times within AP. In his 18th assignment in Mumbai, this Assistant Commissioner of Police takes on an oil mafia don, Teja (Prakash Raj) with the help of Sher Khan (Sanjay Dutt) and mental support of his girlfriend Mala (Priyanka Chopra).
If i speak about performances, Ram Charan Teja is really misfit as ACP, Especially after we have seen all the Singham's and Rowdy's and Rathore's. Ram Charan might be a brilliant actor back home in Andhra, But here he stand very weak chances of making big. Priyanka Chopra is good as Mala. Sanjay Dutt as Sher Khan irritates, Especially the very moment you try and remember and compare (Late) legendary Pran with Sanjay Dutt. Sanjay Dutt, Physique-wise also looks misfit. Prakash Raj shines and excel as Teja. In fact, Prakash Raj is the only actor who makes you sit and tolerate the film. Mahie Gill could not repeat the "Devilish Charm" of legendary Bindu.
Apoorva Lakhia is the same director who has given Flops such as Mumbai Se Aaya Mera Dost, Ek Ajnabee, Mission Istanbul. I will not talk about Shootout At Lokhandwala because it was totally monitored by Sanjay Gupta and Ekta Kapoor (I was told). Apoorva's direction is weak and shows no command over his own script. The film at one point of time starts irritating you because the comparison has taken a huge place in your mind. The music part is also forgettable. The Cinematography, Production Values are good but are not the content that saves a film (I have said this line many times). The Editing is poor and dragging.
If you are planning to watch Zanjeer, Please avoid at all cost. At least for the sake of Amitabh Bachchan.