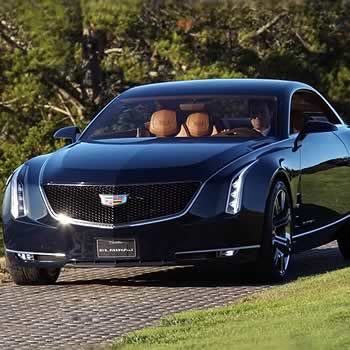 You can publish this article on your website as long as you provide a link back to this page.
This article was last updated on April 16, 2022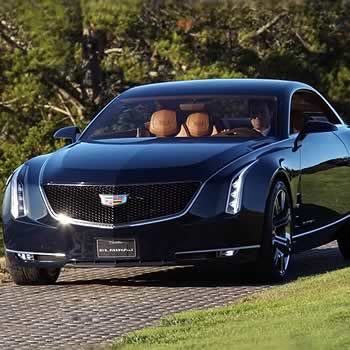 "We know the need to have something beyond the XTS," Dean said. "We're perhaps closer." The Elmiraj features a freshened version of the Cadillac badge, minus the wreath that currently encases the multi-colored emblem. "Parking the wreath for a period of time we think is an interesting opportunity," Dean said. "For us, this is an exploration to see what do people think about the badge?"
The Elmiraj is 205 inches long. With a 4.5-liter twin-turbocharged 8-cylinder engine and about 500 horsepower, the vehicle would be one of GM's most powerful. GM said earlier this month that the rear-wheel-drive concept contains "chassis and structural elements of an ongoing Cadillac vehicle development project slated for future production.
"GM CEO Dan Akerson told in July that Cadillac soon will have a sedan bigger than the XTS, which currently is the brand's biggest. Cadillac subsequently confirmed it is developing a super-size, rear-drive sedan for introduction in about two years. The big sedan is a rear-drive model loosely based on the chassis of the new Cadillac CTS. The multiple showings of Elmiraj are a way to get potential buyers of the big sedan used to Cadillac's new badge as well as the dramatic styling that the sedan is likely to inherit from the Elmiraj coupe.
The car's name comes from El Mirage Dry Lake, home of land speed record racing. Multiple showings of Elmiraj should get potential buyers of the super-size sedan used to Cadillac's new badge as well as the dramatic Elmiraj styling the sedan is likely to inherit. The vehicle, which is headed to Europe for the Frankfurt auto show in September, is devoid of the chrome accents that typically dominate luxury cars. Instead, it features polished aluminum wheels, for example.
"Chromes are so yesterday," said Dean, adding that GM is aiming for "sheer beauty, sheer elegance and sheer presence" with the Elmiraj. GM also offered journalists a close look at the new XTS Vsport sedan. The Vsport designation, described as a "submodel" within the Cadillac brand, boasts greater performance than the standard models, but less power than the V-series.
The XTS Vsport features the same twin-turbo six-cylinder engine that will power the redesigned 2014 Cadillac CTS. The automaker said it would also introduce a Vsport version of the CTS later this year. "In the future you can look for us to expand this idea to additional models," Cadillac product director Hampden Tener said. – MenzMag
Click HERE to read more from Fashion Central.