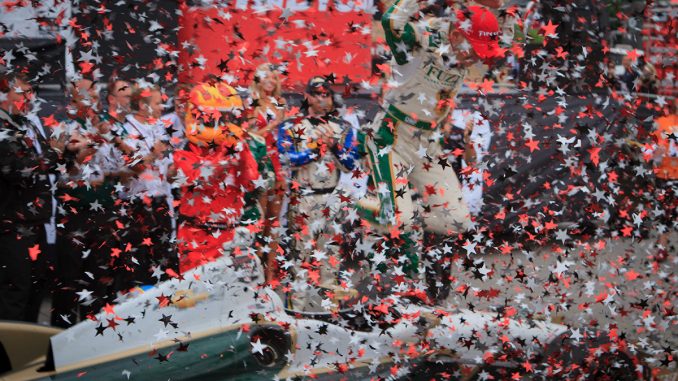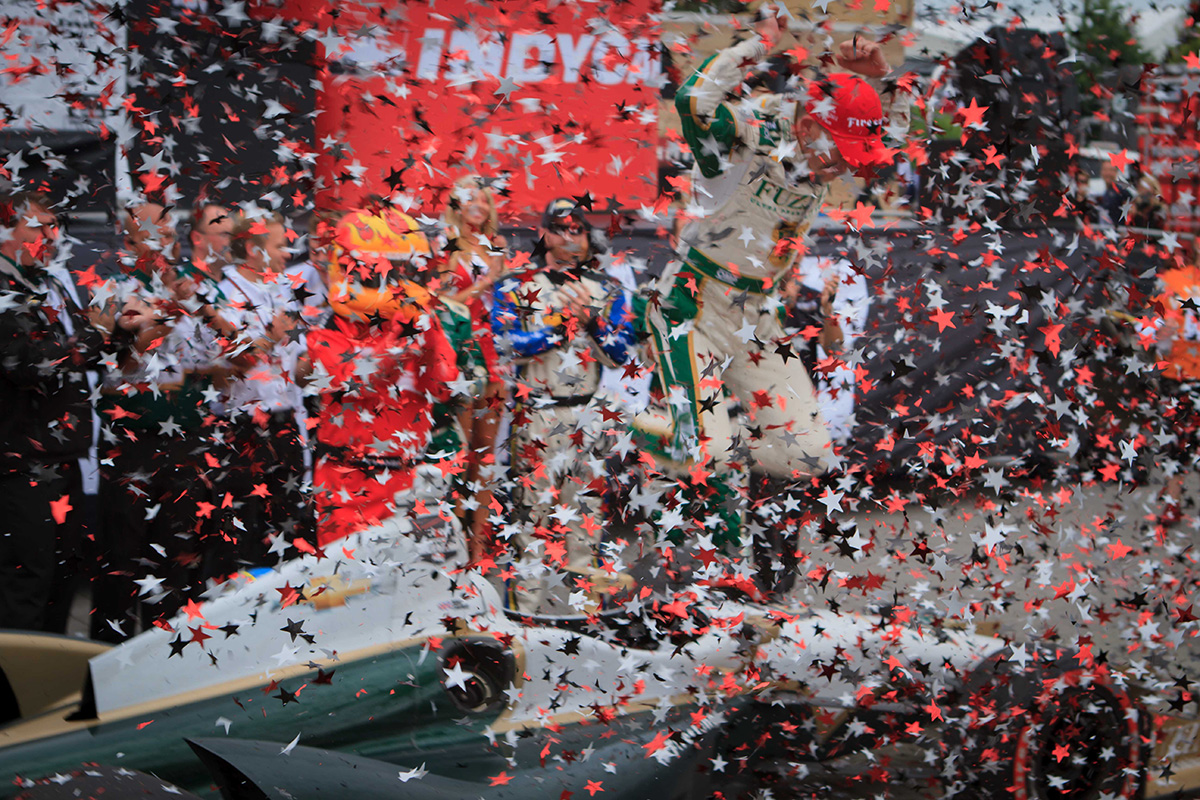 Sunday, July 20th, 2014 in Toronto will forever be known in IndyCar history as the first same-day full length race doubleheader of modern IndyCar racing.
After a much delayed Race 1 on Saturday due to inclement weather, IndyCar and Honda Indy Toronto race organizers had made the decision to postpone the first race of the weekend doubleheader to Sunday.
Two full length races on the same day means incredible endurance stresses on drivers and added pressure on both drivers and crew to keep their cars in full working order. Any serious damage to a car in the first race would mean there may not be an opportunity for a return a few hours later to Race 2. This became a very real scare for Takuma Sato in Race 1.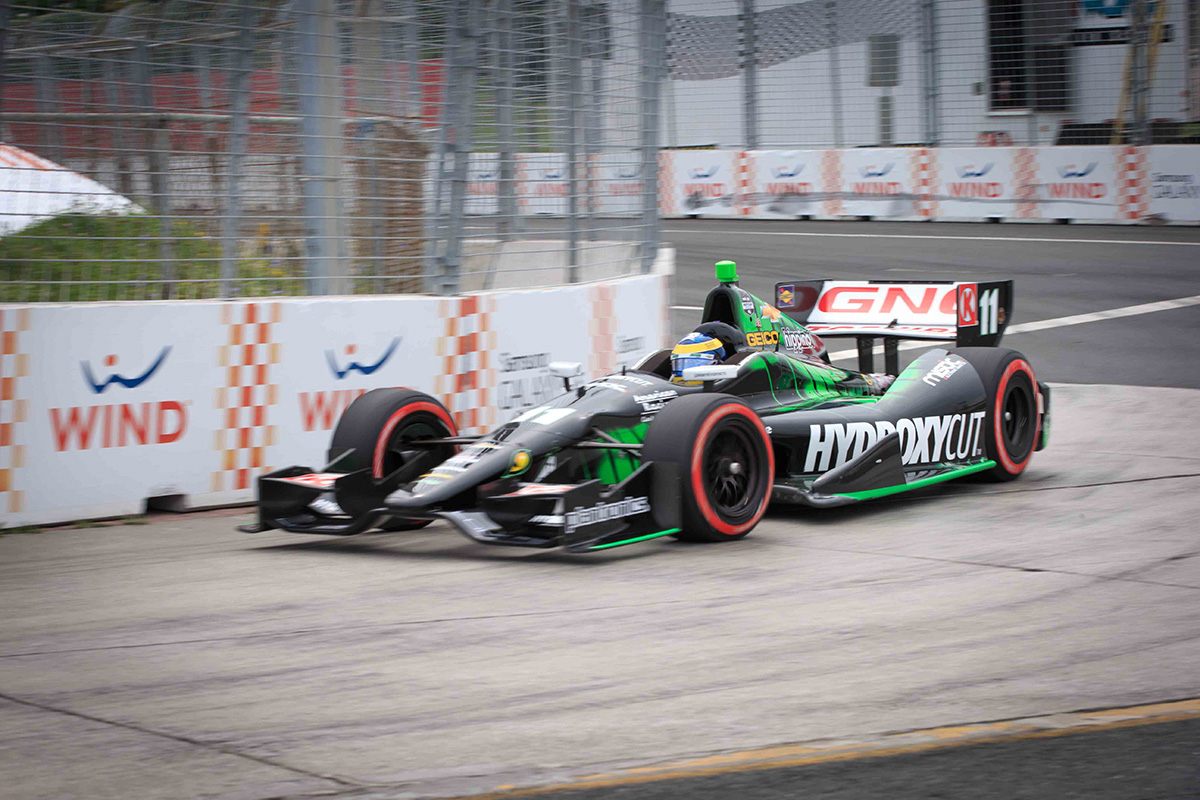 Race 1
Right out of the gate, Race 1 on the Streets of Toronto road course was full of drama. In Turn 4 of Lap 1 the Honda Indy Toronto saw its first major incident. A pileup caused by No. 16 Luca Filippi hitting No. 77 Simon Pagenaud brought out a red flag and put No. 14 Takuma Sato's car out of the race.
When the green flag came out and racers were given an all-clear in Lap 4, Bourdais took an immediate lead which he held for most of the 65 lap race.
Sebastien Bourdais, driving the No. 11 Hydroxycut KVSH Racing car, claimed his 32nd IndyCar career win in Race 1 of the Honda Indy Toronto by 3.3408 seconds over Verizon IndyCar Series championship front-runner Helio Castroneves. In third place was Target Chip Ganassi driver Tony Kanaan.
Bourdais broke a tie with Dario Franchitti and Paul Tracy for eighth on the all-time win list.
"It's really sweet. We had to fight and wait for it for a long time but today was just kind of one of these days when the stars align," said Bourdais, who earned the Verizon P1 Award on July 19 for finishing in pole position during the Race 1 qualifier. "I guess I was not expecting it because here I know how things can go. Last year we were second and third and it's great to get this win."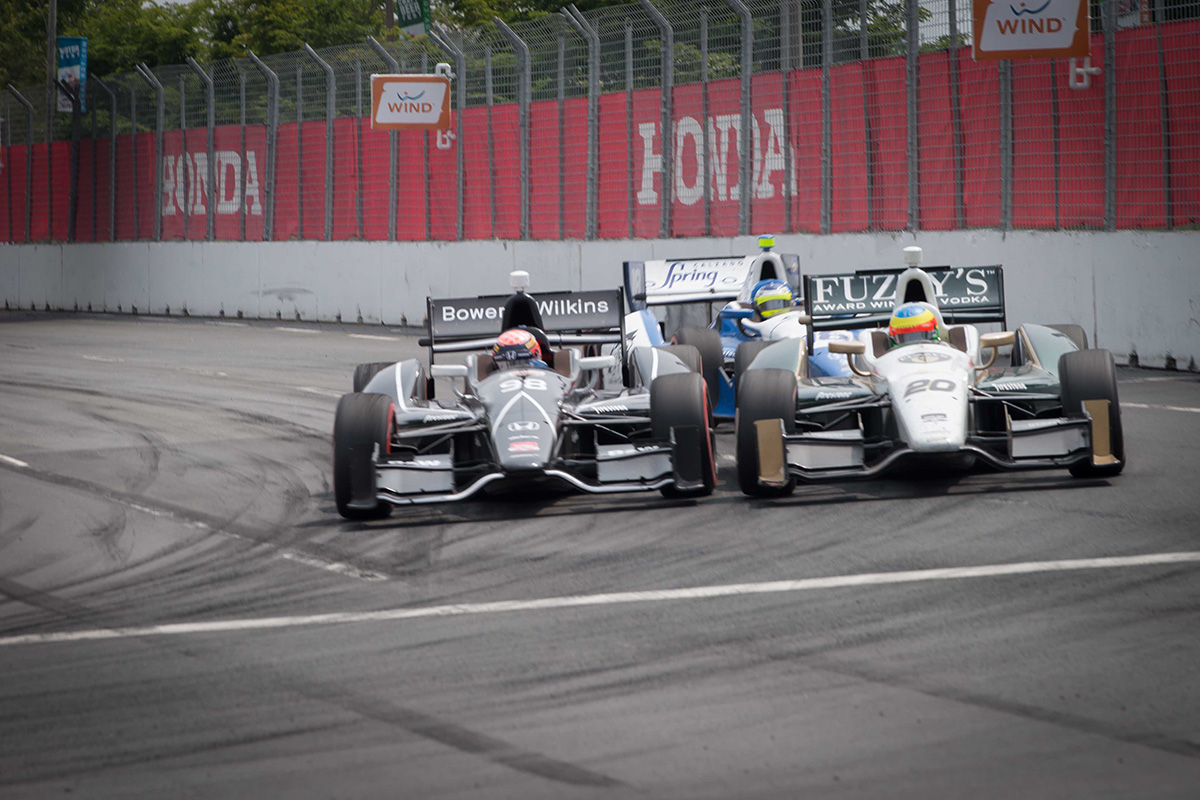 Race 2
Sunday afternoon brought with it a bit of rain for the Streets of Toronto Race 2. The rain of course brought with it a slew of collisions, some more serious than others, but none more dramatic than Aleshin and Montoya.
No. 2 Juan Pablo Montoya lost control on a slick Turn 8 in Lap 12 and went nose first in to the tire barrier. A number of other cars lose control around him, but only No. 27 Hinchcliffe clips Montoya's rear end and puts himself in the tire wall. Just seconds after Aleshin locks up in the corner and ploughs head first in to the back of Montoya's car. For a few tense moments Montoya's car sat on top of Aleshin's while track attendants rushed in and used a tow truck lift to raise the No.2 car off of Aleshin. Both cars sustained too much damage to return to the race, but the drivers walked away unhurt.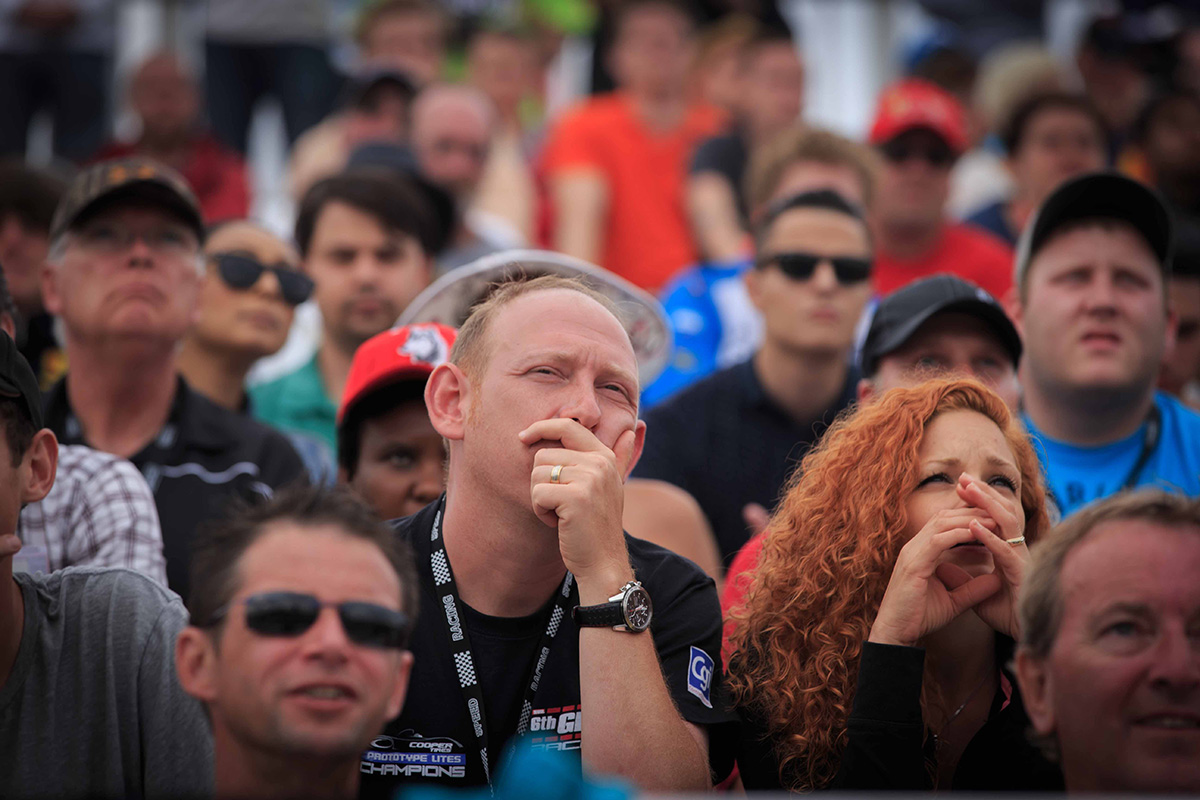 The last full course yellow of the race came out in Lap 51 after another multi-car collision at Turn 3. A red flag is brought out the following lap and all the cars restart with just three laps to go after the race is shortened due to time lost to yellow and red flags.
Mike Conway earned his second Verizon IndyCar Series victory of the season by holding off Tony Kanaan over the three-lap sprint to the finish.
Conway, driving the No. 20 Fuzzy's Ultra Premium Vodka car for Ed Carpenter Racing, won by 3.5418 seconds following the Lap 54 restart after a red flag with 4:23 left in the 80-minute race.
Kanaan, who finished third in Race 1, and started ninth in Race 2, brought out a Lap 1 caution when the No. 10 Target Chip Ganassi Racing car nosed into the tire barrier in Turn 3. He fell to 23rd leading to the restart.
"I made a little mistake on the start. I got too excited and I had to make it up," said Kanaan, who had podium finishes in the past three races. "You have to believe. You can't give up. We're here racing. I hate when I make mistakes, so I had to make it up."
Will Power finished in third place, giving him his sixth podium finish of the 2014 season. Takuma Sato returned to Race 2 after emergency repairs to his car and managed a fifth place finish behind Charlie Kimball.
The series heads to Mid-Ohio next for the Honda Indy 200 on August 3rd.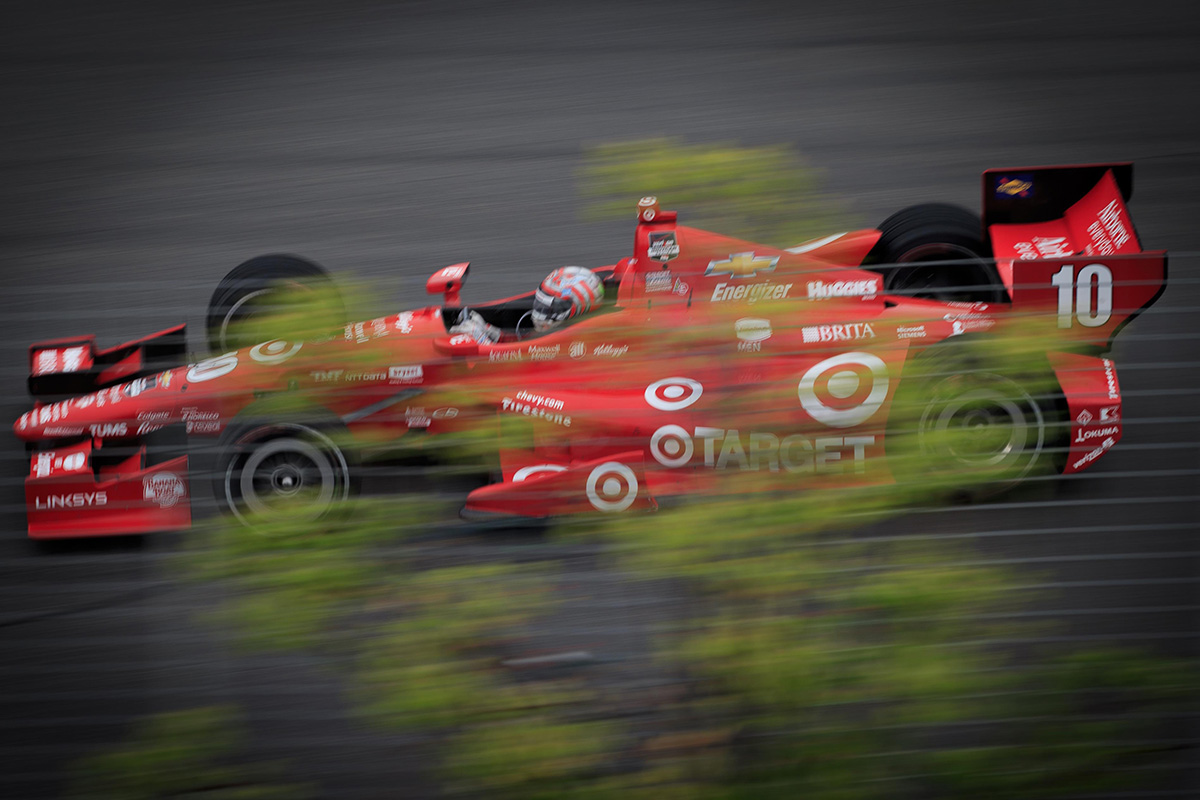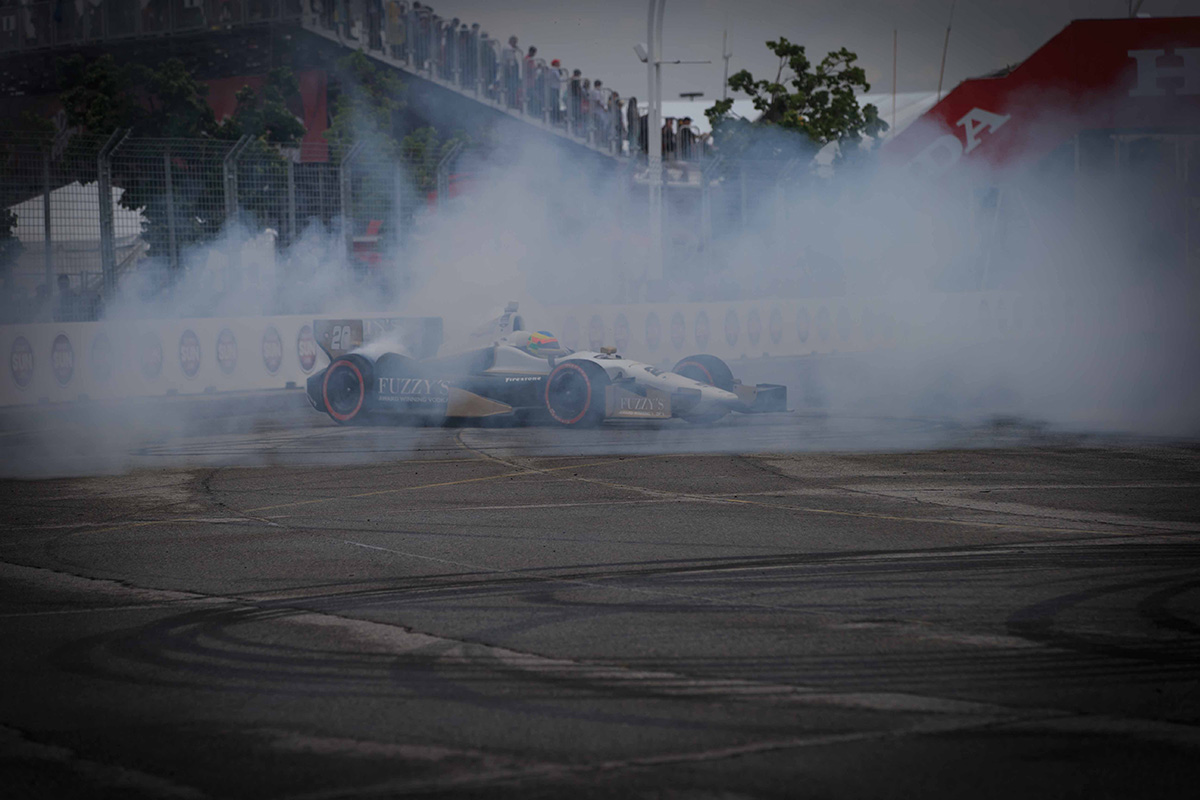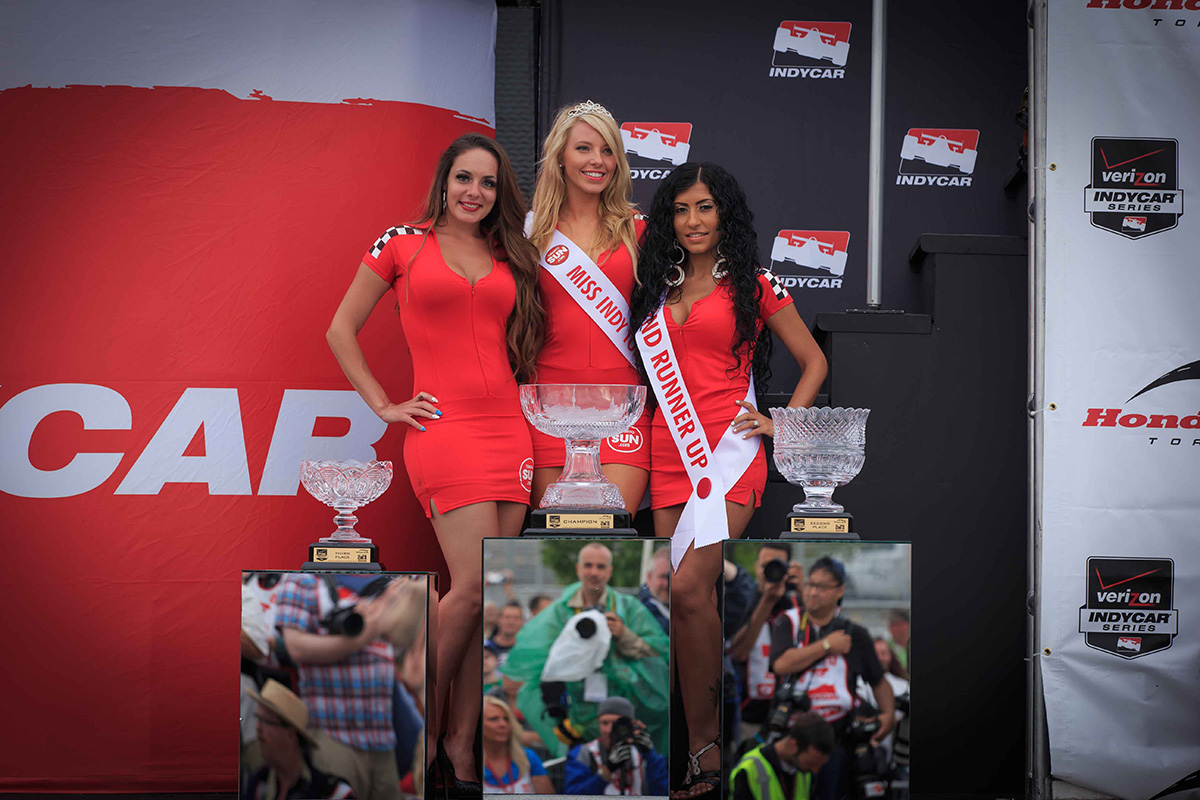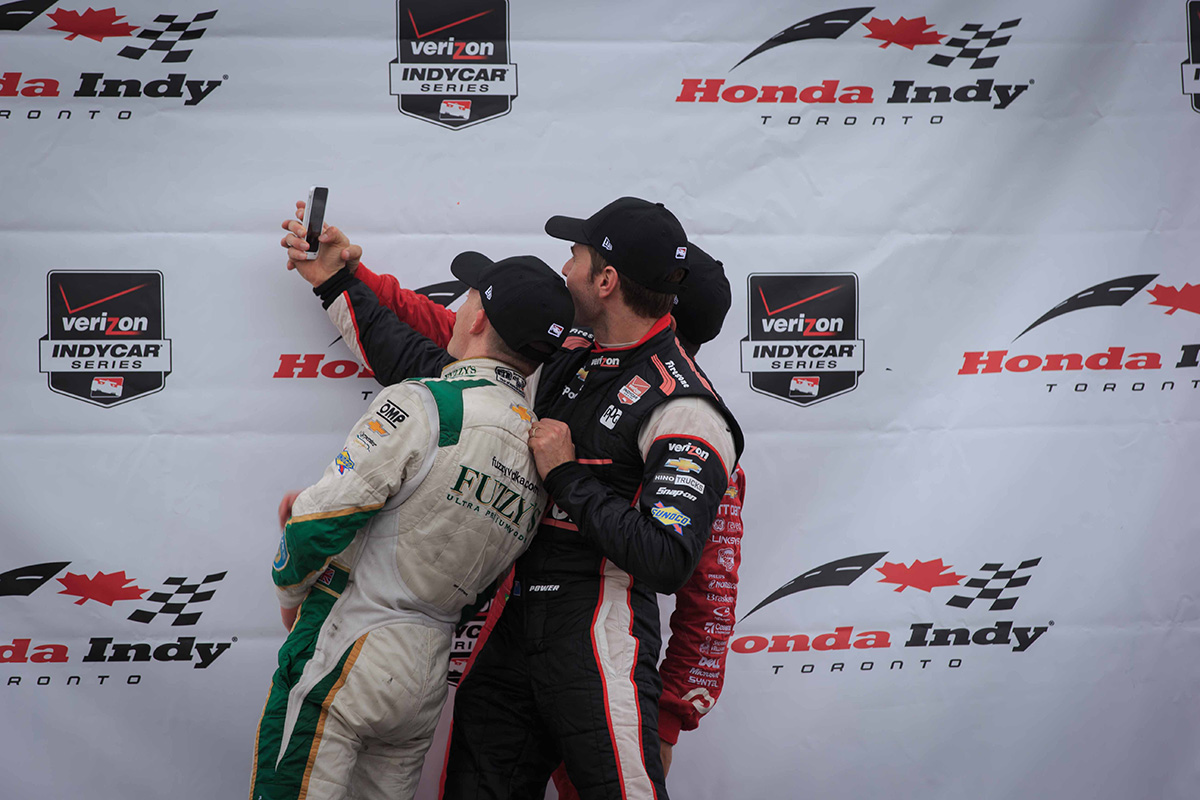 Photography by JP Dhanoa.
Kanishka Sonnadara can be reached by email at kanishka[at]oyetimes.com or on Twitter @autoKsS