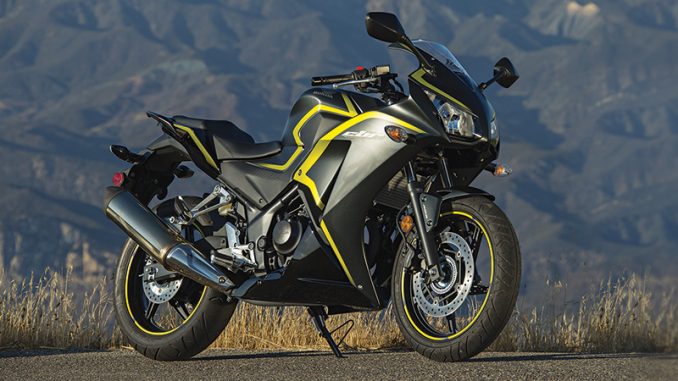 If you are just getting into motorcycling and are looking for a starter bike there are plenty to choose from in the Canadian market. Honda, Kawasaki, Suzuki and Hyosung all have entry level bikes that are great for beginners or for those who want a low cost commuter motorcycle.

Honda CBR300R
Honda introduced their 300 cc entry level bike in late 2014 to replace the CBR250R. The 2015 CBR300R builds off the 250's platform with new styling and increased power.
The CBR300R features a 286 cc single-cylinder, liquid cooled engine. The engine has a broad torque curve which makes it perform very well in the city where low rpm performance is needed. Peak horsepower kicks in at 8,500 rpm, below the 11,000 rpm redline.
Curb weight is only 161.9kg (357 lbs), making the CBR300R easily manoeuvrable which gives riders confidence while riding.
Bodywork has been inspired by the all-new CBR1000RR with it's dual headlights, CBR fuel tank and the aggressive tail section design.
Honda offers both an ABS and non-ABS version of the CBR300R. The 2015 non-ABS CBR300R is available in Millennium Red, while the CBR300RA is available in Millennium Red, Tricolour and Matte Black Metallic/ Yellow.
Prices start at $4,699 for the non-ABS CBR300R. The ABS equipped CBR300R will start at $5,199.

Honda CB300F
Also new for 2015 is the CB300F. It features the same 286 cc single-cylinder, liquid cooled engine as the CBR300R. The streetfighter styling of the 300F gives it a curb weight of only 157.8 kg (348 lbs) due to the minimal bodywork.
The 300F comes standard with ABS and is available in Pearl White.
Prices start at $4,699 for the CB300F.

Kawasaki Ninja 300
The Kawasaki Ninja 250/300 has been a popular entry level bike for many years. The Ninja 300 was introduced in 2012 and has received improvements with each year.
The Ninja 300 can be had with optional ABS and comes in a Special Edition that offers unique paint schemes.
The 2015 Ninja 300 has a 296 cc liquid-cooled parallel twin engine. The Kawasaki comes equipped with amenities such as optional ABS, a FCC assist slipper clutch, air management system and digital fuel injection.
The Ninja 300 makes 39 hp at 11,000rpm and has a curb weight of 172 kg (379 lbs) making it slightly heavier than its 300 cc competition from Honda.
Prices for the Kawasaki Ninja 300 non-ABS and ABS versions start at $5,399 and $5,799 respectively. The SE starts at $5,599 while the SE ABS starts at $5,999.

Suzuki GW250/GW250F
Suzuki introduced the GW250 to Canada in late 2013. It is an aggressive looking naked bike that has a wide appeal. It is also available in a full faired model named the GW250F. The GW250F features a windscreen, a headlight housing and full-fairing bodywork giving it sportbike looks.
The GW250 has a 248 cc liquid-cooled 2-cylinder engine. The dual chrome mufflers give it a big bike look and promise a sportier riding feel. Both the GW250 and GW250F are available in blue or black.
Prices start at $4,199 and $4,499 respectively for the GW250 and GW250F.

Suzuki TU250X
The TU250X from Suzuki is a classically styled modern motorcycle. It features chrome-plated spoked wheels, a round headlight, and a low-slung tapered muffler. The TU250X has a 249 cc air-cooled single-cylinder engine.
Curb weight of the TU250X is 147 kg (325 lbs) making it easily manageable for new riders.
The TU250X is available in an all new Metallic Mystic Silver/Glass Sparkle Black colour combination.
Prices for the TU250X start at $5,299.

Hyosung GT250/GT250R
Unlike Honda, Kawasaki and Suzuki, Hyosung does not have a wide network of dealers or extensive after-sales support in Canada. The brand does however offer an alternative in both price and design to those looking for something a little different.
The Hyosung GT250 has a 249 cc air/oil-cooled V-twin engine. The GT250R is a full faired 250 sportbike with adjustable rear sets and levers. The GT250R comes equipped with dual front disc brakes which give it the look and feel of a bigger displacement bike.
The GT250 is the stripped down version of the 250R. It features the same engine and suspension but has an urban/naked bike appearance to it.
Currently only 2014 models are available with prices for the GT250 starting at $4,199 and $4,499 for the GT250R.

Hyosung GV250/Aquila
The GV250 is a the only classically styled cruiser in the small displacement category. It has a 249 cc air/oil-cooled V-twin engine that produces 28.5 hp.
Pricing for the 2014 GV250 starts at $4,399.